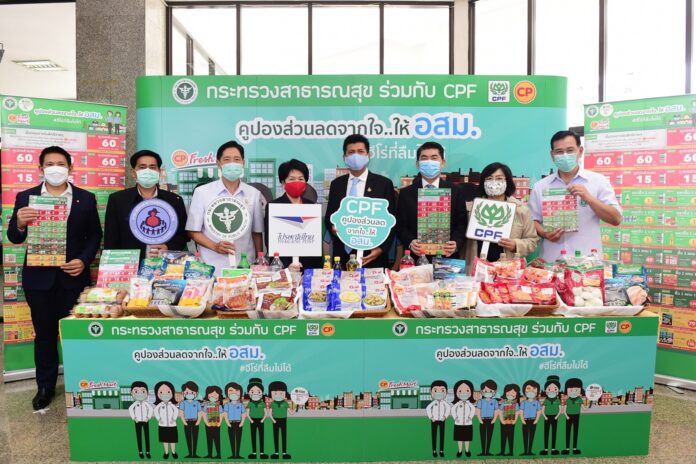 Ministry of Public Health in collaboration with Charoen Pokphand Foods Pcl (CPF) launched a project named "Discount coupon from heart to village health volunteers", offering 1 million special discount coupons to reduce living costs for the volunteers who are working tirelessly to combat virus outbreak.
Mr. Prasit Boondoungprasert, Chief Executive Officer of CPF, said the company has been working closely with the Ministry of Public Health to support their missions during the virus pandemic under a Covid-19 relief project called "CPF's Food from the Heart Against COVID-19".
The project has offered safe and high-quality food products to 20,000 people returned from oversees to self-quarantine, almost 200 public hospitals nationwide and over 20,000 families of nurses and doctors who are combating the pandemic.
The company has extended the support to the village health volunteers who have been working diligently alongside frontline medical staffs to conduct 12 million home visits, providing health education, and supporting health screening process.
To show heartfelt appreciation for their invaluable works, 1 million CP Freshmart's special discount coupons are given to the volunteers to boost their morale and reduce their household expenses.
Mr. Prasit added that the coupons will be send to health promotion hospitals nationwide through Thailand Post Company Limited. To use the coupon, the volunteers must present their ID, a valid village health volunteer's ID, and the coupon to register for CP Surprise's membership at CP Freshmart. The special discount coupon is valid until June 30, 2020. For more information on this benefit, please contact 1788.
"The special discount coupon for village health volunteers is the extension of support to our frontline staffs across Thailand who are working very hard to fight the outbreak. We are doing our part by helping them to reduce living expenses and subsequently boosting their morale" he said.
In addition to the frontline's support, CPF has joined forces with several government agencies to aid Thai people. The company and the First Army Region jointly delivered ready-to-eat meals to 8,499 households in Bangkok. It collaborates with Ministry of Agriculture and Cooperatives to launch a food truck service, serving delicious ready-to-eat meals to low-income communities in Bangkok and rural areas.
The company is also selling 1 million meals in a price of 20 baht to provide affordable price of foods for consumers in a co-project with the Ministry of Commerce.