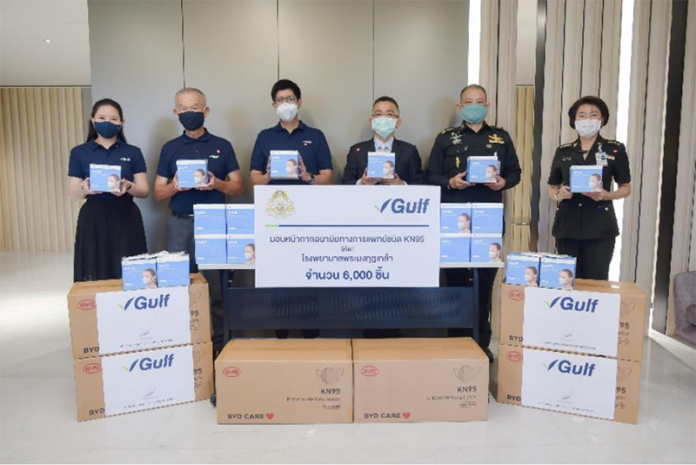 Gulf Energy Development Public Company Limited, represented by Mr. Sitamon Ratanavadi (3rd left), Corporate Social Responsibility Assistant, on behalf of Mr. Sarath Ratanavadi, Chief Executive Officer, Mr. Boonchai Thirati (2nd left), Executive Director, together with Ms. Yanisa Wattanakumnuan (far left), Vice President – Community Relations, donated 6,000 KN95 masks to Phramongkutklao Hospital. The donation was accepted by Gen. Suradet Jaruchinda, M.D., (4th left), Special Expert, Office of the Permanent Secretary for Defense and Phramongkutklao Hospital Foundation Committee, Maj. Gen. Ruttavitch Vuttipadhpibul, M.D., (5th left), Expert, Office of the Permanent Secretary for Defense and Phramongkutklao Hospital Foundation Committee and Col. Roongkhajee U-thaimongkol (far right), Director, Phramongkutklao Hospital Foundation.

Mr. Boonchai Thirati, Executive Director, Gulf Energy Development Public Company Limited, stated, "As Gulf Group operates business related to electricity, the Company does its best in its duty to generate electricity, which is a basic public utility for the country and a necessity for medical workers to be able to do their job. The Company recognizes that these frontline workers are working to the best of their ability to treat patients and successfully keep the situation under control.
"Therefore, donating these medical masks is providing another essential piece of equipment to medical workers to protect and prevent the transmission of contagious respiratory diseases, which include more than just COVID-19. Following from Gulf Group's donation of 100,000 masks to Chulalongkorn Hospital in the previous week, of which 50,000 masks were given to Chulalongkorn Hospital workers and the remaining 50,000 would be given to other hospitals, today Gulf and Chulalongkorn Hospital are donating 6,000 masks to Phramongkutklao Hospital to support efforts to control the disease in the long term," Mr. Boonchai added.

Since the start of the COVID-19 pandemic, Gulf Group has supported and launched various projects, worth over 50 million baht in total, including supporting the procurement of medical equipment for the Faculty of Medicine Ramathibodi Hospital, Mahidol University, Rajavithi Hospital, Bamrasnaradura Infectious Diseases Institute, the Central Chest Institute of Thailand, the Police General Hospital and Buddhachinaraj Hospital; providing alcohol sanitizing gel to small hospitals in Pattani and Yala provinces; and donating cloth face masks to sub-district health screening teams in 10 provinces. In addition, Gulf Group has pledged to provide over 150,000 meals to poor urban communities across Bangkok and has partnered with EGAT to provide survival kits for people in Nonthaburi province. Gulf's aid initiatives have also extended to Thai elephants suffering during the pandemic through donations to the Aob Chang project. Gulf Group remains committed to supporting national efforts to alleviate the effects of COVID-19 in Thailand.