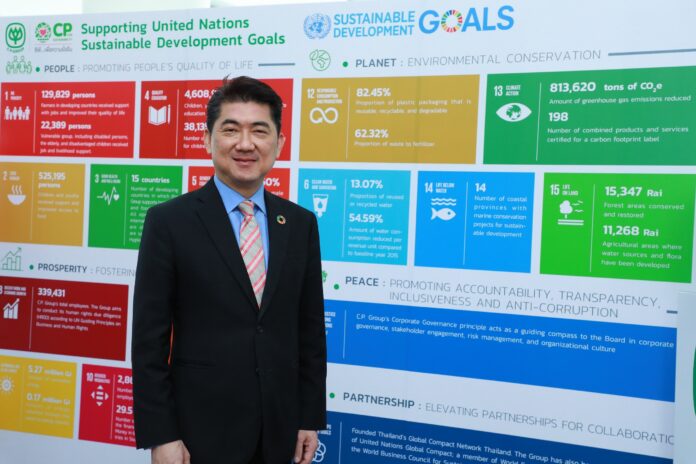 Charoen Pokphand Foods PCL (CPF) has jointed hand with leading Thai companies under Global Compact Network Thailand: GCNT to underpin sustainable goals in restoring Thailand's economy, social and environment to serve new normal era as well as maintaining highest safety measure to all employees to ensure food security after the COVID-19 pandemic.
During the GCNT's conferenceon "Thailand Business Leadership for SDGs 2020" Mr. Prasit Boondoungprasert, Chief Executive Officer of CPF, presented in a special discussion entitled "Business Strategies and Approaches to Address the Challenges of the COVID-19", saying that all private sectors should play a key role in striving recovery the Kingdom from the virus pandemic. Well and systematic management to ensure smooth operation is a must practice, underwhich employee is the key mechanism to achieve the goals.
CPF puts in place the protective measures for all employees by implementing stringent sanitation regulations and inspection practices to ensure safety throughout the operation and processing lines. This is to make sure that not only employees are safety but also all food products. Food security is one among the company's three pillars to sustainability, comprising food security, self sufficiency and balance of nature.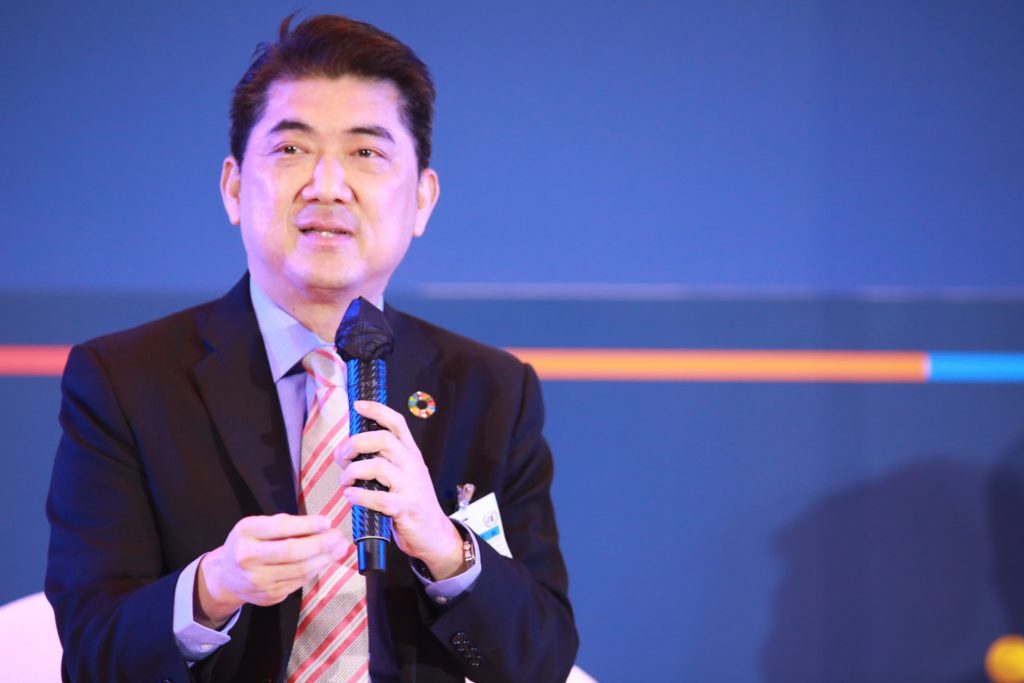 Until now, CPF has still maintained highest safety as well as stringent surveillance measures. Since the pandemic, the company has also purchased personnel insurance for sale teams who have to meet with customers to convince them while working on duty. Moreover, the company also applies the Sustainable Development Goals : SDGs to operate sustainable business, particularly food accession of people.
"CPF is a leading food producer to operate business with the responsibilities for nation and Thai people by manufacturing foods to serve consumption in all condition whether crisis or natural diasters. Foods will be all time served without shortage. We aslo encourage our employees to realize on this responsibility both themselves and Thailand," noted Mr. Prasit.
Mr. Prasit added that CPF has conducted training course to upskill employees' experiences to well serve with New Normal. It will strengthen their abilities and help prevent them from unemployment. Particularly, CPF has no not layed off any employee since the COVID-19 outbreak.
CPF realizes that COVID-19 has raised negative impacts in all aspects including social, economy and environment. It has prompted business to rapid change to cope with increasing competition through limited resources of the organization and the country. It is an important driven engine of private sector for always improvement to achieve sustainable growth.
"There has no organization to further flourish business without taking care of all employees from executives to workers with fair and equal practices," Mr. Prasit stressed.