Mr. Victor Seah (center), Chairman and Chief Executive Officer, Nestlé Indochina, Mrs. Helene Budliger Artieda, (3rd from right) Ambassador of Switzerland to Thailand, and Mr. Chaiwat Chuenkosum (3rd from left), Governor of Pathumthani Province, along with other Nestlé management, participated in the inauguration ceremony for the new UHT plant at Navanakorn Industrial Estate in Pathumthani province. 
Nestlé today inaugurated a new UHT plant in the Navanakorn Industrial Estate in Pathumthani province. Designed as a state-of-the-art, world-class production facility, the new plant incorporates the latest in high technology and environmentally-friendly production innovations. This enables Nestlé to introduce innovative eco-friendly packaging while creating sustainability across the value chain from upstream to downstream, in line with Nestlé's global sustainability commitment.
Mr. Victor Seah, Chairman and Chief Executive Officer, Nestlé Indochina, said that the inauguration of the new Nestlé Navanakorn 7 UHT Plant was part of Nestlé Thailand's sustainability commitment, which is aligned with Nestlé's global sustainability goals of making 100% of packaging recyclable or reusable by 2025, reducing the use of virgin plastics by one-third by 2025, and achieving zero net greenhouse gas emissions by 2050, for which the company has recently launched a detailed global roadmap.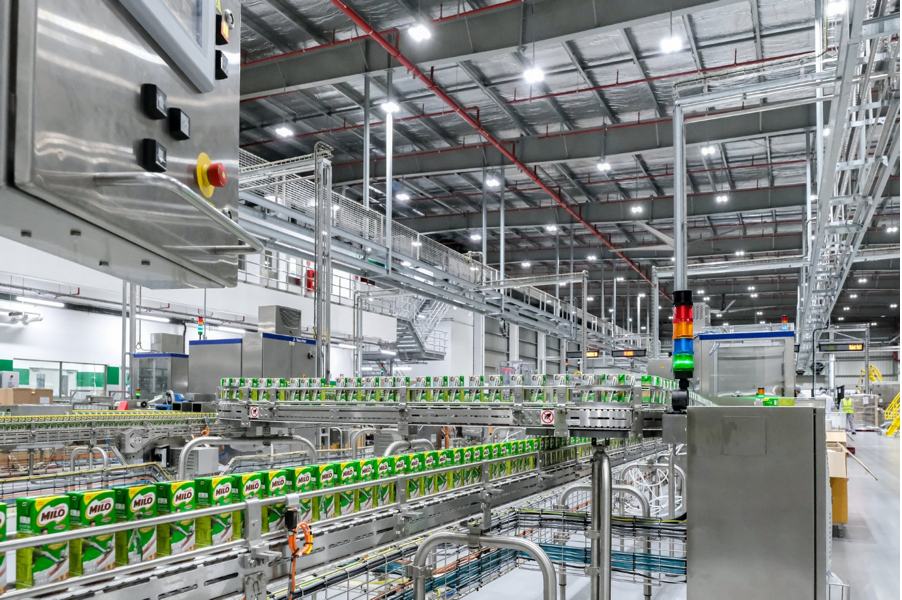 "As the Good Food, Good Life company, Nestlé believes it's our responsibility not only to develop high-quality, healthier, and tastier choices of food and beverage products to delight consumers, but to also operate our production facilities responsibly and develop environmentally-friendly packaging innovations. The new plant promotes sustainable development, in line with Nestlé's purpose of unlocking the power of food to enhance quality of life for everyone, today and for generations to come, as good food nourishes and delights the senses and helps everyone live life to the fullest while protecting resources for future generations. This clearly reflects our commitment to driving sustainability across the value chain as well as making an economic contribution to the local community by creating jobs and developing the skills of employees to meet global standards. The new UHT plant, which began operating in May 2020, represents an investment of over 1.53 billion baht," said Mr. Seah.
Mr. Chaiyong Sakulborirak, Business Executive Officer, Dairy and Adult Nutrition, Nestlé (Thai) Ltd., said, "Our new plant produces UHT beverages under the MILO and BEAR BRAND brands, which are part of Nestlé's core businesses that are growing continuously, to deliver the best quality products to consumers while driving sustainability across the value chain. The production process at the new plant features environmentally-friendly technology including a new membrane homogenizer system for MILO production that uses less energy and reduces the frequency of maintenance compared to a conventional piston homogenizer; a heat recovery system that returns the surplus heat from steam and hot water created during the production process for reuse, which helps reduce energy consumption; a new refrigerant for chillers that does not deplete the ozone layer; and efficient production waste and wastewater management by type for purposes such as recycling, generating new energy, and making fertilizer, to achieve zero waste to landfill."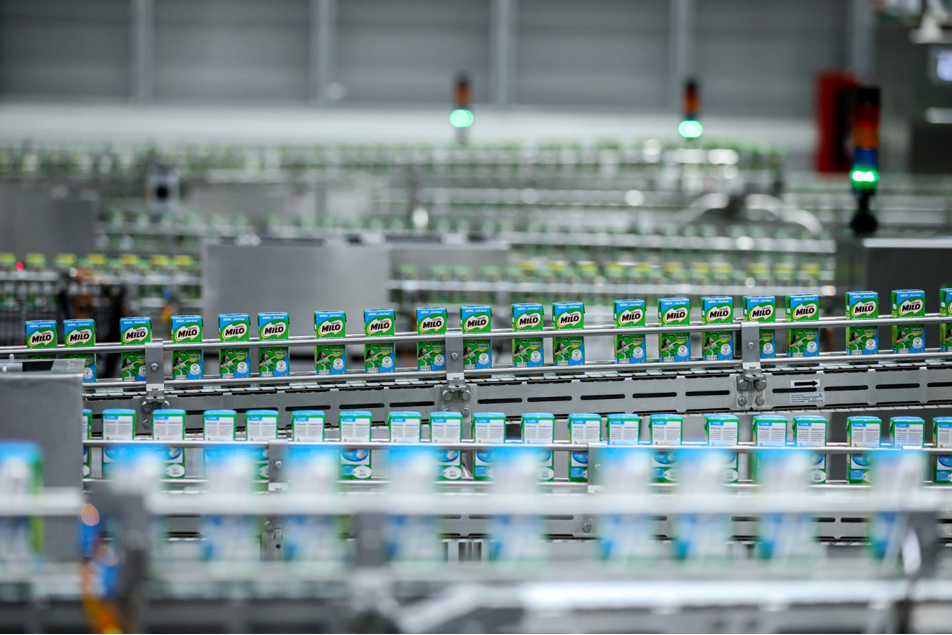 He added that the new plant allows Nestlé to introduce eco-friendly packaging innovations including a bendable paper straw for MILO UHT products and reducing the use of corrugated paper for packaging by changing to Wrap Around Cartons (WA) instead of Regular Slotted Cartons (RSC). Nestlé is also extending its sustainability initiatives to post-consumption packaging management through the "Milk Box to Save the World" project. The project focuses on educating students in pilot schools about proper UHT beverage packaging management after consumption, as well as appropriate collection of used UHT packages for the recycling process.
"With these various initiatives, our new Navanakorn 7 UHT Plant will save 4,420 gigajoules of energy per year. This is equivalent to running an 18,000 BTU air conditioner 24 hours a day for 77 years. Our environmentally-friendly packaging innovations also help save 752 tons of paper per year, which is equal to 150 million sheets of A4 paper, and reduce the use of plastic by 142 tons per year, which is equal to 26 million plastic bags," added
Mr. Chaiyong.
In addition, Nestlé is focused on developing healthier and tastier choices using a 60/40+ concept. This means achieving at least a 60% consumer taste preference that is superior to most comparable products on the market while adding proper nutrition value and promoting active lifestyles among consumers. With this approach, Nestlé can ensure its products are of high quality, safe, and in line with Nestlé product development standards that aim to promote great health and quality of life.
At the Nestlé Navanakorn 7 UHT Plant, the company also plans to use solar energy in 2021, with solar panels installed on the plant roof and in the car park, along with other initiatives such as using anti-slip glue for pallet stability instead of plastic stretch film wrap for transportation and reducing the amount of virgin plastic used by changing to multipack shrink film with 30% post-consumer recycled plastic content (PCR).
"We are confident the inauguration of our new plant will be a model to promote sustainability across the value chain in Thailand and bring happiness to Thai consumers with our quality UHT beverages," concluded Mr. Chaiyong.
Nestlé Navanakorn 7 UHT Plant Video (คลิป)