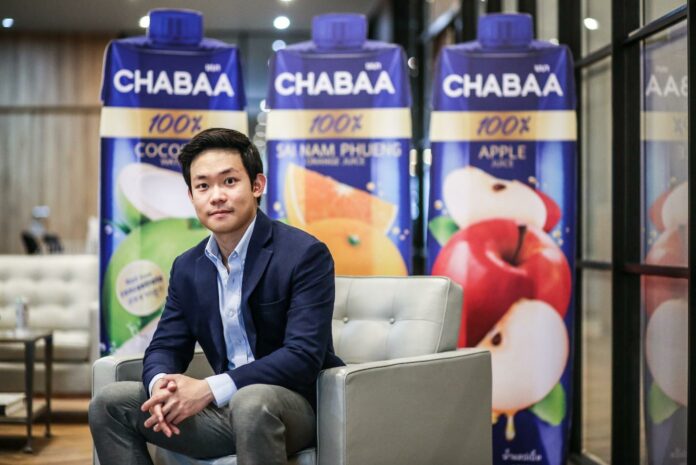 Chabaa fruit juice is manufactured by Chabaa Bangkok Co Ltd, a fruit juice producer with 20 years of experience targeting the premium fruit juice segment of 100% juice, Chabaa is dedicated to producing quality fruit juice with carefully selected premium, natural raw materials, combined with the latest manufacturing innovations. Its products are popular among fruit juice drinkers in 40 countries around the world. Marketing operations are under the vision of Kan Kulpiyavaja, Sales and Marketing Manager, Thailand and CLMV for Chabaa Bangkok Co Ltd, the company's latest scion to take the reins in 2021. The premium or 100% juice segment has the biggest share of the Thai fruit juice market, which is currently worth over 3.7 billion baht. Chabaa's outstanding sales proposition are recipes containing 100% fruit juice with no sugar added, and the natural sweet taste of fresh fruit. This appeals to modern health-conscious consumers of every age and gender who want a refreshing natural taste with no additives. Chabaa will continue to make itself known as a brand loved by consumers through a range of marketing strategies.
Restyled packaging for a premium look
Chabaa fruit juice always dared to be different and creative with its distinctive blue packaging sticking out from rival fruit juices on the shelf. It has taken this to the next level with the development of a premium look. This features the latest logo and packaging in subtle and modern design, while retaining the blue brand identity, and characters spelling out "100%" in gold. This underlines the product standard of 100% fruit juice made from world-class quality ingredients. The plan is to attract the eyes of the health-conscious looking for a healthy refreshment, whether in the online channels of Chabaa fruit juice, LINE Official @Chabaabangkok or at leading supermarkets around the country.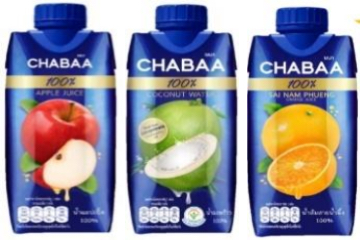 New 310ml pack size, a new alternative for refreshment on the move
Chabaa has also launched its latest 310ml pack in three flavors: Sai Nampheung orange juice, coconut water and apple juice. It is another choice in portable refreshment for a range of modern lifestyles. It is the ideal refreshing drink after working out at the gym or playing sports. It is also the optimal size to accompany a meal of suitable portions, and meets the needs of any gen(eration) wanting the freshness of genuine fruit juice at anyplace and anytime. 
No added sugar, no flavorings, but every carton full of vitamins in line with consumer health trends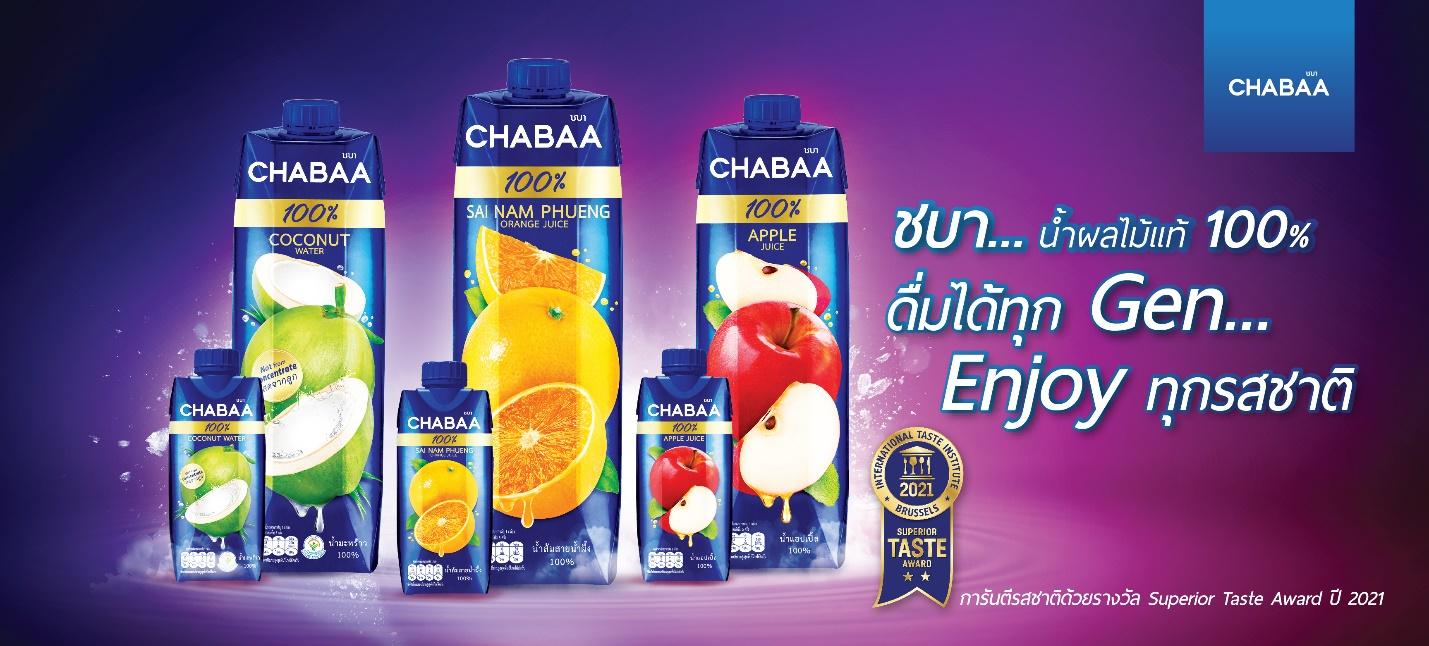 Chabaa's 20 years of expertise has molded its determination to make real fruit juice the uniquely healthy beverage of choice for consumers. This aspect is promoted in the 100% fruit juice product line offering 15 different fruit flavors. Natural refreshment is provided by the sweetness of fresh fruit with no extra sugar, preservatives, flavorings or other additives. A new flavor, Sai Nampheung orange, is being launched, for any gen(eration) to enjoy the naturally sweet taste of 100% Sai Nampheung oranges, which have the subtlest hint of sourness blended in. Deliciousness is guaranteed by the product winning the Superior Taste Award 2021. Both the health conscious and lovers of fruit juice can be certain of great taste every time they drink a chabaa juice product. The product addresses key concerns of health-conscious consumers by being stacked with both the nutrition of fresh fruit, and the delicious taste of premium ingredients. 
New TVC for consumers and 360° marketing activities
    Sales of the 100% fruit juice line have been developed to keep up with trends and consumer behavior, the brand is also gearing up to spend large budgets on marketing communication. This will include a new TV campaign emphasizing taste, under the slogan, "Every Gen… Enjoy Every Taste". It features actors of different ages with chic sensibilities playing "Granny" and "Granddaughter" to represent consumers of every generation. The pair both seek refreshment from uniquely fresh fruit juice, and get every nutritional benefit while retaining fresh taste from beginning to end. The new advertisement will be broadcast on television, digital media and out-of- home advertising media. There will also be communication at points of sale, and cooperation with influencers of many lifestyles. They will help communicate the world-class freshness, nutritional benefits and great taste of 100% real fruit juice from Chabaa in 360° marketing channels throughout 2021.
Every Gen… Enjoy Every Taste of Chabaa fruit juice
For more details, information and news of other activities see
http://www.chabaabangkok.com, Facebook: Chabaaofficial, LINE Official: @Chabaabangkok