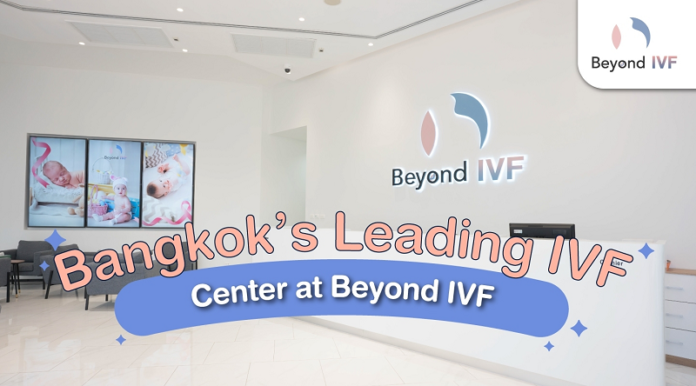 Beyond IVF was established by the Meko Group, a leader in the cosmetic surgery industry in Bangkok for more than 37 years, and we are ready to be a leader in the treatment of infertility with world-class technologies of the highest standards and aim to be one of the best IVF centers in Bangkok. We are especially focused on serving older clients seeking to become pregnant as they are considered the most challenging group to treat in Thailand.
Bangkok IVF Center: What to Consider ?
Choosing the right fertility clinic is the most important decision when it comes to treatment for infertility. Though each person has their own criteria for the right clinic, these are important questions to ask when considering a fertility clinic:
Does the clinic have appropriate licenses and permits and is it trustworthy?

Is the clinic conveniently located for the frequent visits required? Is it in a safe area?

Do you feel comfortable when you are at the clinic?

If you have insurance that will cover fertility treatment, will the clinic accept your insurance?
Get to Know Beyond IVF
At Beyond IVF our doctor has more than 20 years of experience in treating infertility and is also an obstetrician and gynecologist, with credentials from Ramathibodi Hospital that guarantee his knowledge and experience. He has diagnosed infertility in numerous families over the years, with experience in well-known public and private hospitals. His skill and knowledge allow him to make accurate diagnoses for accurate treatment for the best results.
Fertility Services at Beyond IVF
IVF Treatment
In-vitro fertilization (IVF) involves collecting eggs to be fertilized by collected sperm in a laboratory. The sperm is left to swim towards the eggs on their own in a medical device.
ICSI Treatment
ICSI has been developed from the traditional gamete intrafallopian transfer (GIFT) technique, but with a much higher chance of success without requiring any surgery. This is the most popular service when people come to IVF centers in Bangkok.
IUI Treatment
IUI is the closest technique to natural conception by selecting the highest quality sperm to inject directly into the uterus which has a 10-15% chance of success
Egg Freezing
Egg freezing involves collecting eggs from a woman's body and freezing them to stop them from aging. This prevents the natural deterioration of eggs.
Semen Analysis
For Semen analysis at Beyond IVF, we check for quality and quantity of sperm as well as how they're shaped and how well they move. We also look for abnormalities that might impact fertility.
Antenatal Care
Antenatal care (ANC) involves seeing an obstetrician after you are pregnant to regularly monitor the pregnancy in order to ensure a safe and healthy pregnancy.
Cerv

ical Cancer Screening and Prevention
Cervical cancer is caused by the human papilloma virus (HPV) and is not considered genetic nor sexually transmitted. The cervical screenings include Pap smear and ThinPrep.
Why Beyond IVF?
20 years experience
At Beyond IVF our doctor has more than 20 years of experience in treating infertility and is also an obstetrician and gynecologist, with credentials from Ramathibodi Hospital that guarantee his knowledge and experience.
World class laboratory standards
Beyond IVF's lab standards are world-class that are rare in IVF clinics in Bangkok.
The building and property its on belong entirely to Beyond IVF.

We have a generator that can run for longer than 12 hours in the case of a blackout.

We use clean solar energy.

We are meticulous when it comes to preventing contaminations and toxins that might impact embryos.

We are a dust-free environment.

We have an alarm system that operates 24 hours a day to signal any abnormalities in temperature or air pressure.

Every detail in our laboratory was carefully considered and designed.
Clean, Safe and Professional
At Beyond IVF we pride ourselves on our high standards of cleanliness and safety, and our team of professionals are ready to support you and answer any questions you have. Our world-class technologies rival those of large hospitals that offer IVF/ICSI.
Meet our Infertility Specialist, Dr. Phunsak Suchonwanit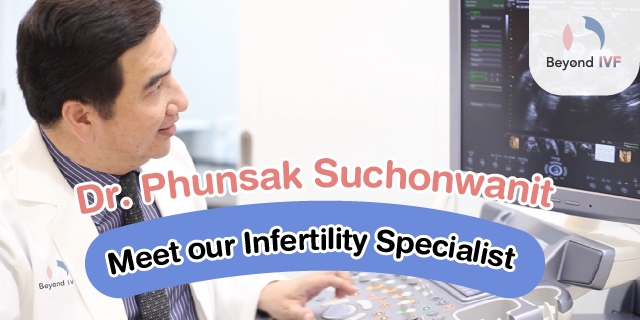 Dr. Phunsak "Ton" Suchonwanit is our fertility specialist at Beyond IVF, IVF center in Bangkok, with more than 20 years of experience supporting couples in their journey to becoming parents, with the following credentials to guarantee his expertise:
Doctor of Medicine (MD) from the Faculty of Medical Sciences, Ramathibodi Hospital, Mahidol University, Bangkok, 1993

Diploma of the Thai Board of Obstetrics and Gynecology, Faculty of Medical Sciences, Ramathibodi Hospital

Reproductive Technology

Specialist, The Royal Thai College of Obstetricians and Gynaecologists

Work training in assisted reproductive technologies (ART) at Boston IVF in Maryland, USA
Promotion, Package and Price at Beyond IVF
Intrauterine insemination (IUI) is a popular treatment option due to its affordability. The cost of the IUI procedure at Beyond IVF is 20,000 baht per cycle. IUI is recommended as the first treatment for infertility where a physical examination has not found any complex issues. 
In-vitro fertilization (IVF) / intracytoplasmic sperm injection (ICSI) can cost between 200,000 baht to 500,000 baht per cycle, depending on the hospital/clinic, but at Beyond IVF starts at 246,000 baht.
Egg freezing is like buying an insurance policy to increase your chances of a successful pregnancy in the future. The cost of egg freezing at Beyond IVF starts at 89,900 baht.
Semen analysis at Beyond IVF is 1,500 baht. We check for quality and quantity of sperm as well as how they're shaped and how well they move. We also look for abnormalities that might impact fertility.
Review Cases/ Success story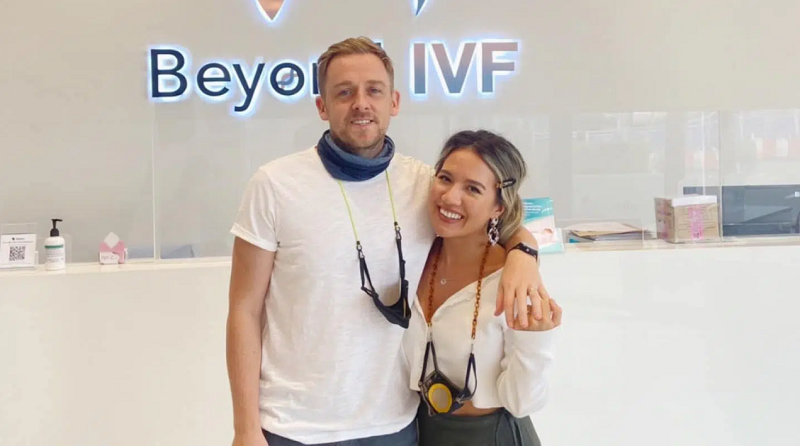 In this case the female patient was under 35 and the couple had been trying to conceive without success for a year. At this time the couple were not interested in assisted reproductive technology so Dr. Ton recommended they try IUI because her age made her a good candidate for this procedure. As for the male patient, he had a low sperm count. But IUI allows selection of the healthiest sperm to be selected for insemination. After the couple discussed their options with Dr. Ton, they decided to start treatment right away because it was the second day of the female partner's period. Four weeks after IUI, the female patient began experiencing some symptoms of pregnancy. She took a home pregnancy test that was faintly positive. She saw Dr. Ton for an ultrasound and he was able to confirm pregnancy with not just a yolk sac, but a heartbeat as well.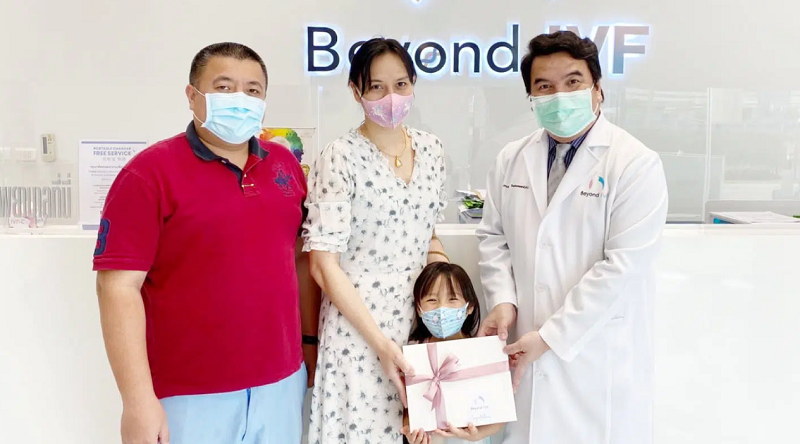 In this case the patient was only 33, and in terms of infertility, she was considered young. She had also had one child already, but experienced recurrent miscarriages. Just a few weeks after becoming pregnant with her second baby, the fetus stopped growing. This happened over and over until she believed that she was experiencing infertility. She had also tried for over a year to become pregnant. So she stopped in to Beyond IVF to talk to Dr. Ton who discovered that abnormal embryos were the cause of the recurrent miscarriages. Dr. Ton recommended the only way to minimize the risk of miscarriage by implanting chromosomally healthy embryos, which is through the ICSI process with NGS. When the patient realized the cause of her miscarriages, she decided to go with ICSI. Dr. Ton transferred the healthiest embryo into the uterus and that resulted in a successful pregnancy.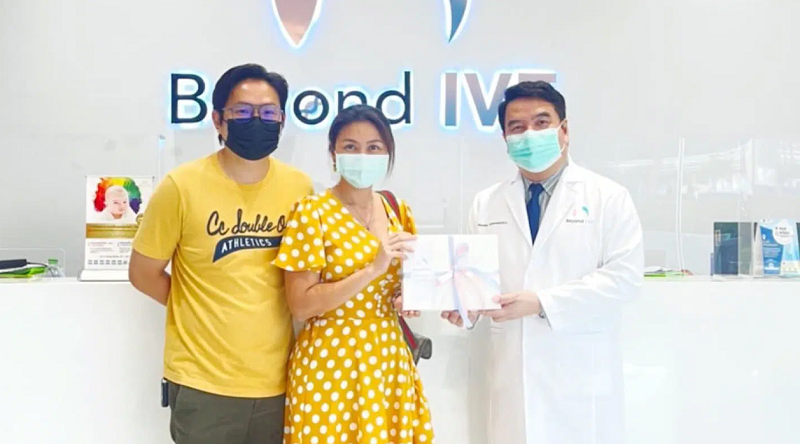 This client underwent a tubal ligation eight years ago after giving birth to two children in her 30's. Over time the client wanted another child to complete their family and wondered if reversing the tubal ligation and trying to conceive naturally were the best options. After reading reviews of other successful cases at Beyond IVF after tubal ligation, the client consulted with Dr. Ton to discuss treatment options. Dr. Ton recommended that the client undergo ICSI rather than reverse the tubal ligation. After speaking with Dr. Ton, the client decided to begin the ICSI procedure when her cycle started. Both ovaries could be stimulated well to produce eggs and Dr. Ton was able to collect 18 eggs and many developed into blastocysts that pasted NGS. Dr. Ton chose only the healthiest embryo to transfer and used embryo glue during the transfer to reduce the risk of miscarriage and improve implantation. The client was able to become pregnant successful in her 40's.