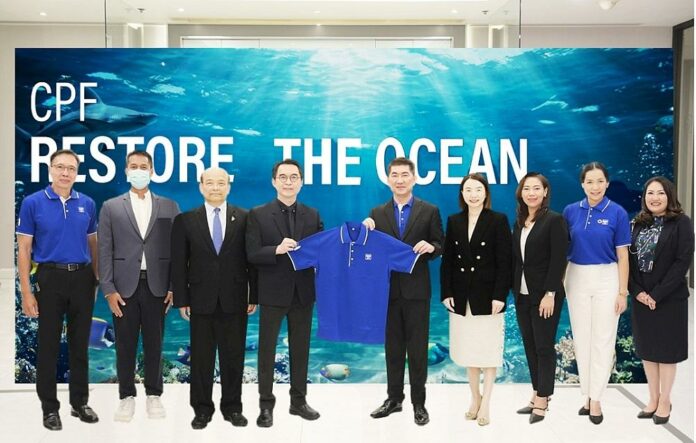 Charoen Pokphand Foods Public Company Limited (CP Foods) recently launched the "CPF Restore the Ocean" project, joining forces with partners and employees in a bid to reduce amount of plastic waste on the marine ecosystem.
CP Foods' Chief Executive Officer, Prasit Boondoungprasert, said that the company has a strong commitment to building safe and sustainable food system. Thus, it is critical for CP Foods to the environment, which included aquatic ecosystem that is important source of the company's ingredients and related to food security of people around the world. This is in line with the company's sustainable strategy, "CPF Sustainability in Action 2030", and supports the United Nations Sustainable Development Goals (SDGs).
CEO further explained that the cooperation and activities are involved in the CPF Restore the Ocean project, which aims to educate CP Foods employees about the urgency of the ocean plastic problem and to promote circular economy practices by bringing back marine plastic waste and other debris for recycling or proper management in accordance with internationally recognized Ocean Conservancy guidelines.
The CPF Restore the Ocean project consists of multiple projects including "Trap the Sea Trash" Project. The program is recently launched to team up with villages to set up trash traps to capture garbage before it reaches the sea. Recyclable trashes are sorted for recycle and turn into local products. These products are selling at community enterprises, boosting the community incomes. The shrimp hatchery in Trad province has turn trashes into products like pots and brick.
"Catch the Trash Back to the Shore," which converts plastic trash into a valued added product. The idea grew out of a collaboration effort with the Department of Fisheries Operations to encourage fishing boats and fishermen to collect rubbish that floats in the water and bring it back to land to the port. The initiate is upcycling polo shirts from plastic bottle trash to be utilized as staff uniforms. This initiative aims to increase awareness about the issue of marine garbage while also restoring sustainable marine ecosystems.
Furthermore, being one of seven established organizations of the Fishermen Life Enhancement Center in Songkhla province run the "Waste-to-Value" Project, on which CPF cooperated with six partners to improve the quality of life for migrant fishermen and their families. The 2nd phase of the project elevates the implementation to create income and help fishermen's families with living expenses. GEPP, a Thai start-up, will create a garbage collecting platform for reuse and recycling that will span 32 locations across the country. Initially, 8.9 tons of garbage can be collected, and 2.6 tons of waste can be recycled to aid in the restoration of marine resources and ecosystems, which is a vital source of developing a sustainable food system.
As a member of the Seafood Business for Ocean Stewardship (SeaBOS), CP Foods has joined a transnational network to conserve natural resources and the marine environment on a global scale.