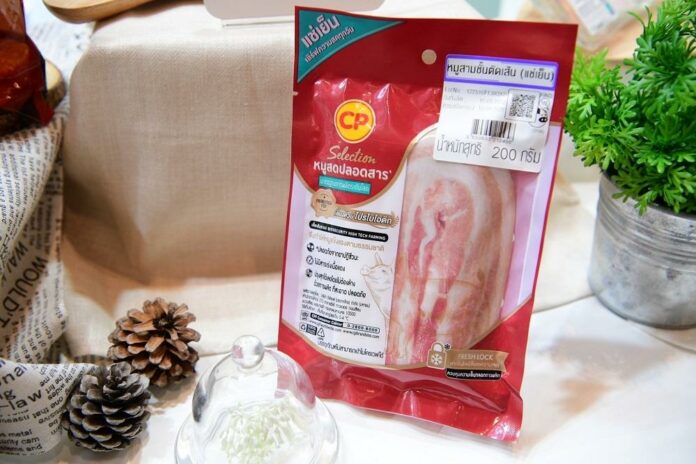 Charoen Pokphand Foods Public Company Limited (CP Foods) has successfully leveraged the blockchain technology into its digital food traceability system for fresh pork and chicken products. This year, the company will further leverage the technology to its shrimp business to ensure exceptional quality and hygienic foods for consumers and customers worldwide.
Ms. Oraparn Mungmisri, Assistant Vice President for Global Standard System Centre for CP Foods said that the quality and safety of food products is our top priority as illustrate in the company digitalization of its product traceability system in accordance with the CODEX international food standards as well as ISO system standards.
The technology enables the company to track back the entire value chain of a product, including the raw material source, manufacturing facility, and production processes. Since 2015, CP Foods has initially applied the CPF Digital Traceability system in ts value chain in Thailand.
Additionally, CP Foods partnered with AXONS, Thailand's leading agri-tech firm, to accelerate the traceability system with Blockchain Traceability technology, which is widely accepted in numerous industries including banking, sourcing and procurement, and supply chain.
In an effort to increase consumer and customer confidence in the accessibility, transparency, and timeliness of all product information, the company has successfully implemented Block Chain technology for fresh chicken and hog meat and will do so for fresh shrimp and cooked foods this year. In the next step, the company intends to establish blockchain-based traceability for all products.
"Blockchain Technology facilitates consumers rapidly access product information by scanning a QR Code on the packaging. In addition to the origin of products, the consumers could also be informed on the certifications for quality and food safety standard and information related to sustainable products including GHG emission. This contributes to the company consistently delivering better product value," Ms. Oraparn said.
In addition, CP Foods has implemented Blockchain Traceability throughout its whole supply chain, beginning with the procurement of raw ingredients for feed manufacturing and extending to farming, processing, and shipping. This increases customer confidence in the quality and safety of raw resources and goods, none of which must come from deforestation areas in a bid to pave the way for global food security.