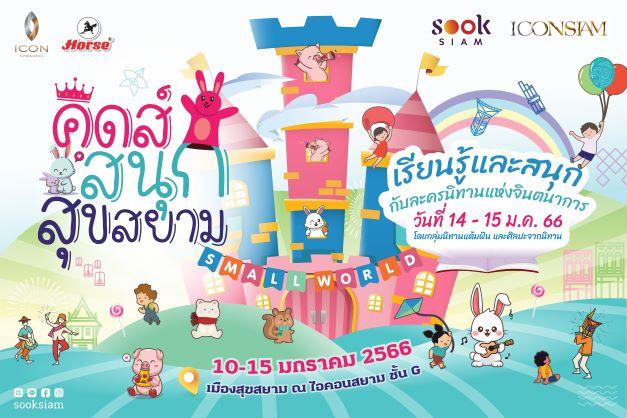 ICONSIAM, the global landmark by the Chao Phraya River, and Playmobil, a world's popular imaginative and educational toy from Germany celebrates Children's Day with "THE ICONIC CHILDREN'S PLAYGROUND 2023," from 11-15 January 2023 at ICONSIAM.  
Discover the largest collection of over 50 giant Playmobil figures. Features also are Playmobil figure assembly contest and an opportunity to donate Playmobil figures value over 1.2 million baht to children in needs.  Meet the new Playmobil collection 'Wiltopia,' the world's first sustainable toy made from 80-percent recycled materials. Children can also enjoy Feature AR to learn more about Amazon wildlife.
In addition, Experience entertaining activities by the National Science Museum Thailand and have fun at "Kids Sanook Sook Siam", the wonderland that encourages learning and stimulate imagination at  Sook Siam, Plus an outdoor playground "Let's Play Bouncing" right by the Chao Phraya River.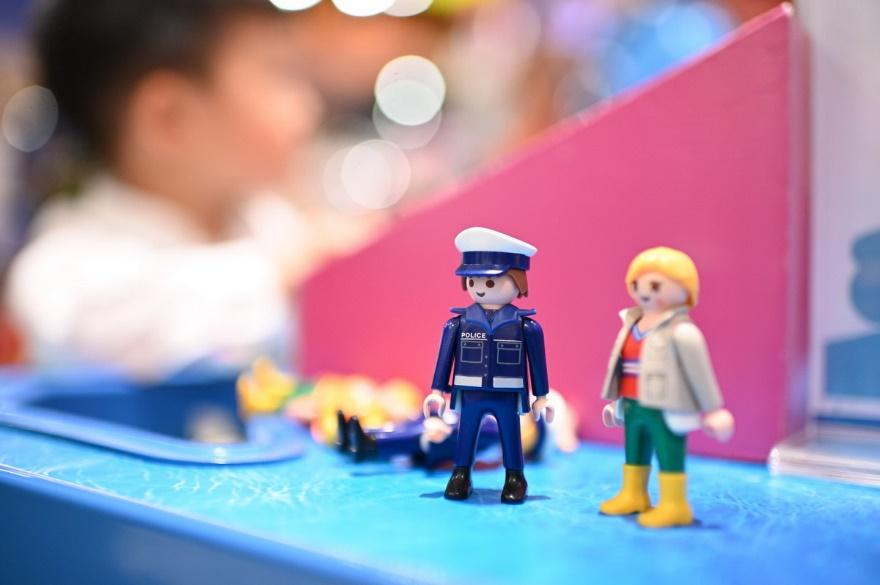 Playmobil, imagination and educational toys, invite children to join figure assembly contest at Charoennakorn Hall, M Floor, and share toys with underprivileged children
A highlight of the Children's Day 2023 event is the opportunity for children to meet with the largest number of Playmobil Giant Figures and to participate in the challenging Playmobil figure assembly contest. Playmobil figures is the high-quality toys from Germany that promotes children development, unlimited imagination, logical thinking process, cognitive skills and social skills as well as small muscle and emotional development. Children will have fun learning more about different careers and inspired by more than 50 Giant Figures in different career outfits, such as policeman, firefighter, football player and figures from imagination like knights, princess and leading cartoon characters. Participating children and the general public can also participate in the Playmobil figure assembling contest that allow contestants to freely use their imagination to create new toys under "Your Own Figures" theme. This will be the first and the largest competition of its kind in Thailand with expected 6,400 participants and 12,800 figures with total and largest budget of 3,200,000 baht.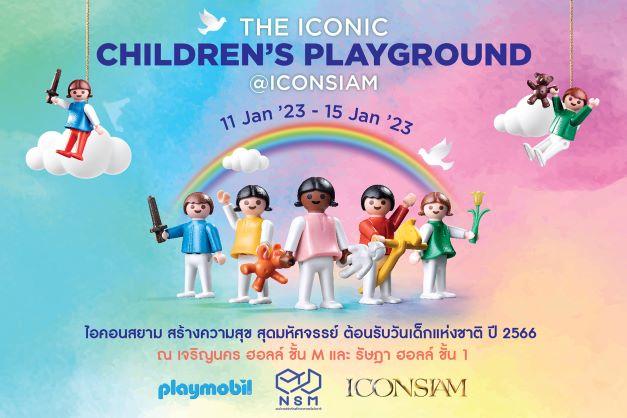 What's special about this contest is the "sharing" concept. Each "contest" does incorporate "sharing". The contest rule is that the winner will win two Playmobil figures that they assemble while the rest will have to donate one of the two Playmobil toys they make in the contest to the small children's development centers in Khlong San and Thonburi districts, schools in the Khlong San district and children living in ICONSIAM neighbourhood. The total value of the toy donation is over 1,200,000 baht.
To participate in the Playmobil figure contest, interested persons are required to show a receipt of their goods or service purchase from participating shops within ICONSIAM, as well as Siam Takashimaya worth at least 200 baht per receipt (not including online payment) to win the right to the contest on the same day. Special for children joining the event, ICONSIAM has prepared Child Safety ID Card as a special gift for them to use in their daily life. To obtain the Child Safety ID Card, one has to present One Siam Super App and a receipt worth at least 200 baht.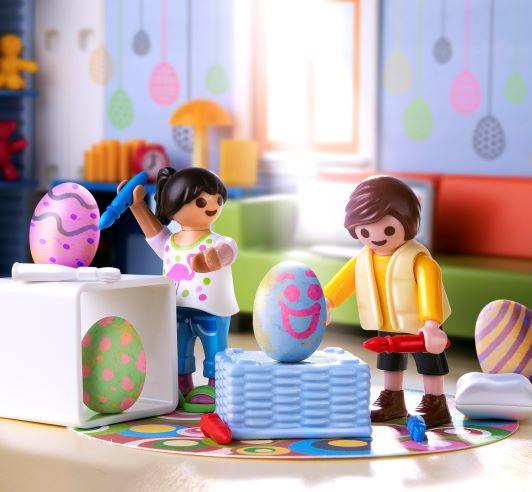 In addition, ICONSIAM will unveil a special collection "Wiltopia", the latest green figures made from post-consumer recycled plastic (PCR), which is as environmentally friendly as bioplastic. Playmobil has a clear goal and commitment towards Net-zero Carbon Emissions by 2027. As part of this vision, Playmobil aims to encourage children to learn more about sustainable environmental conservation through participation in various activities at the event. Children can also discover the amazing life of animals, nature and the environments through AR technology that display life-size 3D picture of such animal together with nice narration.
Having fun with creative science activities from National Science Museum Thailand
Children can also enjoy discovering the magic of science by the National Science Museum Thailand (NSM) at "Sense Science," where they can learn, have fun and challenge themselves. Other fun filled activities such as making tube rocket, balloon rocket, paper airplane and gliders are available at ICONSIAM at Rassada Hall, 1 Floor.
Stimulate kid's imagination and learning at The magic town "Kids Sanook Sook Siam," at Sook Siam, G Floor
Sook Siam opens its door to welcome children on the National Children's Day to "Kids Sanook Sook Siam" event from 10-15 January 2023, at Lan Muang 2, Sook Siam, G Floor, ICONSIAM. Themed "Small World," a lot of activities that promote children's learning and imagination include old-time toys and snacks from Pracharat Community Shops, many fun games and prizes, such as popcorn set,Kid Cinema movie tickets, and M Generation Kids membership cards from ICON Cineconic, and Horse-brand stationary from Nanmee. These games will be held at 12.30 hrs., 13.30 hrs., 15.30 hrs., 16.30 hrs., 17.30 hrs. and 18.30 Hrs. On 14-15 January 2023, four children musical plays by Taem Fun story telling group are featured on 14.00 and 17.00 hrs respectively.  On 14 January are "Three Little Pigs" and the "Pinocchio". On January 15 are "The Giant Turnip" and "Snow White and the Seven Dwarfs."  Featured also are cartoon parade, magical show, bozo and the balloons, and many workshops, such as piggy bank painting, ocean-themed gel candle making, animal-shape clay making, key chain painting,  woven fish making, and mini khon mask painting.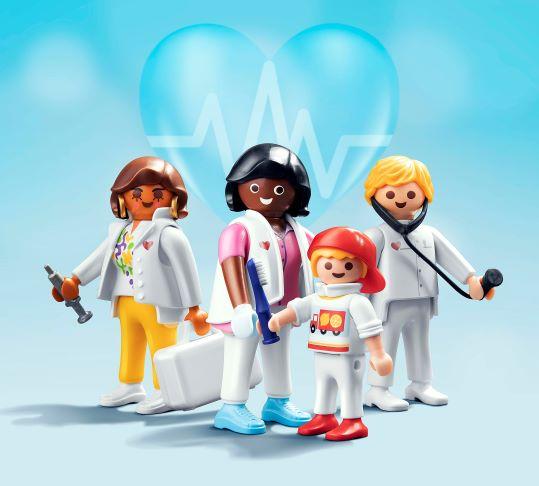 Let's Play Bouncing! The open-air playground by the Chao Phraya River at River Park, G Floor
Children can enjoy playing in the outdoor inflatable playground at the "Let's Play Bouncing" where they can fhave fun climbing up, sliding down and jumping freely and safely on the four giant inflatable bouncers. On offer also are bumper cars and paddle boats. Entrance fee is 250 baht for a child and  100 baht for an adult. The playground is open from 11-17 January 2023 and 25 January –  9 February 2023 at River Park, G Floor, ICONSIAM.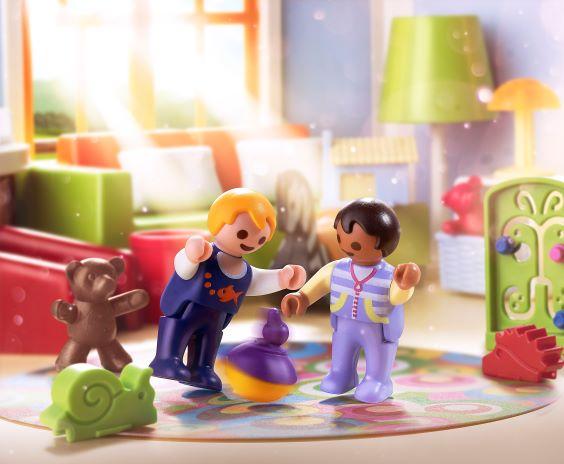 "THE ICONIC CHILDREN'S PLAYGROUND 2023" opening is set on 12 January 2023, with presence of Lydia Sarunrat – Mathew Dean and their children Dylan and Demi at 14.00 hrs.
Children are invited to dress up in their dream career outfit and join this fun-filled event and get a chance  to receive special souvenirs from Playmobil (available in limited number). Also available at this event are booths from children skill and talent development schools and toy shops where parents can browse for the right course and toys for their little angels.
The National Children's Day event will be held from 11-15 January 2023, at Charoennakorn Hall on M Floor, Rassada Hall on 1 Floor, Sook Siam and River Park on G Floor of ICONSIAM. For more information, call 1338 or ICONSIAM facebook page.