BASIS International School Bangkok International School is a world-class international school in Bangkok and the 35th international school in the BASIS Curriculum school networks, which have been developing for more than three decades and are entirely formulated with a history of innovation. It has also been ranked as one of the best international schools in the United States and is widely accepted as the gold standard worldwide.
The school offers education from preschool to grade 12, with a strong curriculum emphasizing developing the individual student's unlimited potential to help them achieve appropriately and truly with their ability, as well as being ready to tackle future challenges properly and able to push the students to step into many leading universities around the world and build their reputation as quality individuals in society.
It is the principal objective to bring BASIS International School Bangkok to the highest possible level, relentlessly, as well as integrate the curriculum to be relevant to the context of Thai society. With an awareness of Thai values, bringing the identity of Thai language, art, culture, and tradition to every level of the international curriculum is an important part of growing the Thainess mindset alongside the international curriculum at every level.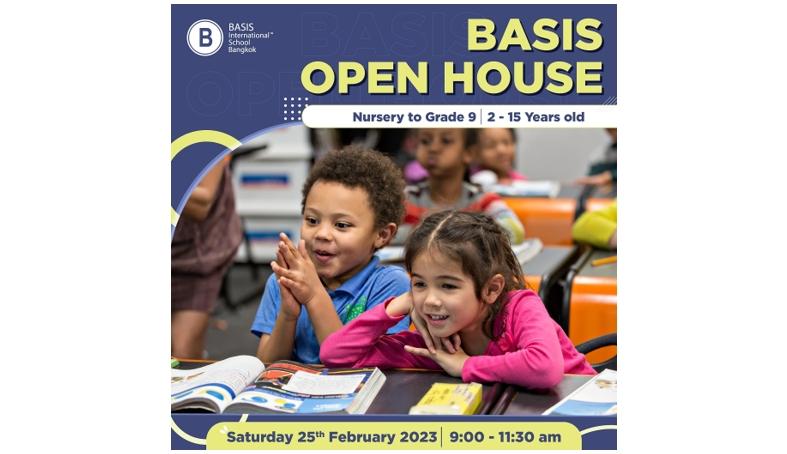 There is no surprise why BASIS International School Bangkok has become the best international school in Bangkok.
Apart from the importance of academic practice as a priority, the international curriculum at the BASIS International School Bangkok also covers the quality of the environment, which is part of what helps push the love of learning mindset and encourage the students to follow their own dreams.
The selection of teachers who are full of knowledge, have specific areas of expertise, are highly creative, and have a strong belief in the students' ability to achieve their full potential is also central to the BASIS International School Bangkok way.
BASIS International School Bangkok is ready for a new open house event with the 'Open House Activity' and is inviting people to visit the campus and experience it to answer any doubts about why BASIS's students want to come to study every single day and always love to learn.
The visitors have also been invited to experience the real teaching and learning atmosphere in a classroom that is fully equipped with modern facilities and two specialized teachers (SET&LET).
SET Teacher is the expert teacher teaching in-depth knowledge (Subject Expert Teacher) in various subjects, while LET Teacher is the expert in learning (Learning Expert Teacher) to help develop the student's creativity and the curriculum that places emphasis on preparing to be ready for the future.
📍 The New Open House Activity will be held on Saturday 25th Febuary, 2023  
🕘 Time 09.00 -11.30am 
Registration : https://booking.readyplanet.com/b/ugvil8fq/4862
☎️ For more information: Tel. 0 2415 0099
📧 Email: [email protected]
🌐 LINE: @BASISAdmissions