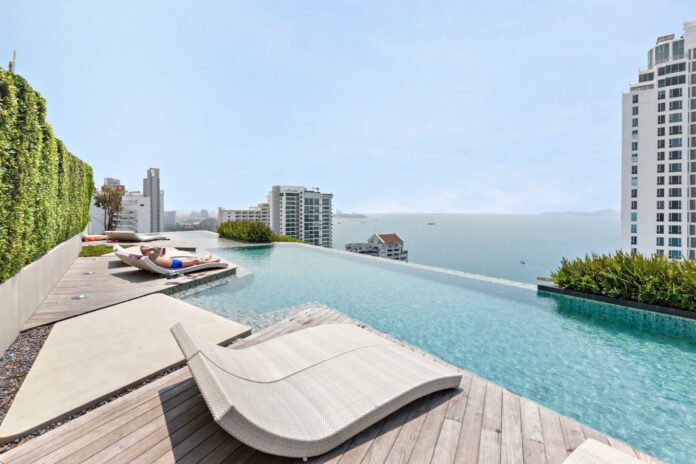 Find the Ideal New Condo for Sale in Pattaya
The building boom of the past ten years is still going on along the gulf coast of Thailand. This means plenty of new, modern condos are still for sale in Pattaya. The condos in Pattaya offer the perfect weekend getaway home within a couple of hours' drive from Bangkok. 
The recent Covid slowdown to the property economy in Thailand can be an opportunity for those looking for a second home within driving distance of Bangkok. 
Focus on The Future
Pattaya is a great place to invest in your future. With the high-speed rail project planned for the eastern corridor from Bangkok down to Rayong, Pattaya will one day be within an hour's ride. Many condos along the coast will organize pick-up services to ferry their tenants from the train station and back. 
You'll be able to leave the office in Bangkok and soon enjoy drinks on your terrace on the coast as you watch the sunset.
The high-speed rail system and the slowdown in development in Pattaya as less land becomes available will mean that the demand for condos in Pattaya will stay high for years. At the same time, infrastructure development in Pattaya will still proceed, increasing the value of already-owned condos. The recently completed tunnel underneath Sukhumvit Road in Pattaya made accessing the city's southern area and Jomtien much faster and easier. 
Pattaya already has an advantage for frequent travelers. Owning a home in Pattaya means frequent travelers now have two options for their flights. Pattaya is conveniently located between Suvarnabhumi and U-Tapao airports. This means twice as many flights and times to choose from for jet-setting Pattaya condo residents.  
Finding the Ideal Condo
For people who see the value in investing in a condo for sale in Pattaya, the main issue is deciding which condo to buy. Condos in the area all feature deluxe amenities that can make choosing just one difficult. Air-conditioned, spacious fitness centers, stunning swimming pools with panoramic views of the coastline, lush gardens, convenience stores on the condo grounds and various other amenities make life easy and luxurious for the residents.
The wisest decision can be working with an experienced and knowledgeable Pattaya property agent to help you make the right choice. Working with a local property agent allows them to show you the condos with quality construction and well-managed juristic services, two things that will be very important to you in the coming years. 
Pearl Property Pattaya has a wealth of property agents who know the details of every condo in the area. They can recommend certain condos as the most preferable. They also know the reputations of every developer in the city. And they can assist you in the paperwork and negotiations to buy your dream condo. 
Working with an agent from Pearl Property Pattaya is one of the best ways to enjoy life in Pattaya for years to come.