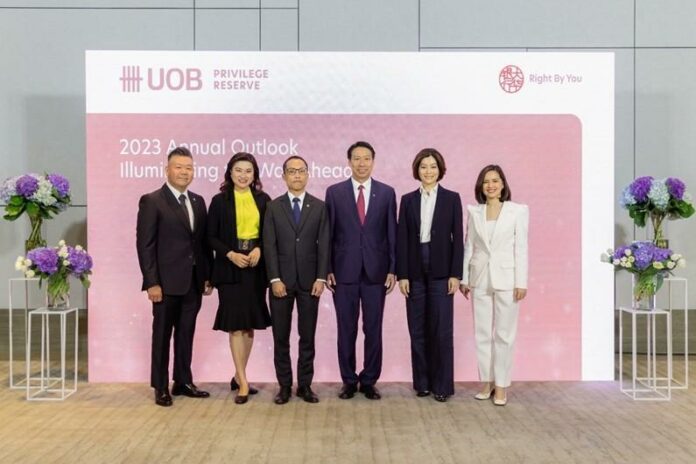 UOB Thailand held its annual outlook seminar providing customers with investment strategies and insights for 2023. Strategies include investing in US Financials, taking advantage of trends in Asia's growing middle-class consumer spending patterns and tapping into long-term structural tailwinds of Global Healthcare sectors such as health tech. The seminar also discussed how Asia is becoming more independent and less reliant on Developed Markets, making it prime for investment opportunities.
Mr Yuttachai Teyarachakul, Head of Personal Financial Services, UOB Thailand, said, "In 2022, we experienced a dramatic shift in the global investment landscape as interest rates rose precipitously, resulting in an inevitable market correction. As volatility is expected to continue into 2023, UOB Thailand is dedicated to helping our customers navigate this turbulent period with the knowledge and strategies they need to make informed decisions for their financial future."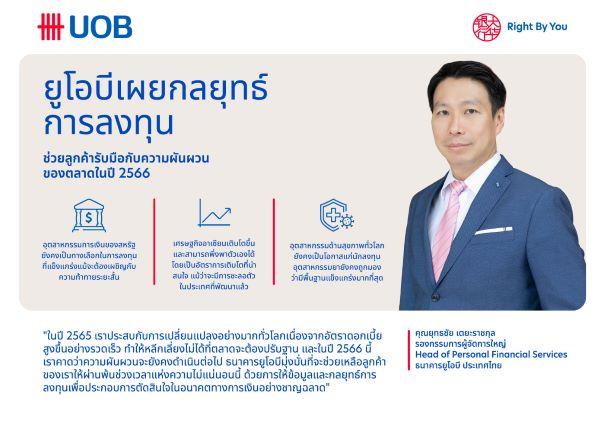 US financials remain solid investment option despite near-term challenges
US Financials remain a solid investment option due to higher interest rates boosting net interest margins and overall bank earnings. Long-term prospects are promising, as banking remains a core business with significant barriers to entry, while digital banks take time to build presence to compete with traditional brick-and-mortar institutions. Though the near-term may bring challenges such as rising loan-loss provisions for potential recessions and reduced investment banking fees from economic uncertainty, these are likely temporary headwinds. If the recession is shallow and short, it could boost bank stocks in 2023.
Asian economies thrive with growing independence, attractive valuation and positive recovery despite risk of slowdown in developed markets
Asian economies, while not entirely removed from the risk of recession in Developed Markets such as Germany, Japan and the United States, have grown increasingly independent thanks to an expanding middle class driving global consumer trends and spending. This decreased dependency has made Asia's growth less reliant on economic activity in Developed Markets. Asia ex-Japan valuation is also attractive compared to historical averages, with economic reopening further supporting a positive recovery. China's re-opening could particularly provide a tailwind for the region. However, a slowdown in Developed Markets could still pose a challenge for companies relying on export revenue.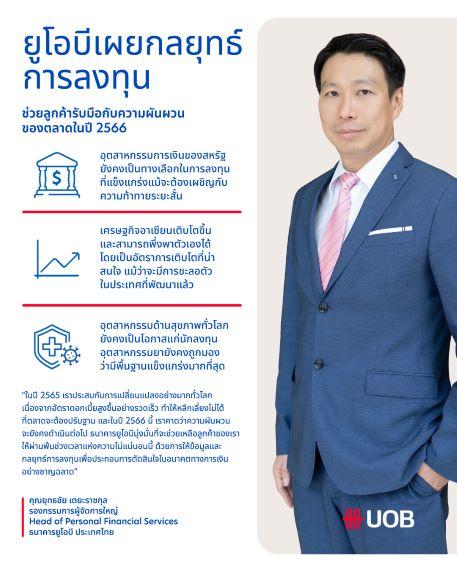 Global healthcare continues to offer opportunity for investors 
As we enter the fourth year of the COVID-19 pandemic, there are opportunities for investors in the Global Healthcare sector. Pharmaceuticals are relatively immune to economic cycles, making them one of the most defensive industries. Furthermore, factors such as an ageing global population and advances in health tech that enable remote healthcare services at reduced costs provide structural tailwinds that support long-term growth in this sector.
Mr Yuttachai added, "Investors must be aware of their risk appetites and maintain a diversified portfolio to mitigate risks due to unforeseen events. UOB's dedicated team of Client Advisors and specialists can provide advice that is built around what matters to each investor. Before coming to any investment decision, investors should always ensure that they are clear about what they are investing in and have considered potential risk factors."
In this photo (from left to right): Mr Abel Lim, Head of Wealth Management Advisory and Strategy, UOB Group; Dr Kirida Bhaopichitr, Director of TDRI Economic Intelligence Service (EIS), TDRI; Mr Nakhon Vorakanonta, Executive Director, Sales and Distribution, UOB Thailand; Mr Yuttachai Teyarachakul, Head of Personal Financial Services, UOB Thailand; Ms Suquan Bulakul, UOB Privilege Banking Brand Ambassador, and Ms Siratthaya Isarabhakdi, MC for the seminar.