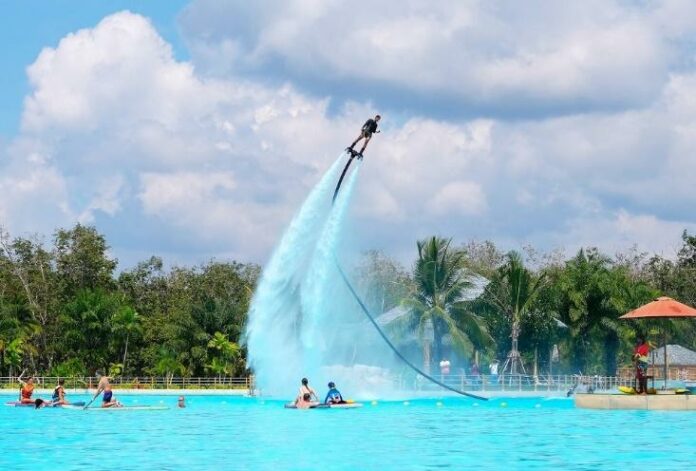 The 140-rai "Blue Tree Phuket" is a world-class entertainment hub that offers non-stop fun and excitement throughout the day and night. As the ultimate destination for tourists in Phuket, it boasts a tagline and slogan of "Entertainment Hub, Thrill & Chill, Day & Night," and is a popular spot for adventure seekers and relaxation enthusiasts alike. Once you've experienced the Blue Tree Phuket, you'll definitely want to come back for more!
With a variety of entertainment activities that change every month, from adrenaline-pumping adventures like the Fly Board and Cliff Jumping to more relaxed options like enjoying the atmosphere and watching various performances against the stunning backdrop of the 17,000 sqm Crystal Lagoon, visitors will never run out of things to do. The latest addition is the full-scale Aquatic Shows featuring Synchronized Swimming, Super Fly, and more, all to be enjoyed up close and personal at the Blue Tree Phuket Lagoon. 
Some of the highlight shows include:
FLY BOARD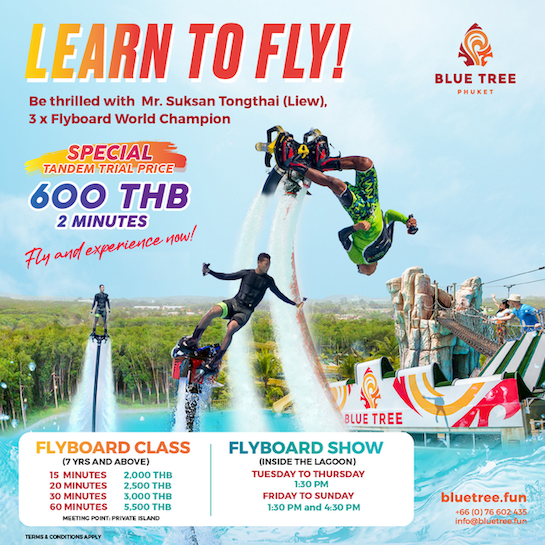 Once in their lifetime, adrenaline junkies must try the "FLY BOARD"  – one of the most popular extreme sports among teenagers. The rider attaches himself/herself to a form of water ski and controls the direction to float above the water and fly in the air propelled by pressure from the water. The show is performed by  a Thai athlete who is a three-time "FLY BOARD" world champion.  For those who want to give it a try, a special rate is being offered at only 600 baht for 2 minutes. A professional trainer will be there to guide a novice rider and control the water pressure to ensure one's safety (details as specified).
Showtimes:
1 round on Tuesday-Thursday at 1:00 pm

2 rounds on Friday-Sunday at 1:00 pm and 4:00 pm.
2. CLIFF JUMPING or CLIFF DIVING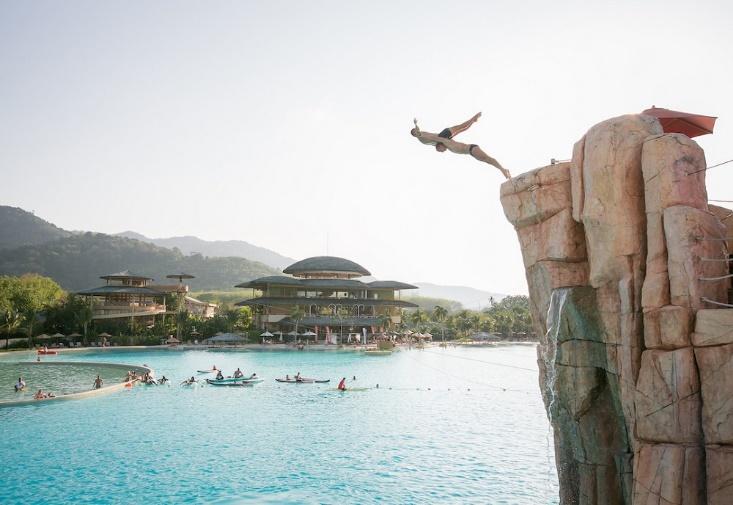 Cliff Jumping or Cliff Diving is a sport that requires various skills and techniques, in which the individual jumps off a cliff and dives into the water below from a height of 10 meters.
In this "Cliff Jumping" performance, the performer is highly skilled and well-trained, with the highlight being the beauty and difficulty of the maneuvers before hitting the water surface.
Showtimes: 2 rounds on Tuesdays-Sundays at 1:00 pm and 4:00 pm.
3. SYNCHRONIZED SWIMMING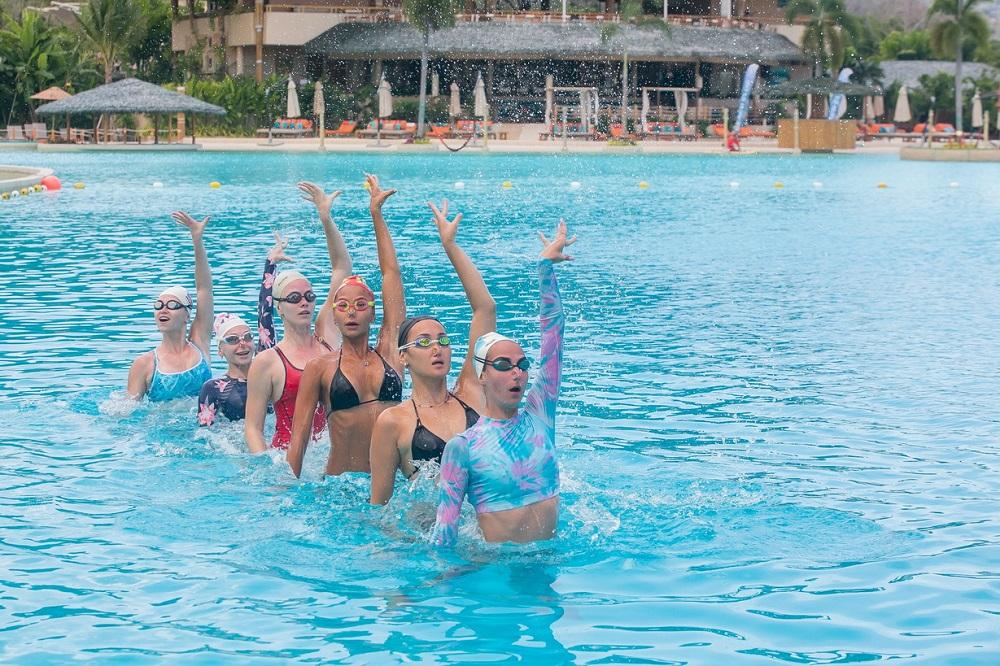 SYNCHRONIZED SWIMMING is an underwater dance sport that is full of beauty and charm. The sport combines ballet, swimming, gymnastics, and water polo with beautifully designed choreography that is accompanied by music. It is another performance that creates smiles and enjoyment and impresses the audience.
Showtimes: 2 rounds on Tuesdays-Sundays at 1:00 pm and 4:00 pm.
4. SUPER FLY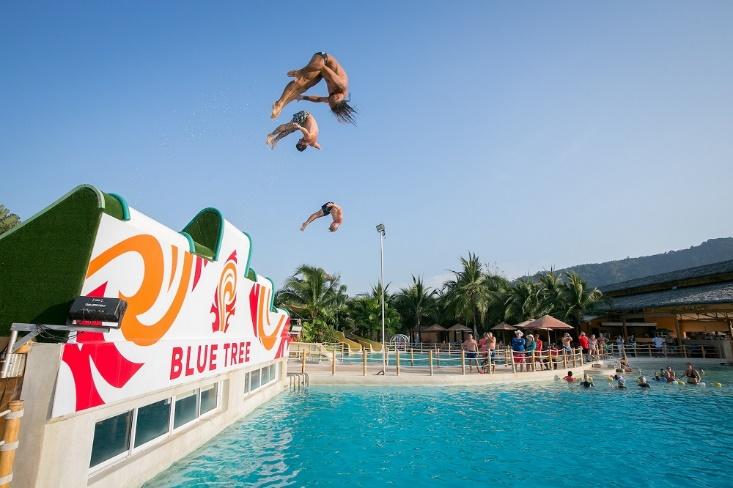 Last but not least: another show highlight – the "SUPER FLY" – is yet another signature activity of Blue Tree that is popular among tourists. You can slide down from the longest Xtreme slide in Thailand, soar through the air at a height of 6-10 meters before landing in the crystal clear lagoon, in a graceful pose. It's an exciting and thrilling experience for both athletes and spectators.
Showtime: 2 rounds on Tuesdays-Sundays at 1:00 pm and 4:00 pm.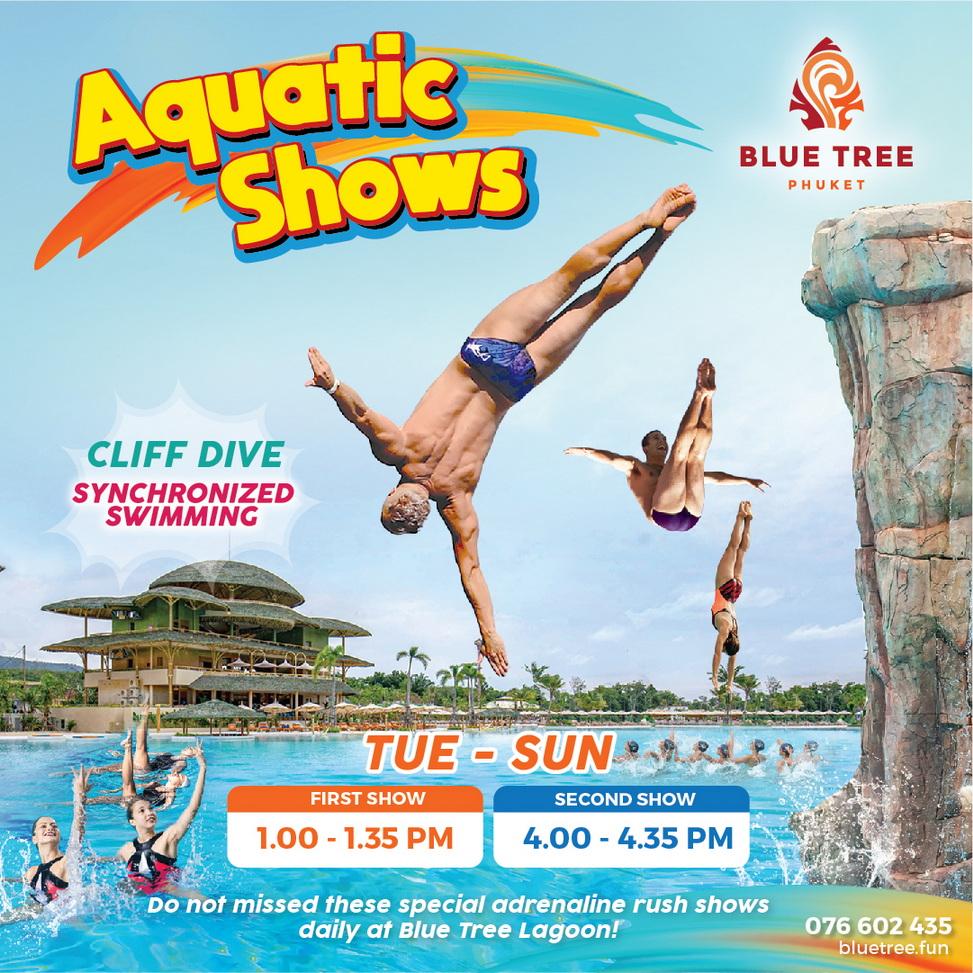 After seeing it, you'll certainly want to test your courage and try out this thrilling experience. Those who love adventure and excitement should give it a go. And those who prefer to chill can just watch and capture beautiful photos or video to share on social media.
For more information, please call 076-602435 or visit https://bluetree.fun/ 
#BlueTree #BlueTreePhuket #FreeEntry
#Entertainmenthub #ThrillandChill #DayandNight
#AquaticShows #FlyBoard #CliffJumping #SynchronizeSwimming #SuperFly