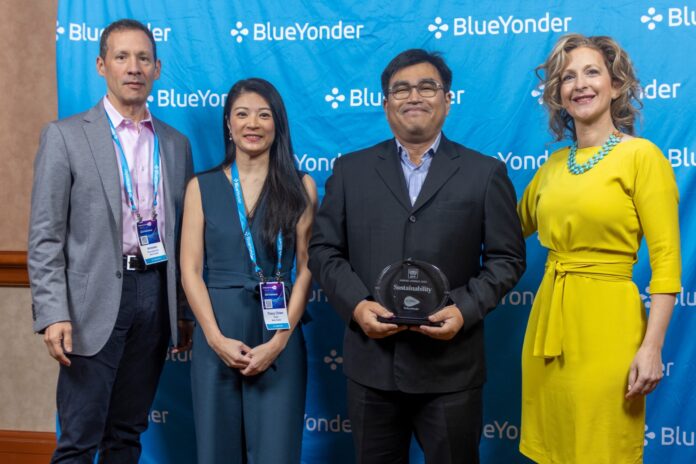 Charoen Pokphand Foods PCL (CP Foods) is thrilled to announce its recent achievement, receiving the Blue Yonder 2023 ICONic Award for Sustainability. This prestigious recognition highlights the company's dedication to CPF 2030 Sustainability strategy and the successful adoption of Blue Yonder's digital supply chain solutions.
As CP Foods moves towards digitalization across all aspects of its operations, a primary focus has been on leveraging food loss management, environmental conservation, and social accountability. By partnering with Blue Yonder, CP Foods has been able to digitally revolutionize its supply chain, with a particular emphasis on the Broiler business and other key operational areas.
The implementation of digital technologies has empowered CP Foods with advanced trend forecasting, cross-functional planning, and efficient plant execution. By reducing redundancy, optimizing processes, and aligning factories with centralized planning, the company can make more informed S&OP decisions. This has led to significant cost savings, minimized environmental impacts, and elevated customer experiences.
CP Foods commented on its strategic shift, stating, "We are adapting our business to enhance our competitiveness in the global market. Digitalization enables us to achieve the highest and safest food quality, assuring customers that our products will be delivered promptly and efficiently." The company also emphasized that the adoption of an end-to-end S&OP cross-functional approach facilitates integrated business planning, aligning demand and supply planning, and sequencing. This creates cohesion throughout the supply chain, addressing risks and capitalizing on opportunities. Improved visibility into the process allows CP Foods to act swiftly and effectively when required, minimizing blind spots in the supply chain.
The annual Blue Yonder ICONic Customer Awards, which are presented at the Blue Yonder ICON conference in Las Vegas, honor organizations and individuals who challenge the status quo, embrace innovation, and deliver impactful results. The awards celebrate achievements in six company-based categories and two individual distinctions.