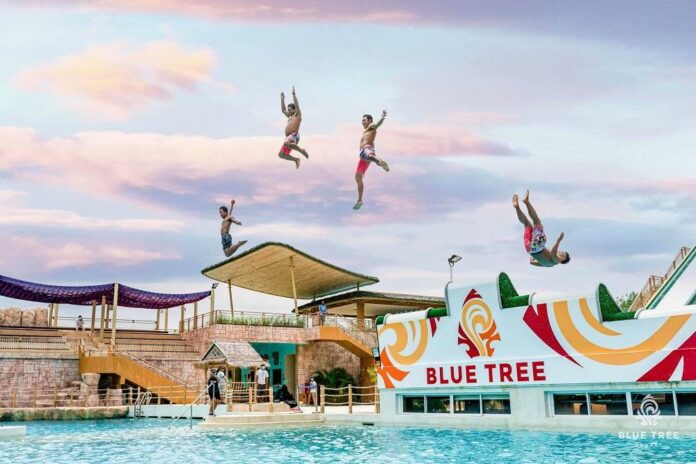 If you are planning to visit Phuket to escape the searing heat, we have some great suggestions to help you to chill! Don't wait any longer – pack your bags and fly straight to Blue Tree Phuket where a complete range of activities boasting the slogan "Entertainment Hub, Thrill & Chill, Day & Night" is on offer to suit all ages and lifestyles. Whether you prefer thrills or just want to relax, you're guaranteed a blast that makes the cost of admission more than worthwhile!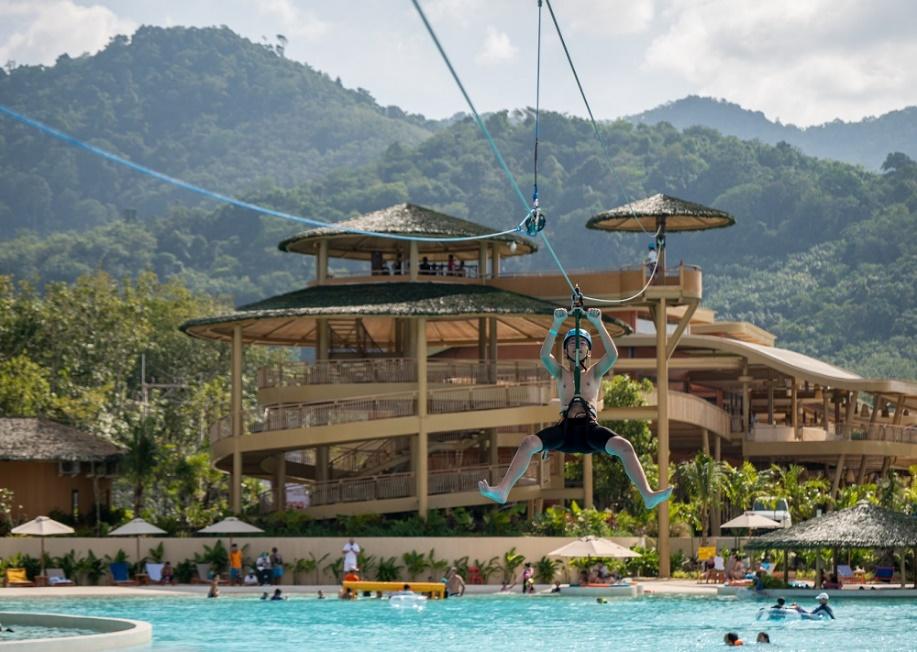 When you arrive at Blue Tree Phuket, first cool down and relax in the free areas (except for the Blue Tree Lagoon zone) and plan where you want to start playing. Here are some ideas to help you decide what will be the most fun .
For the thrill-seekers.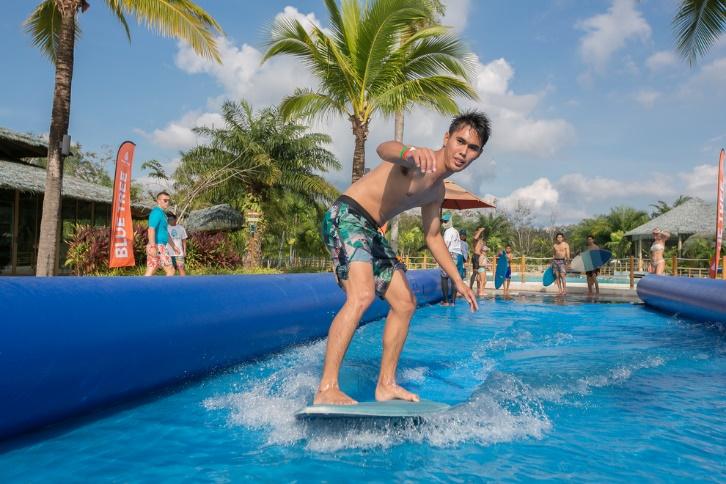 The most challenging and hottest activity is the "Superfly" where you soar through the air before plunging into the water on the longest slide in Thailand!  There are four levels of challenges with heights ranging from 6-10 meters waiting to greet thrill-seeking visitors. If that's not enough to get your adrenaline flowing, try the "Flyboard," an extreme sport that will take you to the sky, soaring over the water while admiring the views of the Crystal Lagoon below. Still not satisfied? Test your courage by shooting down the "Zipline," another sport that will take you across the shore while enjoying the stunning views from a high angle of Blue Tree Lagoon. When you reach the cliff, let your heart go and "cliff jump" facing the ultimate challenge with heights of 5 and 10 meters. Or if that's still not enough, go "rock climbing" to increase your strength, then jump into the Crystal Lagoon to fully satisfy your adventurous spirit!
Next, take a break from the excitement and enjoy the beautiful panoramic view of Crystal Lagoon with some light activities such as "Paddle Board". Then, get ready for some action with the sport of "Muay Talay" (Sea Boxing) as boxers flex their muscles and show off their skills. If you still have the energy,  try the exhilarating "Skimboard", a sport with small boards that allows you to glide on the shallow waters and practice various techniques to enhance your skills and increase the fun even more.
Now indulge in some chill activities…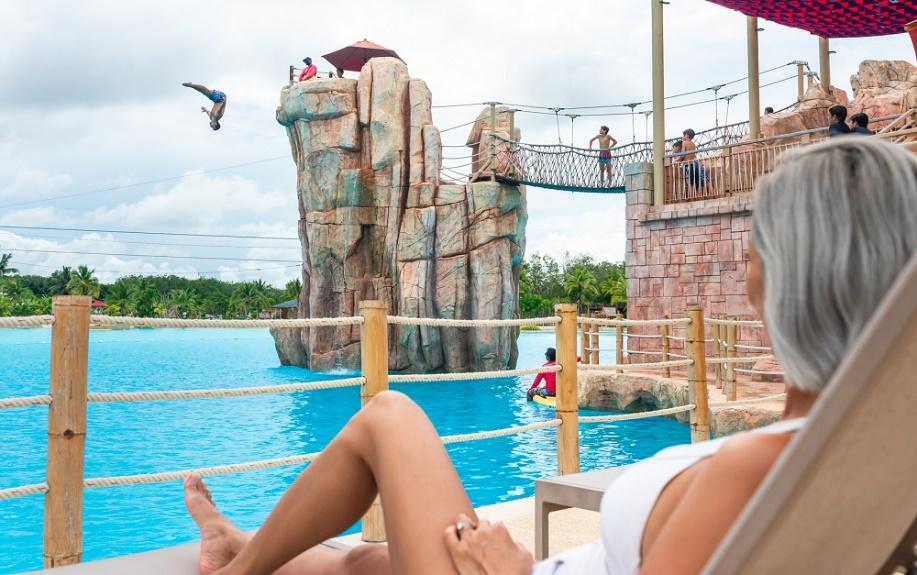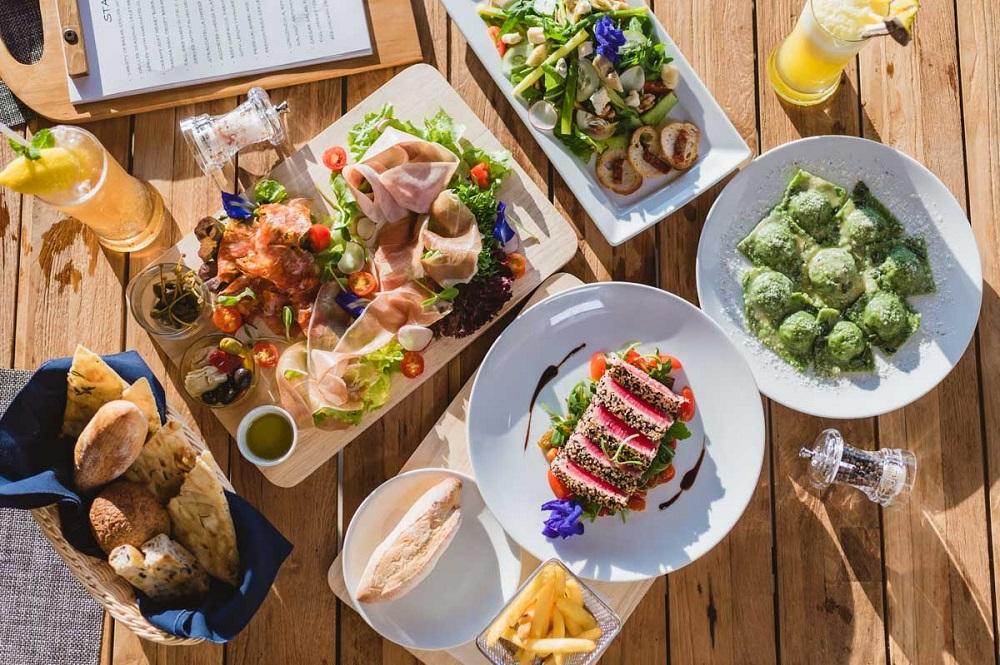 If you're not into extreme sports, there are plenty of cool and enjoyable activities to enjoy. For the active, there's Padel Tennis, the hottest sport from Europe that is easy to play and suitable for all ages and genders on a standard court of 10×20 meters, Water Basketball, Beach Volleyball, Beach Tennis, Darts and Contemporary Dance Class. In the mood for just relaxing? Then watching Blue Tree's Aquatic Shows featuring special performances from underwater diving teams, cliff diving, and the super-exciting Extreme Sports Champion Flyboard, which guarantees a thrill a minute! 
If you prefer just some light exercise, Blue Tree Forest, a garden area of over 50 acres, is the place to enjoy mountain biking, disc golf, surf skate, the outdoor gym, and more.
Something for the kids too 
Parents don't have to worry because we have Kids Planet, a supervised kids club that takes care of children from 1.5-6 years old. Kids can participate in various skill-building activities under the guidance of knowledgeable and experienced staff who understand tiny tots. The staff have been trained to international standards based on cleanliness and safety.
Additionally, there are many fun areas such as a large trampoline park, roller-skating rink, water park, climbing net, and various types of zip lines (Zipline), Ninja Warrior, and Tarzan & Jane zone in the Laguna area. These areas provide space for families, both children and parents, to have fun together with different kinds of slides.
Take a break and indulge in some delicious international cuisine…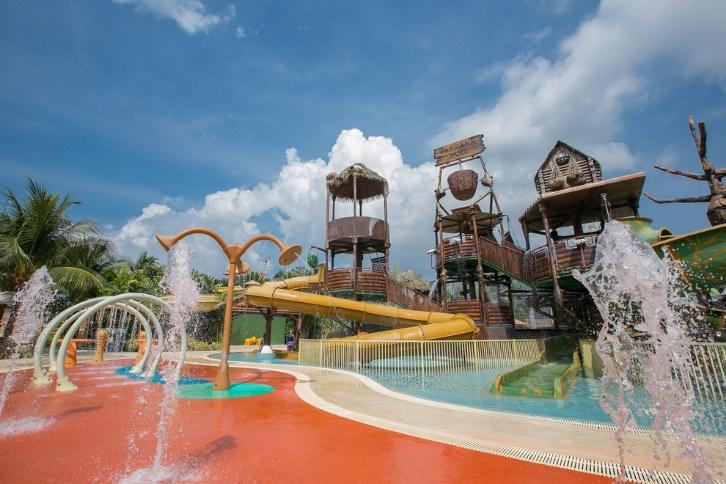 There are plenty of options available when it comes to international food such as Bay Grill restaurant or a sunset drink at the Sunset View Tapas Bar. You can also try the Italian restaurant "Made In Italy", and many more.
After satisfying your palate take a leisurely stroll to the Lifestyle Village Zone, which offers various lifestyle activities. Check-in and enjoy the beautiful tropical atmosphere, shop for trendy clothing, visit the relaxation massage shop, get your nails done, appreciate the art and paint on the walls, or take lots of photos at various attractions. available. Warning! The memory card may quickly become full!
Moreover, the Blue Tree Phuket – the ultimate entertainment hub – has a packed menu of entertaining activities every Saturday. Entitled "Wansao Picnic in the Park", there is something for everyone including games, art workshops, markets, food stalls, movies and more.
With all that's being offered at Blue Tree Phuket, it easy to understand how it lives up to its slogan of "Entertainment Hub, Thrill & Chill, Day & Night". And these activities are just teasers for the complete fun experience. Stepping into Blue Tree Phuket is like entering into a new world thanks to its unique fun-filled activities. We promise you'll have the time of your life so come and see for yourself. 
For more information, please call at 076-602435 or click www.bluetree.fun/ 
#BlueTree #Phuket #BlueTreePhuket #Entertainmenthub #ThrillandChill #DayandNight