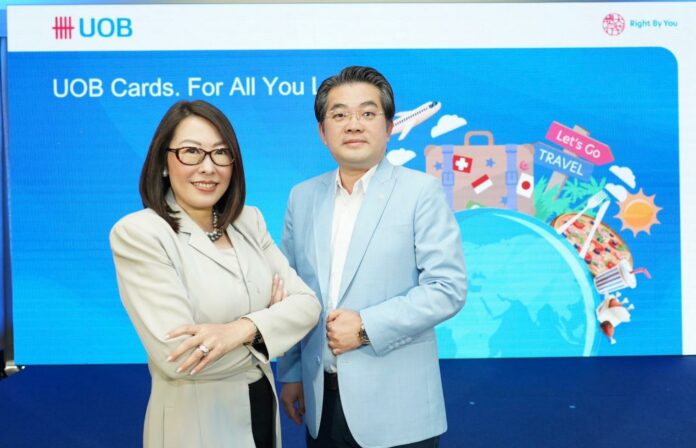 Bangkok –  May 2023 – UOB Thailand has launched a new cards campaign, "For All You Love", featuring strategic partnerships across ASEAN with over 40 renowned domestic and global brands to offer the best deals and privileges to cardholders in Thailand and the region. 
The campaign highlights the Bank's strengthened card propositions and its dedication to offering the best privileges and deals for all that its customers love. Referencing cardholders' spending patterns over the past year, UOB has identified travel, dining, and retail as being closest to customers' hearts, and has boosted its offerings in the three categories through regional partnerships with many established brands.
Mrs Vira-Anong Chiranakhorn Phutrakul, Head of Retail and Brand, UOB Thailand, said, "We're dedicated to providing exceptional customer experiences that cater to their unique needs and preferences. Our globally-informed local expertise delivers tailored banking services that can't be matched anywhere else."
UOB Thailand's commitment to its customers is further evidenced by its strong growth trajectory in the credit card business, the largest segment of its retail arm. Total credit card billings grew by over 30 per cent in the first quarter this year when compared to the same period last year. Majority of the lifestyle spending is contributed by travel, dining and shopping categories. 
Mr Tearavath Trirutdilokkul, Head of Card Payment & Unsecured Products, UOB Thailand, said "Our retail banking business has shown steady growth, clearly demonstrating the effectiveness of our well-planned strategies. We expect to see continued growth in the revenue of our retail banking business as we remain dedicated offering our customers an unparalleled banking experience that stands out from the rest."
Highlights include a world-first partnership with foremost wine rating authority Robert Parker, where UOB cardholders in Singapore, Indonesia, Malaysia, Thailand and Vietnam can look forward to exclusive wine pairing dinners served by MICHELIN-starred chefs as well as curated wine masterclasses for different levels of connoisseurs. This is Robert Parker's first-ever partnership with a financial institution, with its regional reach a pioneering approach for the company as well. This partnership furthers the Bank's customer propositions in the dining space, a perfect complement to UOB's earlier announced partnership with The MICHELIN Guide in Thailand and Malaysia.
Following the announcement of its strategic partnership with local luxury purveyor Club 21 last year, UOB will be collaborating with Britain's foremost designer Paul Smith to elevate its offering in the lifestyle arena. Paul Smith will be lending his signature designs to merchandise exclusive to UOB cardholders in spend-and-get campaigns. Over 5,000 limited-edition Paul Smith accessories including Apple AirPod cases and backpacks will be given to UOB cardholders in Singapore, Indonesia, Malaysia, Thailand and Vietnam who spend a minimum sum on their cards within this year, while stocks last. The collaboration will culminate in a region-wide lucky draw in December 2023 where one UOB cardholder in each country will win a Mini exclusively designed by Paul Smith featuring his signature stripes.
UOB's regional and local partnerships, which include five co-branded credit cards with key consumer brands in Thailand, are on top of the over 2,000 in-country deals specially curated to the discerning preferences of UOB's customers, offering exclusive and customised rewards and privileges.
The new campaign demonstrates UOB's unswerving dedication in offering an unparalleled banking experience to its customers, and reinforces its position as a leading player in the credit card space. As part of the "For All You Love" campaign, a brand new film accentuating the regional presence and global strength of UOB's cards will be launched across online media channels and out-of-home media from 11 May 2023.