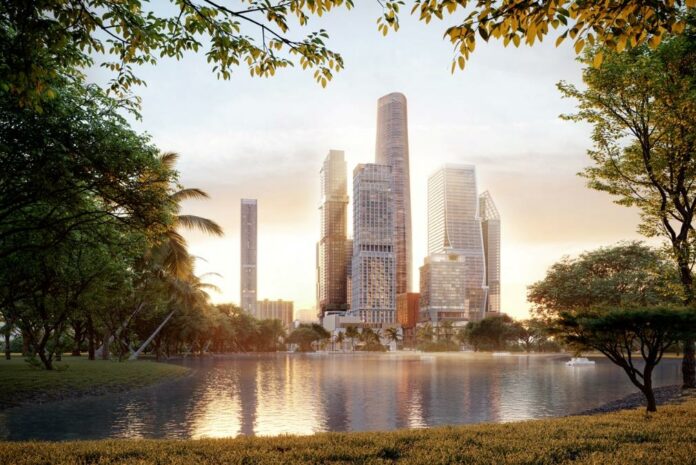 One Bangkok Converges Sustainable Innovation, Embracing World Environment Day Practises "Reuse & Recycle"
One Bangkok, a fully integrated smart and sustainable district in the heart of Bangkok, emphasises its commitment to becoming an environmentally friendly and socially responsible project. This commitment aligns with the environmental preservation and impact reduction goals of the United Nations (UN) and the Bangkok Metropolitan Administration (BMA).
One Bangkok supports the "Reduce and Recycle" policy of World Environment Day by transforming waste and used materials into valuable resources that contribute to the well-being of people and economic development.
The United Nations has designated 5 June of every year as World Environment Day, aiming to raise worldwide awareness of the environmental crisis and for people to take action to protect our environment. As a private sector property development project, One Bangkok is determined to be the driving force for a sustainable future by committing to net-zero carbon goals and engaging with the community to shape a better future collaboratively.
This is reflected through the project's three core development principles of people-centric, sustainability and smart-city living.
To set a new standard of environmentally sustainable development, One Bangkok aims to become the first project in Thailand to attain LEED for Neighborhood Development Platinum certification with a commitment to effective energy reduction, waste management and indoor air quality control.
Several buildings in the project are also being built to WELL Platinum standards to support the health and wellness of everyone. In line with its commitment to becoming an environmentally friendly and socially responsible project, One Bangkok will continue to implement sustainable waste management at scale and in accordance with circular economy principles throughout the development and operations phases of the district.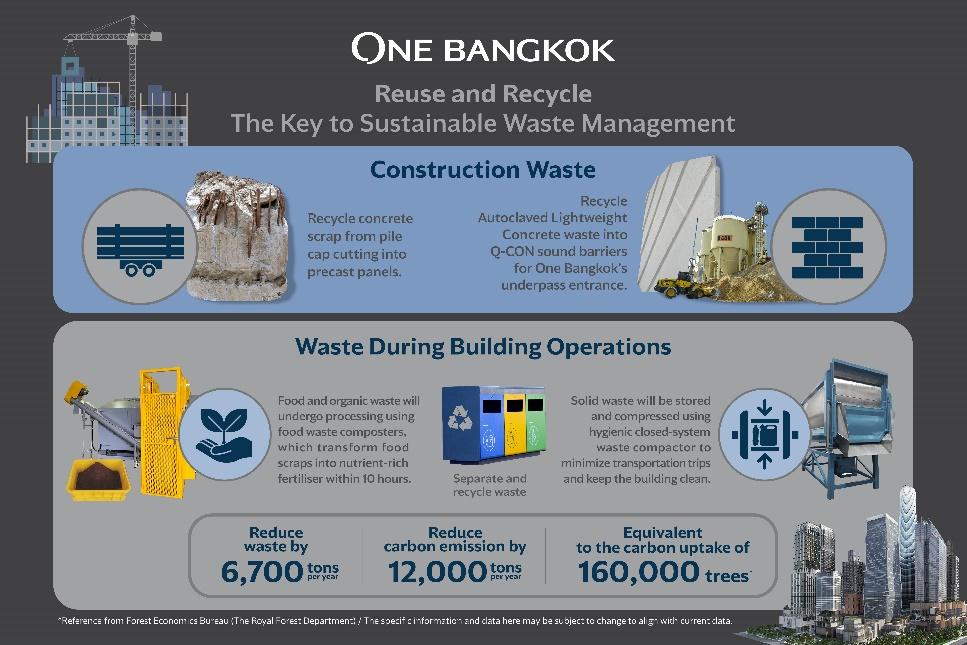 Sustainability has been a core development principle for One Bangkok from master plan design to development and operations phrases– with a focus on innovative solutions to establish an efficient resources management system that supports "Reuse and Recycle" practices such as
Reducing construction waste:

Reusing and recycling more than 75% of the construction waste – such as recycling pile heads into precast concrete panels, which reduces the carbon emission of 5.94 tons, equivalent to oxygen produced by 540 trees. Another implemented innovative solution is recycling autoclaved lightweight concrete (ALC) blocks into Q-CON sound barriers for the underpass entrance.
Waste segregation – Recycle waste – Food waste:

Implementation of technologies for efficient waste management, such as

Food Waste Composters

that transform food waste into fertiliser resulting in greenhouse gas emissions reduction. Another technology that will be installed is

Dust Drum Compactor

, which processes the waste into




a denser form using a closed system allowing hygienic refuse storage and transportation. As a result, the waste reduction is up to 6,700 tons per year and reduces carbon emissions by 12,000 tons, equivalent to oxygen produced by 160,000 trees.

Wastewater management:

Smart technology enables us to monitor water quality, reduce water consumption and recycle the wasted water by Wastewater Treatment Plant. The treated water will then be used for public purposes, including plant watering systems and flushing sanitary wares in common areas.  
In addition, IoT technology has been implemented to provide real-time monitoring of waste management performance to optimise waste segregation and recycling efforts. Smart Bin Sensors will be installed to enhance the waste-tracking system with real-time fill-level information to reduce the overflow of garbage and unsanitary environments,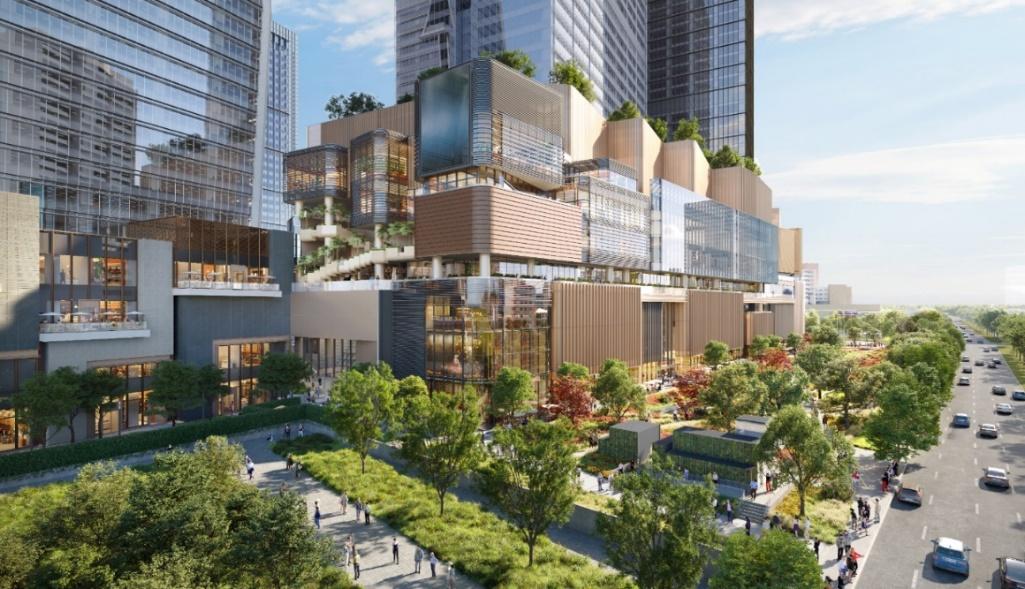 Moreover, One Bangkok is designed to offer a public space (Public Realm) with 50 rai of the total project area allocated to open green pedestrian-friendly spaces, to promote walkability instead of car transportation hence reducing air pollution. Linear parks set back the edges of One Bangkok by 35 to 45 metres from the pavements of Rama IV and Wireless roads, providing an extensive greenspace and improving air quality.
With a commitment to being a part of reducing environmental impacts and promoting sustainable practices, One Bangkok strives to create quality public spaces and lead the way in sustainable real estate development.