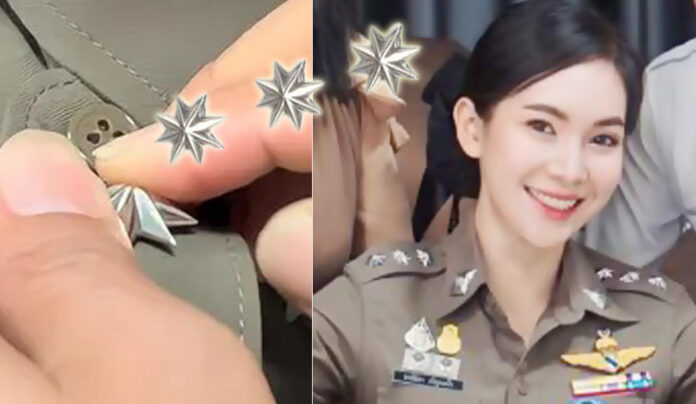 This week's recurring scandal in Thai society stems from photos posted on social media by "Captain Cat", a well-known former beauty queen who is now a police officer. The post shows her parents decorating her outfit with stars (3 stars on each shoulder), a symbol of promotion in the Thai police.
Pol. Capt. Atitaya Benjapak has come under criticism for rising eight ranks in just four years, from lance corporal to police captain. This promotion came after she completed a course for externally recruited commissioned police officers.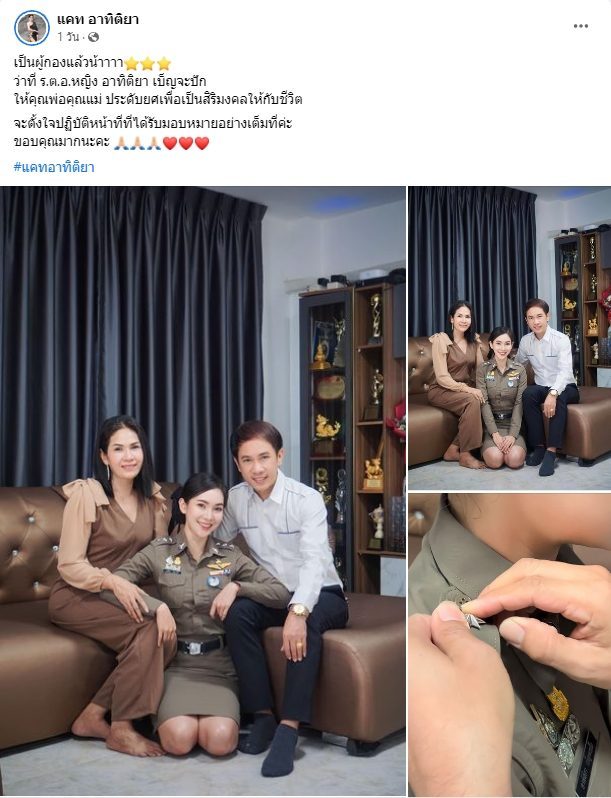 On June 9, Captain Cat deleted the photos and apologized: "Regarding the posted photos of me being adorned with a new rank by my parents as a symbolic gesture to my police career, I had no intention of bragging about it or engaging in any activity that would affect the morale of my fellow police officers or anyone else involved. I sincerely apologise for my rash actions. Finally, I promise that now that I have the opportunity to work, I will commit to performing my duties to the best of my ability and with the utmost diligence."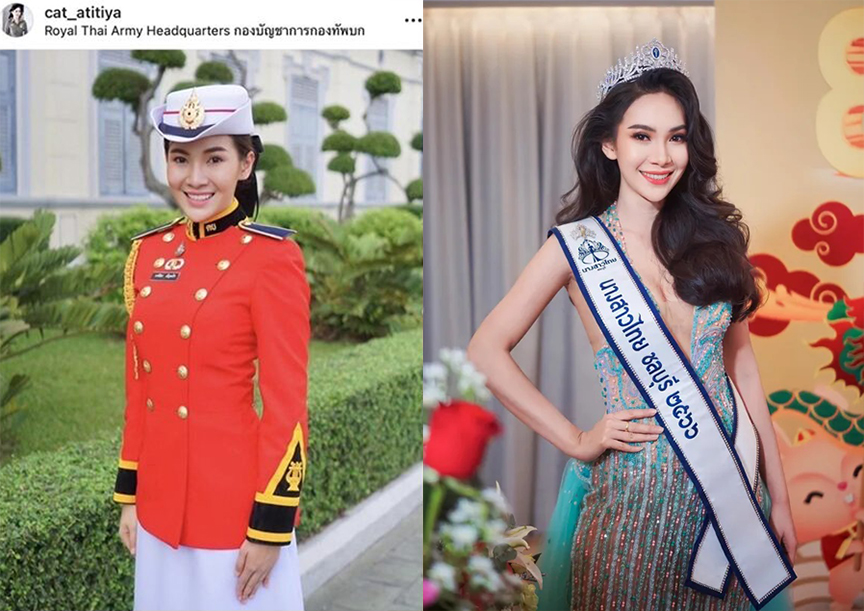 However, this scandal continues to be criticized and has prompted calls for reform of the promotion system within the police, as it has long been alleged that people who reach high positions often come from influential and wealthy families with prestigious backgrounds.
Captain Cat had transferred from the Royal Thai Army Band Department to the police. Her duties at the National Police Office include processing administrative documents and various ceremonial tasks.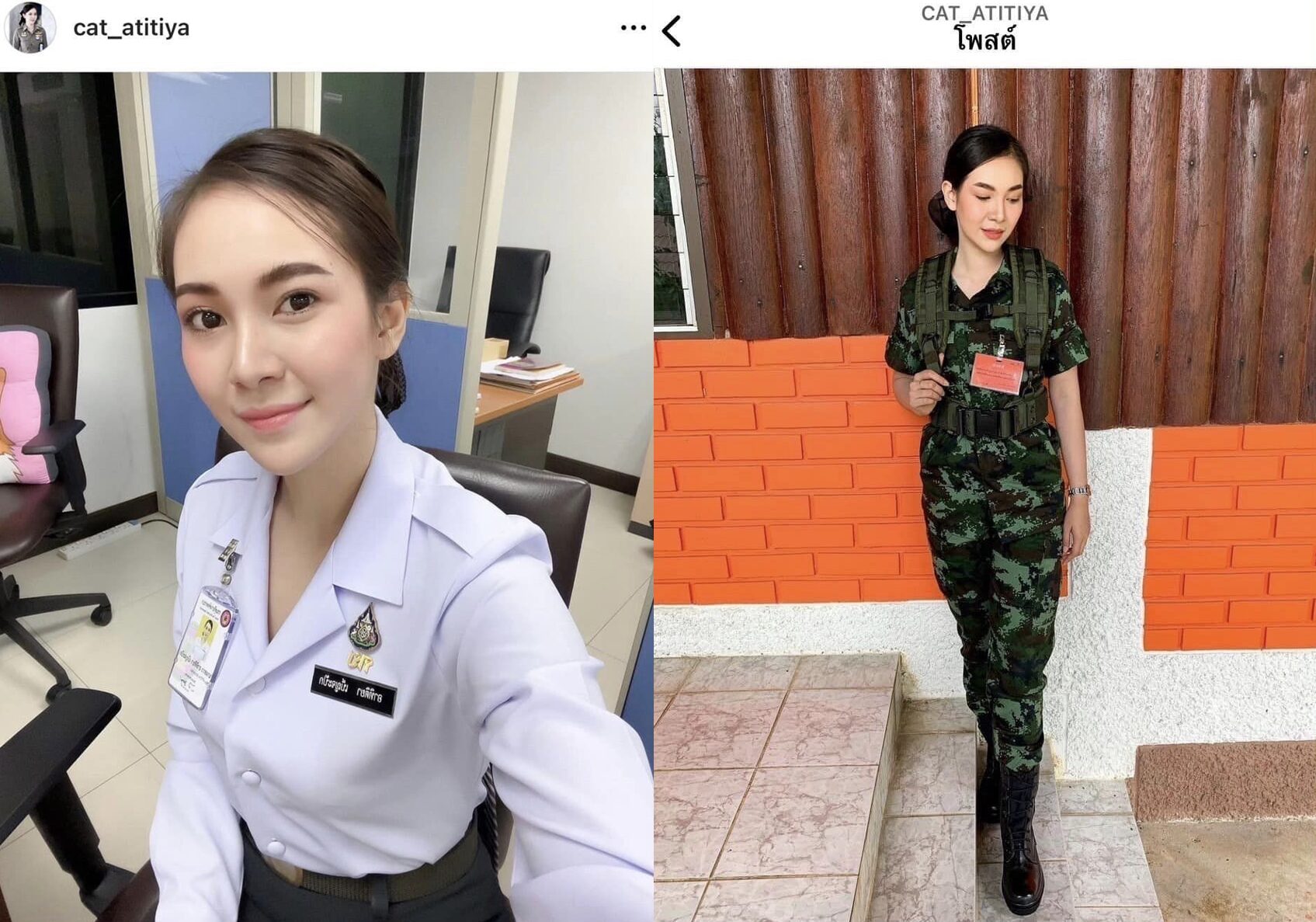 A Facebook page called "Phuen Tamruat" (Police friend) with over 33,000 followers has posted information revealing the rapid promotions of several police officers who have undergone the same training. It mentions that those who have undergone this training have a higher social status compared to others.
Rangsiman Rome, a member of the Move Forward party who initiated the investigation into this training program, explained that this course was originally intended for people with certain educational qualifications that they believed would improve the efficiency of the police organization.
However, upon investigation, it was found that those who participated in the programme came from influential families with well-known surnames, suggesting the use of connections. The party is currently in the process of conducting further investigations.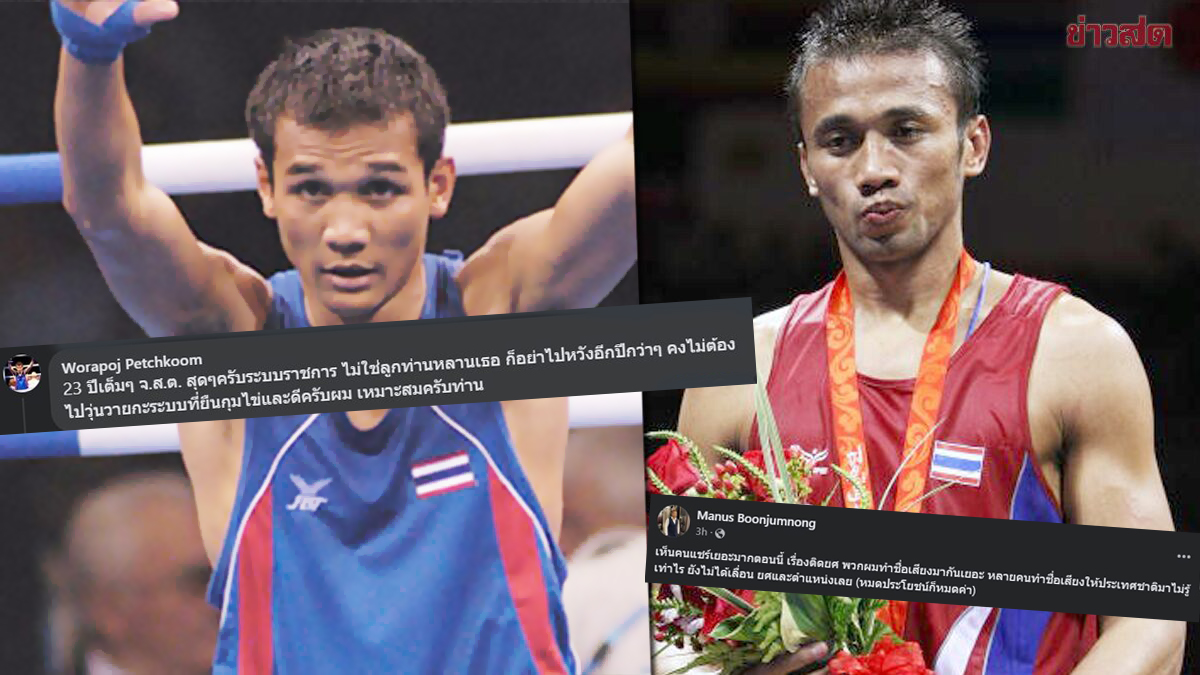 Former professional boxers, Manus Boonjumnong and Worapoj Petchkoom, who won gold and silver medals in the 2004 Olympic Games in Athens, posted on their social media platforms that they brought fame to the country but were not considered for promotion as they should have been for the past 23 years.
Pol. Lt. Gen. Archayon Kraithong, the spokesman for the Royal Thai Police, clarified that Captain Cat's case was in accordance with the Police Commission's regulations that govern the promotion process. It states that people with a graduate degree can be promoted to the rank of police captain within 2 years.