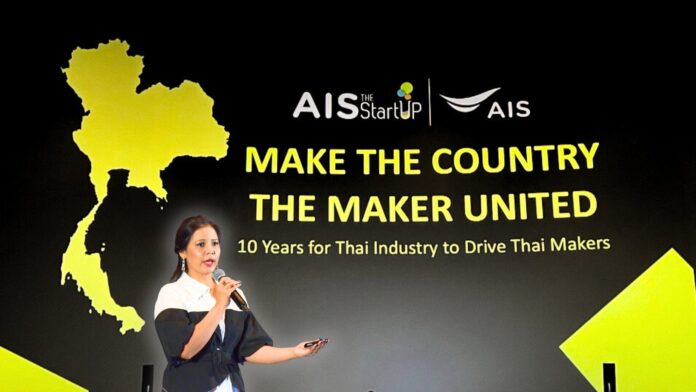 AIS The Startup is a driving force and supporter of sustainable growth for Thai Digital Startups and Tech SMEs under the concept of 'Partnership for Inclusive Growth.' Moreover, it aims to leverage the capabilities of digital networks, technology platforms, and various expertise to further develop the businesses of these startups beyond their current potential.
The event Makers United 2023 is hosted by the Thai Startup Association, and is a forum bringing together startup veterans. At this unique event for startups, Dr.Srihathai Prammanee, AIS The StartUp Program Manager, shared some ideas with startup entrepreneurs and prospective startup investors, including practical suggestions and techniques to get startups off the ground and on the road to success.       
Dr.Srihathai explained that the digital space was opening up even more, and trade rivals had constant access to data. Powering Startup Thailand industry to grow continuously requires a study of data from both the Startup Maker and other operators together with user segment behavior studying such contact channels, or purchase preferences. 
Not only this but there are also mediators connecting between Makers and Users, who are Connectors. These are a group of people in large corporates  or suppliers who supply products or services for other businesses, as well as state agencies and private companies. They can connect the 2 parties and enable them to meet, which is support to drive  Startup projects in Thailand.  
"We consistently highlight that we are not just a party providing support. We must have a mindset that everybody can be included in building, and not just waiting for a Maker to succeed then get the support. We must collaborate to make mutual progress until we are truly successful," reiterated the AIS The StartUp Team Lead.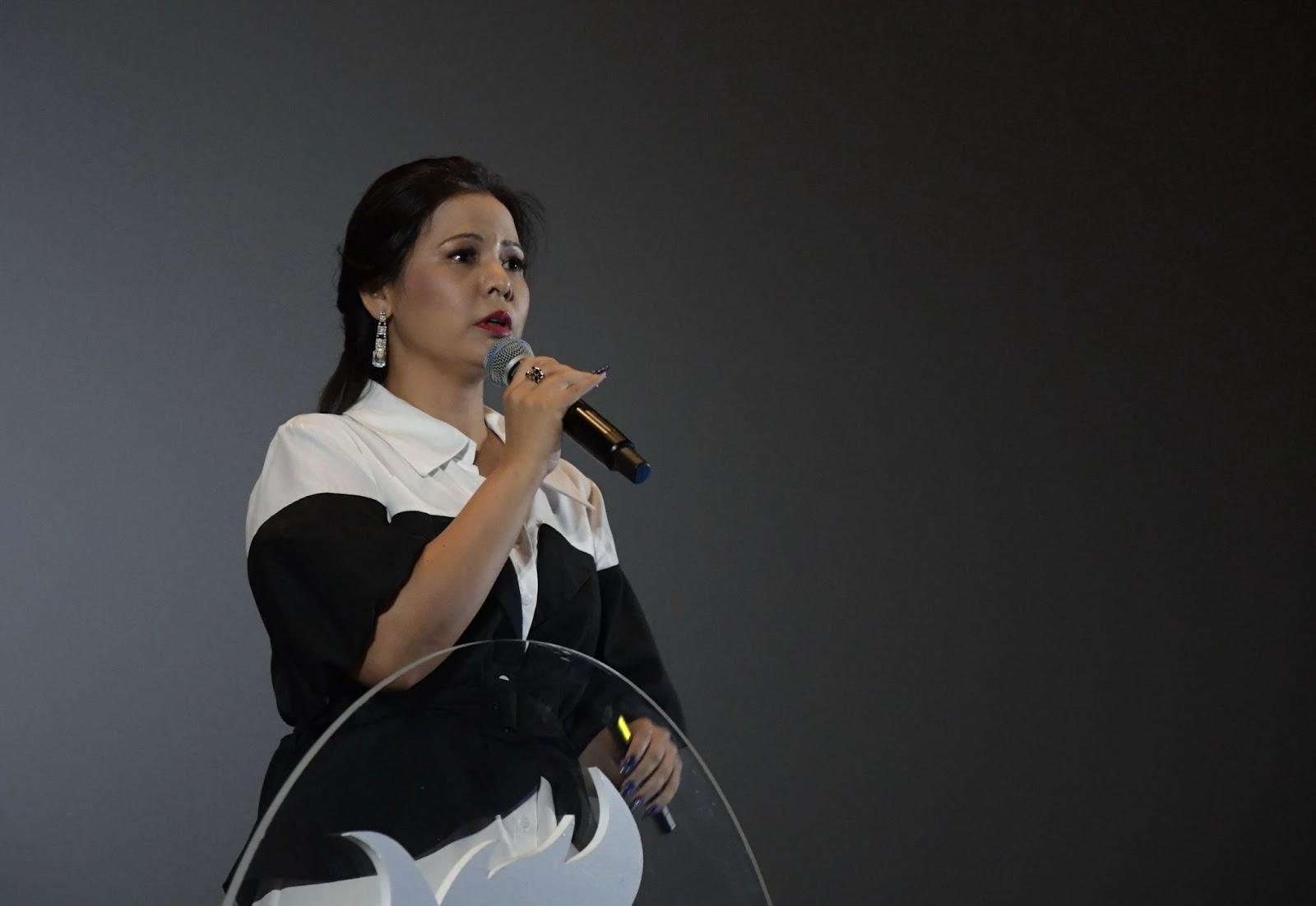 10 attributes to Make Thailand into Makers United
To build confidence that your startup has adequate potential to grow sustainably, your business must be adapted to meet demand, and there must be supreme efforts to achieve success. 
Dr.Srihathai shared her experiences under the concept, '10 Years 10 Attributes For Thai Industry To Drive Thai Makers', which are 10 attributes enabling startup ecosystem to Drive Thailand into Makers United, birthing the industry to drive  the country, with the following details:      
Deep Understanding Industry Dynamics & Economic Landscape:

There must be an understanding of one's own industry and those adjacent. Understanding is not only theory but there must be understanding of the context of changes. It is not just knowing, but deep in knowledge of that industryin order to find opportunities to connect and work together.       

Problem-Solving Orientation and Risk Mitigation:

Having fully understood their industry, they must also be problem solvers. This means that after solving one problem, they should be able to solve others. Therefore, apart from solving a problem, they must also mitigate the risk of problem solving 

Resource Mobilization:

They must be able to know who the Right People for that concern are, to connect the Right People with the Right Opportunity, as the right opportunities will be driven by the right people.

Adaptability:

They can manage change.  While being the driver, we need to encounter various factors, and need to decide what is appropriated

Result-Oriented:

When setting out to do anything, there must be an intended destination of tangible results within the specified deadline. There must also be a focus on value and creating value with every business action and being able to share these ideas with others. 

Strong Networking Skills: Networking Skills are vital for this endeavor. When we attend a party, we need to know who else is at the party, and whom we are targeting to have a chat, to get the best value from Networking time. They must find out what to do to get to talk to the Right People.
Trustworthiness and Credibility:

The Connector or industry veteran must have credibility and be a Partnership Builder. It is critical to have a Trust Point, which is when someone talks to us, we need to be trusted and honest that people who talking to us can share their problems and allow us to help remedy those problems. 

Excellent Communication Skills:

Being able to communicate information to different people which requires different skills and techniques because the key of providing information is not only the topic, but the recipient need to understands and kone how they can apply it and make sure that everyone is on the same page in pursuit of the same objective or target.  

Continuous Learning:

Achieving success requires continuous learning because in industry there is constant change and movement.   

Patience & Persistence:

Patience must be exercised in every situation encountered, and there must be persistence in the face of failure along with a willingness to learn, persistence to address issues, and persistence to rebuild, and focus on the next challenge. 
These are the 10 attributes from  AIS The StartUp which will make you the missing piece of the jigsaw in your industry, to  drive the country, and make Thailand into Makers United.
AIS The StartUp is committed to driving Thai startups to build the Digital Economy
Dr Srihathai added that AIS The StartUp is consistently focused on building partnerships to drive the digital economy together with the startup sector. At present, we can build this power in a tangible form through the working process which is called Partnership Model or Business Model which enables entrepreneurs to work with large enterprises.
The operational technique is working with startups to build engagement as business partners, and this must be aligned with assessments of Business Impact from each collaboration. These are divided into three impacts, which are Revenue Impact, Productivity Impact and Customer Experience Impact.
"AIS The StartUp has a platform for startups to set up a product they want to promote on the platform, from which we can then promote the product to customers, so that the brand can become more widely known. Customers also get to trial the product and test it out. The startup obtains a customer base and information about customer access to the product. We are like a Connector between customers and entrepreneurs."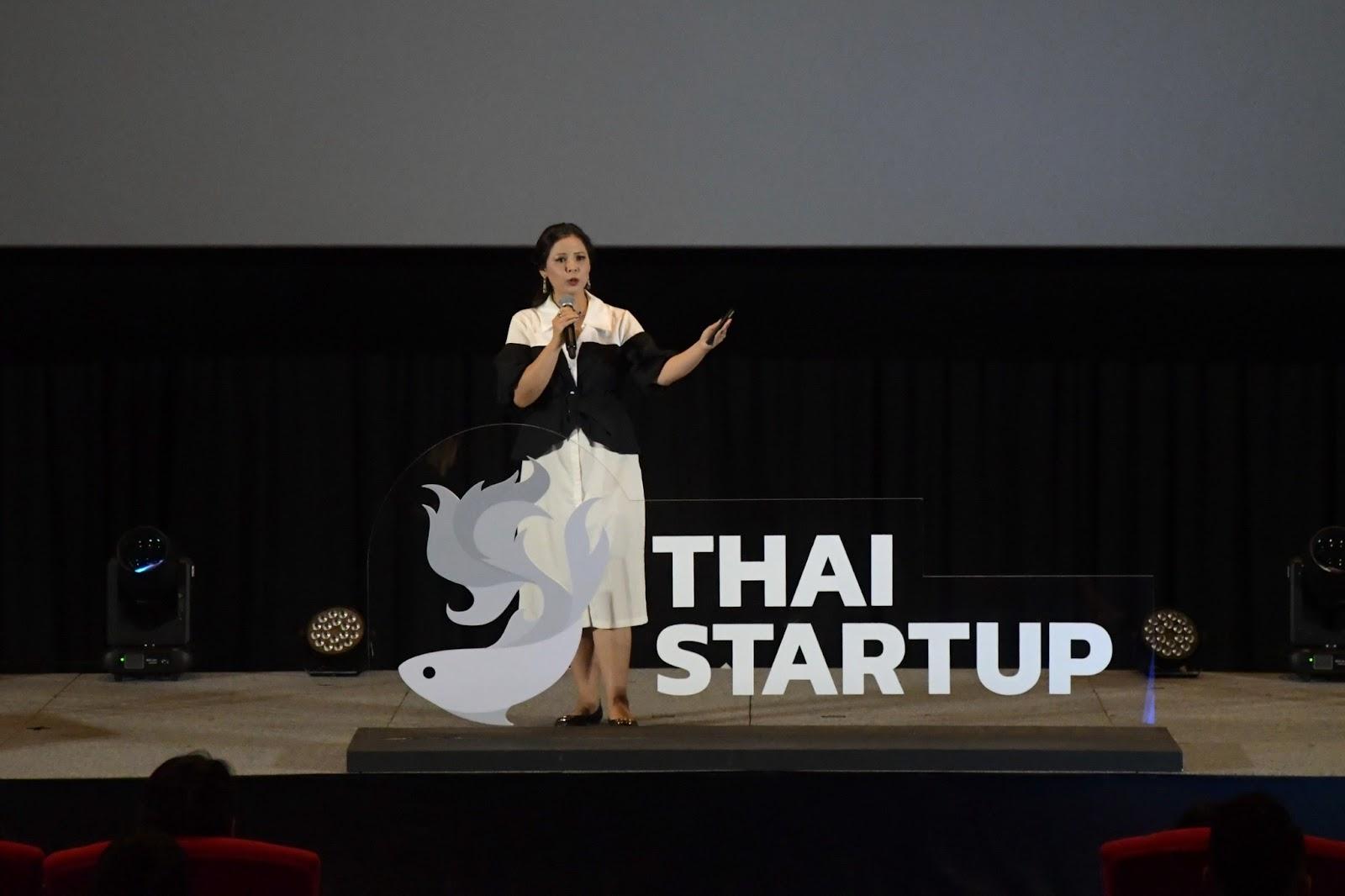 The AIS The StartUp Team Lead also said that a startup is smart if it can create a service which is compelling for customers. The expertise of AIS is working systematically. Adding these together, we can build a Digital Service and bring it to customers in a much quicker time and with a better system. AIS is also currently working with over 200 startups. The results clearly demonstrate that we don't just have a plan, we can deliver tangible performance.
"Today, AIS the StartUp is focused on supporting many entrepreneurs who are both Digital Startups and Tech SMEs to be successed in their business. These operators have built up their businesses to add value to the industry and have become a key part of the mix spurring growth of the national digital economy and powering it sustainably." 
If any Thai startup wants to become part of the AIS The StartUp family, they can send the product detail to the website www.ais.co.th/thestartup or facebook/aisthestartup to join in the Monthly Online Pitching event. AIS The StartUp is not just open to startups at any stage, but is also open to startups in any business category and all type of technology.