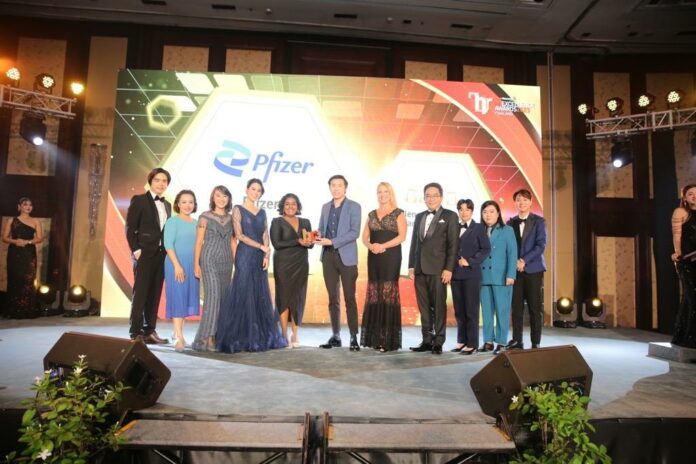 Pfizer Thailand has been honored with the prestigious Gold Level "HR Excellence Awards 2023" for demonstrating exceptional excellence in transforming modern businesses and organizations.
This recognition by the Human Resources Online Institute Singapore reflects Pfizer Thailand's remarkable achievements in implementing digital technologies to enhance its organizational style and working practices while positioning the company for organic growth as well as moving forward to become a leading and powerful science company that delivers value and meaning to patients in Thailand. 

Pfizer Thailand, under the stewardship of Ms. Deborah Seifert, General Manager of Pfizer (Thailand) Limited and Indochina as well as Pfizer worldwide, has embarked on a new era since 2020. As a pioneering biopharmaceutical enterprise, Pfizer is committed to innovation and scientific progress in the sphere of medicine. Its cutting-edge facility is dedicated to Breakthroughs that change patients' lives.
The company is determined to leverage digital technology to augment its business operations, services, and organizational management. The goal is to achieve its core objective of delivering innovative medicine that can provide preventative and efficacious remedies that meet the evolving needs and expectations of the global community. Pfizer aspires to be a center of excellence, dedicated to enhancing the welfare of patients while applying the latest technological and scientific breakthroughs.
Pfizer, a leading pharmaceutical company, has identified Innovation as one of its five Big Ideas to achieve its objectives. This strategy aims at the disruption calls for innovation in traditional business operations and brings innovation through go-to-market models. Pfizer provides access to information on scientific advancements, disease treatments, and healthcare through various platforms for both medical personnel and the general public.
This information is researched and certified by leading medical institutions, ensuring its reliability and acceptance. Regardless of the changes in Pfizer's business operations, the company holds its values firmly and manages its organization based on the principles of good governance, transparency, law, ethics, rules, regulations, standards, and policies. This approach is applied to all aspects of the business, ensuring that Pfizer conducts its activities ethically and responsibly.
This Gold Level "HR Excellence Awards 2023" marks as a celebration of Pfizer (Thailand) Limited for its 65th anniversary this year. The award also highlights the company's outstanding achievements in adapting, continuously changing and developing to remain one of the leading and most trusted biopharmaceutical companies in Thailand for more than six decades.
_____