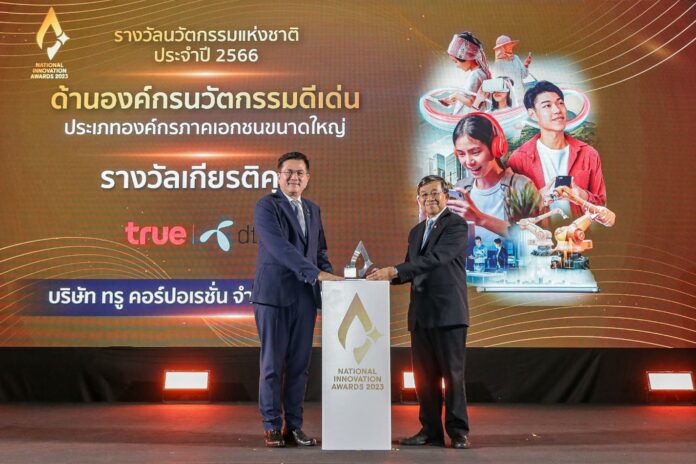 Bangkok October 6, 2023 – Assoc. Prof. Soranit Silatham M.D., Chairman of the National Innovation Board of Thailand congratulated and presented the National Innovation Awards 2023 in the Innovative Private Large Organization category to True Corporation Plc. represented by Mr. Chakkrit Urairat (left), Chief Corporate Affairs Officer, as an organization with outstanding innovation initiatives and creating obvious values to the nation in various aspects.
This has led to innovation enthusiast in every social sector, strengthening the potential of Thai innovators and propelling the country's innovation ecosystem on the occasion of National Innovation Day 2023 organized by the National Innovation Agency (Public Organization), Ministry of Higher Education, Science, Research and Innovation at Royal Paragon Hall, Siam Paragon.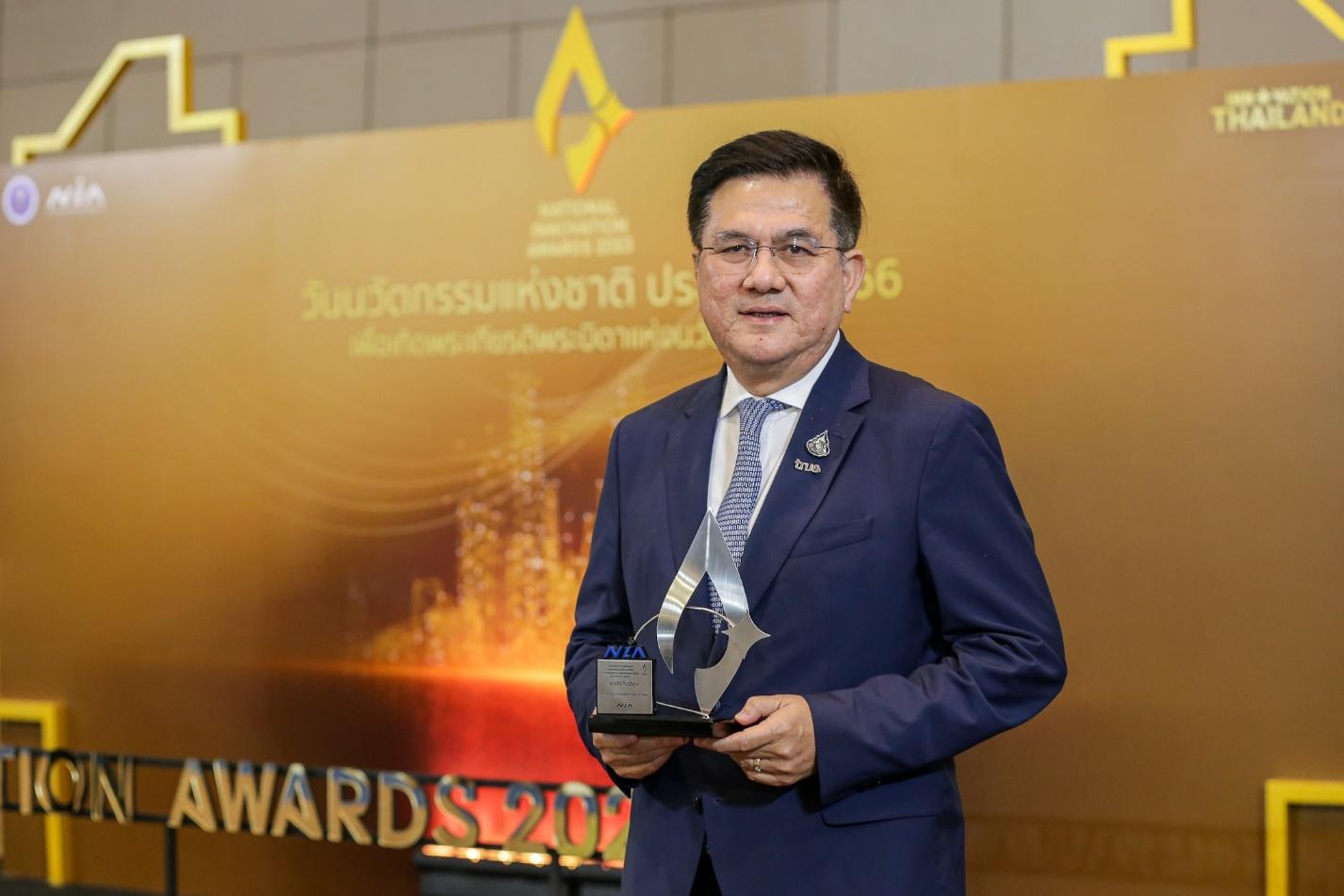 Mr. Chakkrit Urairat, Chief Corporate Affairs Officer, True Corporation Plc said that "Innovation" is the heart that drives True Corporation to become state-of-the-art and sustainable telecom-tech company. True has received the National Innovation Awards for the 3rd year and this year in the Innovative Private Large Organization category. It is another pride that reflects True Corporation's determination in operating business that focuses on innovations which has been recognized in a national level.
The company is determined to seriously create innovative organization, from cultivating the solid "CO-CREATION" corporate culture, supporting and building True innovators who are filled with potential and creativity to continuously adopt digital technology to develop innovative products & services to sustainably deliver values to the society and the nation, covering all aspects including economy, society and environment.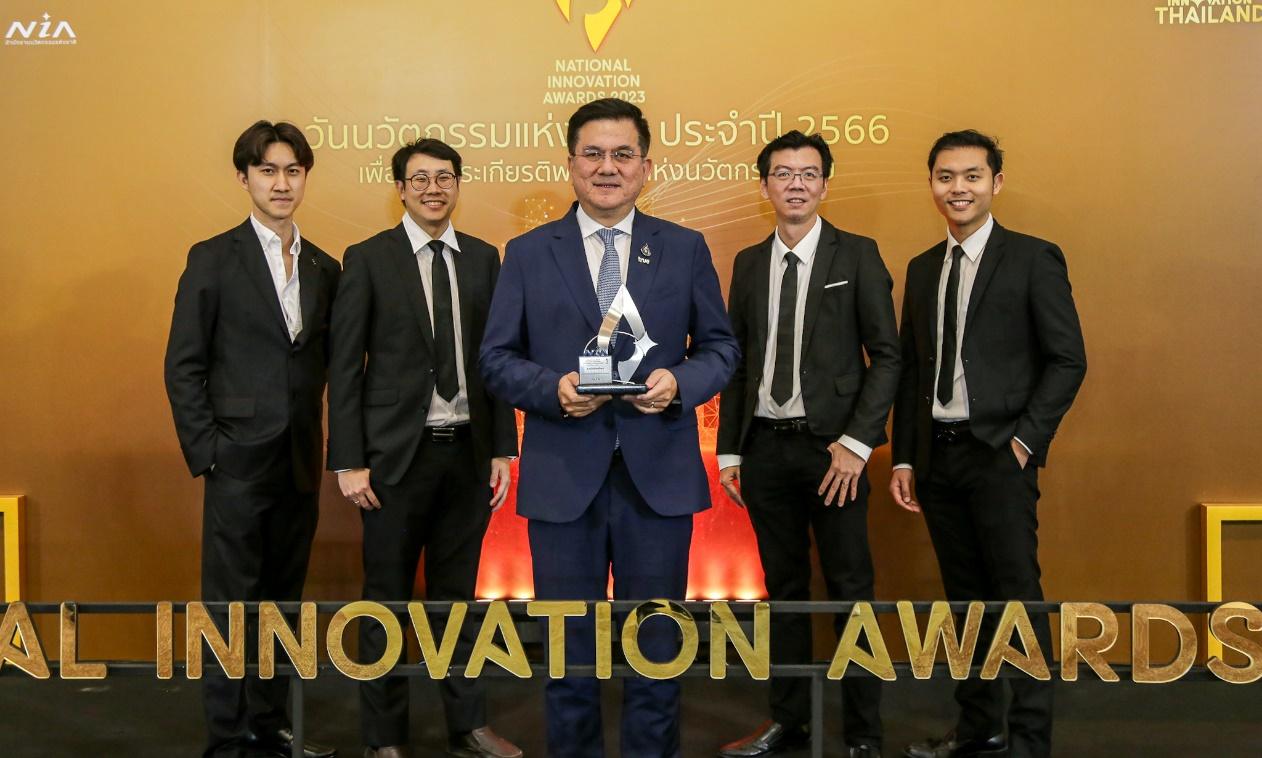 "After the amalgamation of True-dtac, True Corporation is moving forward to conduct clear innovation policy with over 680 innovations being created by True innovators that generate revenue and reduce cost of the company by over 4 billion Baht. At the same time, it has collaborated with academic institutions and alliances in creating over 100 innovations including co-operation with 1,000 start-up teams.
Currently, True has more than 100 innovations from internal and external collaborations that have been registered as Intellectual Properties. Another factor for its achievement is its product & service development that accommodates the lifestyles of consumers in the digital era as well as innovations for the society such as for the vulnerable group and environmental conservation.
True Corporation vows to continue to become a true digital innovation organization with target to have 5,000 innovators by 2030, allocating 3% of its expense budget as a research scholarship with 15% of its total revenue being generated from innovative products & services as well as 200 innovations being registered as Intellectual Properties," Mr. Chakkrit concluded.
#องค์กรนวัตกรรม
#ทรูองค์กรแห่งนวัตกรรม
#trueinnovation