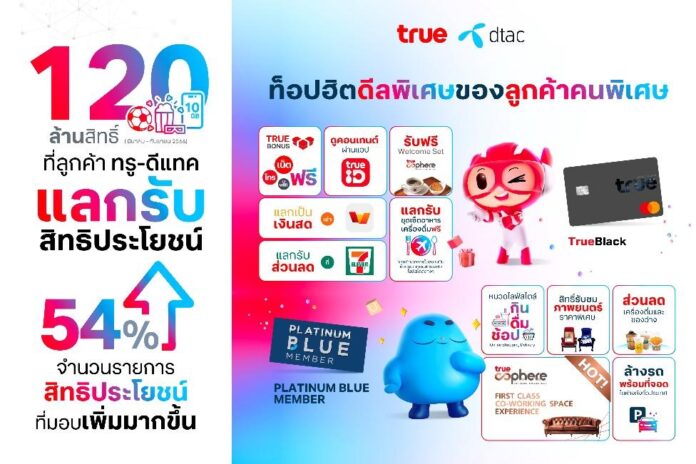 True Corp reported customers have received up to 120 million privileges redemptions, continuing to collaborate with alliances to deliver the best exclusive experience during year end period
Bangkok October 24th, 2023 – Emphasizing value beyond caring… True Corporation elevates its services for over 51, 1 million customers nationwide to be Better Together, covering more meaningful lifestyles from True-dtac services, tasty restaurants, health-beauty, shopping, entertainment, academic courses, gaming and tourism to other supportive services including ultimate experiences for True Black Card and PLATINUM BLUE MEMBER holders such as Exclusive Lounge @TrueSphere, Exclusive Personal Assistance, Exclusive Deals, Exclusive Activities and Exclusive Package that will make your simple day more special with more varieties,
The numbers of privileges items have increased by 54% with customers received over 120 million rights. The company continues to select more privileges with new alliances to fulfill customers' happiness and deliver a superior experiences to accommodate daily customers' demand.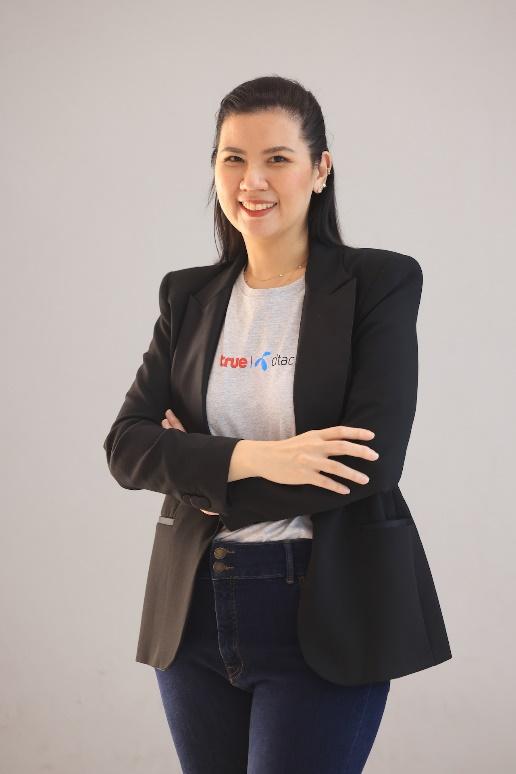 Ms. Santpichit Eamcherangkul, Head of CRM / Reward Division, True Corporation Plc., said that "True Corporation is determined to create innovative services and strengthen customer relations by elevating privileges in various formats to serve the lifestyles of customers under Better Together concept as we understand the different demand of the 51.1 million True and dtac customers nationwide. Therefore, we have customized various privileges to cover all demands of every group of customers.
During the past 6 months after the amalgamation, we have brought the potential and expertise of True and dtac, combining with customized privileges to better service customers. Currently, over 120 million privileges have been and the list of privileges being offered have increased by over 54%, covering an extensive lists of services such as popular restaurants&  services, health & wellness, department stores, online shopping from  Cafe Amazon, Dairy Queen, Major Cineplex, FWD Insurance, dSurance, CPN, 7-Eleven, Lotus's, Makro, Lazada, Shopee, Grab and much more along with popular privileges including free data and voice services as well as activities to win gold and grand prizes every day.
The most popular privileges among True Black Card holders are mainly True products & services from TrueBonus that allow customers to redeem free monthly data, voice and wifi services, privileges to watch movies, series, varieties or EPL football matches on TrueID, access to use and receive Welcome Set at True Sphere or redeem cash into TrueMoney Wallet, redeem discount at 7-Eleven to many lifestyle privileges such as discount movie tickets, discount on food & beverages from famous brands including PAUL, TrueCoffee, Cafe Amazon, Dairy Queen, Koi The, Taobin as well as redeem free food & beverages set at the airports
For dtac PLATINUM BLUE MEMBER, the top redemption products & services are in the lifestyle categories from dining, online shopping and delivery services from Lazada, Robinhood, Lineman and Grab Food along with privilege for car care from Proclean, Klean Square, Pheonix, Simplyshines and Autospa at main department stores nationwide or get discount for food & beverages from Cafe Amazon, Koi The, Potato Corner, D'Oro, Dairy Queen and special movie ticket fare at Major and SF along with rights to use service at True Sphere which is an Exclusive Lounge, first-class co-working space and best after-sales service with Best in class 1 on 1 service.
We are moving ahead to collaborate with alliances to deliver exclusive services to celebrate the  2023 yearend from Exclusive Deals that especially provide to True Black Card and dtac PLATINUM BLUE MEMBER holders to use True Points or Coins to get discount at Saemaeul Sikdang, Bonchon and Coffee Bean by Dao as well as Fine Dining campaign that give discount at Michelin-Star restaurants, free lounge service at Siam Premium Outlet, etc.
At the same time we offer Exclusive Activities that will be held from now until the end of the year including Makeup Workshop, Pilates Class and Dining Etiquette at leading hotels to serve popular trends. Moreover, services from more brands will be offered to fulfill customers' lifestyles such as special privilege to charge EV car at EA Anywhere, etc.
Exclusive Personal Assistance is definitely another core privilege as the number 1 top personal assistant that will provide lifestyle conveniences such as notification, document delivery or emergency support at home and on the road along with Exclusive Package for True Black Card and dtac PLATINUM BLUE MEMBER holders to receive sp home internet service, True Gigatex PRO at a special price. We are confident this will accommodate the demand of customers in the digital era, fulfilling every moment of happiness for the daily lifestyle."  
Follow special and great activities to gain various exclusive privileges that continue to service customers to deliver happiness and better lifestyle at TrueID application and dtac app.