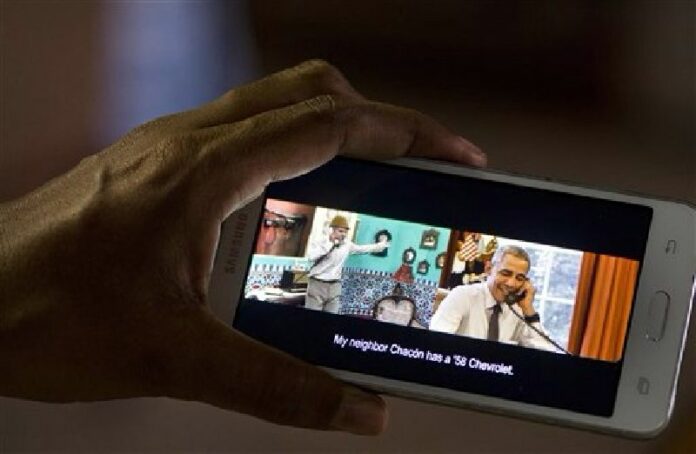 HAVANA — In a direct appeal to the Cuban people's sense of humor, the White House has released a video of President Barack Obama joking with the country's most famous comedian a day before the president makes a historic trip to the island.
Luis Silva plays Panfilo, an elderly character on a wildly popular show that often uses biting humor to comment on social reality and lampoon the failings of Cuba's government and centrally planned economy.
The video released Saturday shows Panfilo calling the White House to find out the weather for a baseball game during Obama's trip to Cuba. Obama answers and banters with Panfilo, using Cuban Spanish slang to say "Panfilo! Get outta here! What's going on?"
At one point, Silva says, "I am so glad you will come to visit so that you can know Cuba, its people."
"I'm looking forward to it," Obama responds. "The American people and the Cuban people are friends."
Relatively few Cubans have access to internet fast enough to watch a video, and it wasn't immediately clear if Cuban TV would show the sketch, in which Silva pokes fun at Cuba's old cars and hours-long lines at airport customs booths.
Obama has been aggressive in blending politics with entertainment, a conscious effort to reach a broad array of Americans. He makes regular appearances on late night talk shows and has been interviewed by people with popular YouTube channels, including a woman best known for a video featuring her in a bathtub full of milk and cereal.
White House officials have pointed to Obama's 2014 appearance on the satirical web series "Between Two Ferns" as one of the biggest successes of this outreach strategy. Obama bantered with actor Zach Galifianakis, who needles his guests with hostile or inappropriate questions, as part of a pitch to get young people to sign up for his health care law.
Silva's wildly popular Monday night show "Vivir del cuento" — roughly "Surviving By Your Wits" in Spanish — is unusually edgy programming for Cuban state television, known more for sports and dry public affairs shows, unadventurous news and roundtables, and recycled telenovelas, sitcoms and U.S. crime serials.
In a country that has little tolerance for open dissent, the show's humor strikes a chord with Cubans fed up with corruption and scarcity that can make daily life a slog, and the program's jokes are repeated and discussed on Tuesday mornings in the local equivalent of water-cooler banter.
While artists, musicians and other entertainers have long been allowed more leeway to be gently critical, Silva is part of a new generation of comics who are packing theaters with routines that poke fun at the government in ways far more daring than in even the recent past.
Story: Michael Weissenstein, Associated Press
To reach us about this article or another matter, please contact us by e-mail at: [email protected].