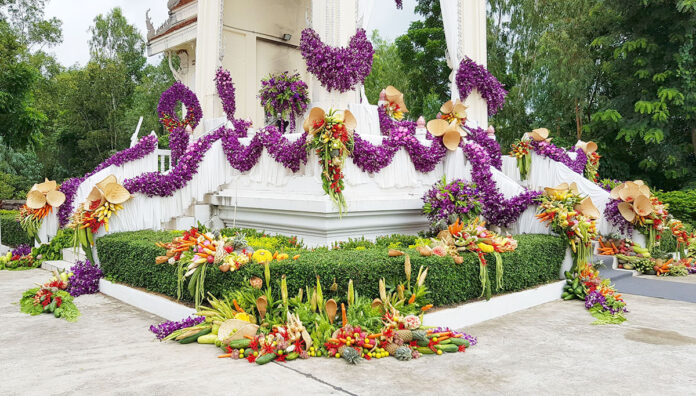 SURIN — Instead of calla lilies and white carnations, a funeral in Isaan is using unusual flora for decoration: chilies, eggplants, sponge gourds, tomatoes and bamboo rice containers adorn the temple crematorium.
Relatives of Prayote Rampaneenil, 62, who died Aug. 6, were honoring their family matriarch who loved to cook by organizing a vegetable-themed funeral Wednesday at Wat Chu Prasatnanaram in Surin province's Sikhoraphum District.
"Mae Tiw loved to cook, so for her funeral we wanted the decoration to be beneficial to the guests. They can take the vegetables home to cook after, rather than having flower arrangements that we will later throw away," Rujira Rampaneenil, Prayote's daughter said.
The arrangements also feature carved watermelons, pineapples, corn, long beans, papayas, galangal, carrots and so on.
The funeral also features the proy taan tradition, where items – usually coins – are thrown to guests to give merit. For Prayote's funeral, her relatives decided to throw limes and onions. Anyone who catches a lime or an onion gets ฿100.
Rujira said the guests fought over the vegetables and squished them, filling the air with the scent of lime and onion.
"We thought we would do it as a last honor, for mom. While she was alive, cooking was her life," Rujira said.