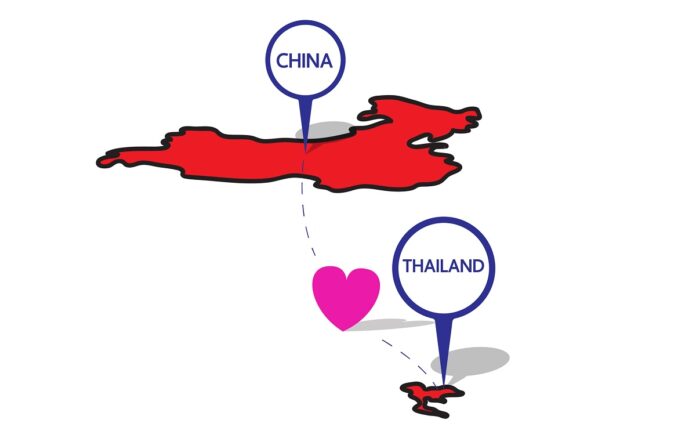 BANGKOK — Thailand is pulling out the stops to tell Chinese tourists they are wholeheartedly welcome in the kingdom out of fear cultural friction could jeopardize the billions of baht in revenue they bring with them.
Tourism officials, responding to fear Chinese might be rethinking Thailand, announced Tuesday they had invited that country's biggest news agencies in to clear up any misunderstandings stemming from Thai complaints about Chinese behavior.
"Prime Minister Prayuth Chan-ocha has ordered the country to prepare for Chinese tourists to increase to 20 to 25 million people in the next few years," said Tourism Authority of Thailand Gov.  Yuthasak Supasorn. "They bring money for Thais, so Thais could never be disgusted by them."
Eight million Chinese nationals visited Thailand in 2015. Yuthasak said he had invited invited media representatives from China Central Television (CCTV), Xinhua News Agency, People's Daily and @Mangu magazine.
The move came after CCTV reposted a Thai-language graphic Sunday asking Thais to understand that Chinese people come from diverse backgrounds and that applying stereotypes about them is hurtful.
The graphic went on to make a thinly veiled threat by mentioning the economic pain felt by countries such as Japan and Philippines after conflict led to boycotts by Chinese consumers.
Visits from China are up overall by about one-fifth so far this year, according to the Ministry of Tourism and Sports, with 5.5 million Chinese arrivals. Those tourists are credited with bringing 250 billion baht into the economy.
Thailand isn't reluctant to call out behavior considered shameful, and the explosion in recent years of visits from mainland Chinese has come with frequent media reports and social media rants relating to their behavior.
In Chiang Mai, one of the top destinations for Chinese travelers, the Chiang Mai Tourism Business Association frets what it says has been a 30 percent drop in Chinese visits.
Yuthasak clarified that a drop in Chinese arriving by land border stems from a new rule requiring motorists to apply 10 days in advance to drive into Thailand. The new regulation also banned ongoing travel into provinces other than that entered. He said the policy was not discriminatory and applied to vehicles from all nations.
Kitti Thitsakul, the president of a Chiang Rai tourism club said they were considering ways to make Chinese tourists feel more loved, such as printing stickers which say "We Love Chinese Tourists."
Related stories:
Internet Erupts in Rage After Thai Volleyball Team's Narrow Loss to Japan