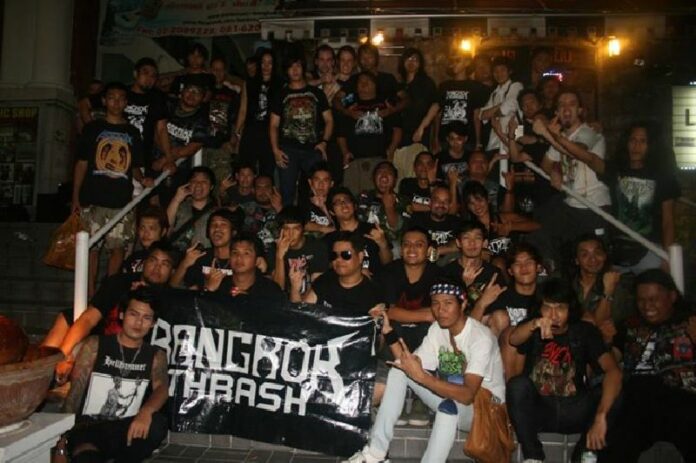 (16 July) As Thailand and
the rest of Association of Southeast Asian Nations (ASEAN) are headed toward a closer integration as
an economic community a the end of 2015, many shared cultures and customs have been much highlighted
as signs of solidarity in the region.
Here′s something you might have missed from all the
state-sponsored pamphlets and educational media about Asean cultures: thrash metal music.
The upcoming music event called Bangkok Thrash 2013 : Five Years, Five Beers is billed as
the convergence of 6 domestic and 3 foreign thrash bands.
The 3 visiting bands are
Australia-based Hidden Intent; Oracle from Indonesia – which was acknowledged by some as one of
the best thrash metal bands in Southeast Asia; and the Laotian thrashers Dictator, said to be the
only thrash metal band from the Communist state so far.
Mr. Athip Jittarerk, one of the
organisers of Bangkok Thrash 2013, told Khaosod that the annual event – the 5th since its
inception – is expected to draw many fans of the thrash metal music from other countries in Asean,
especially Malaysia and Indonesia.
Religious and socially conservative atmosphere in the 2
largely-Muslim state made it very difficult for musicians and fans of metal music to organize
musical events there, he said, as the authorities frown on symbols associated with the metal
community such as black t shirts, rebellious attitude, and Satanic symbols.
Indeed, there are
news reports from Indonesia that documented the arrests of punks in the conservative region of Aceh on the
ground of displaying ?inappropriate? behaviour. Although large parts of Indonesia are generally tolerant toward the metal music, the news understandably made some
Indonesian thrash metal fans uneasy.

Meanwhile,
Malaysian authorities keep very strict regulation on metal music events, according to Mr. Athip, who
also regularly plays in a band himself. The police would even reportedly raid the events. That′s a
real shame because there is actually a large thrash metal community in Malaysia, Mr. Athip
said.
Compared with other continental neighbours, therefore, Mr. Athip said that Bangkok is
an ideal place for fans and musicians from Asean countries, and beyond, to meet up. The venue, The
Rock Pub, is also very close to Ratchathewi Skytrain (BTS) station, a relatively convenient way to
travel in the busy capital city.
Mr. Athip said that except for Myanmar and Cambodia, local
thrash metal bands in the 7-member Asean countries have kept close contacts with one another. Such
personal contacts, he said, would always bring in large crowds at the music events (like the one
scheduled to take place in Bangkok) as fans of each visiting band would show up at the
venue.
In previous 4 events organised in Bangkok, 10-20% of the audiences are foreigners. In
some events it′s as much as 50% the co-organiser said, adding that he′s also seen many foreign
expats living in Bangkok attended the events.
Mr. Athip acknowledged that thrash metal is
still a
iche in Asean cultural background, as reflected in the fact that much of the thrash
community′s activities rely heavily on personal network and self-financing (he said the bands
appearing in the event are not paid for travel fees or live performances), but he said the current system works well enough.
Nonetheless, he hoped the community would take further step soon in term of activities. He told our correspondent that he and his friends are
already talking about a large-scale concert that would feature thrash metal band from every Asean
country.
I mean, it′s been our 5th year since we started Bangkok Thrash already, it′s time
we do something bigger, Mr. Athip said.
More information on Bangkok Trash 2013 :
Five Years, Five Beers can be found at http://www.facebook.com/BangkokThrash