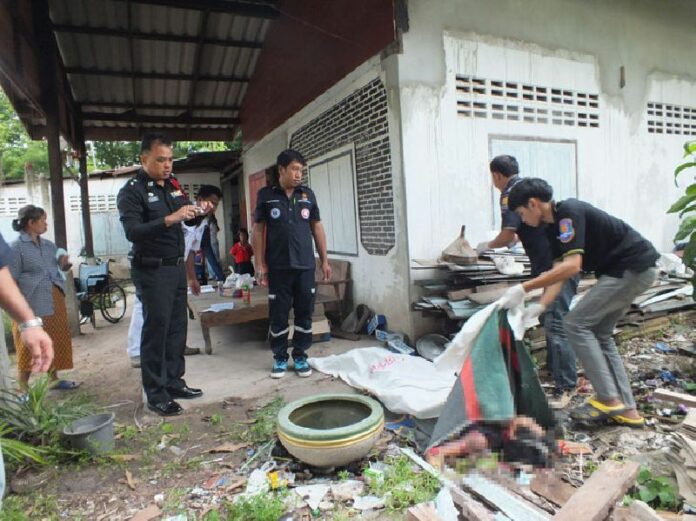 (16 July) A 64 year old
woman was burned to death in Pracheenburi province after she reportedly fell from her wheelchair
into the fire she had lit for burning her dirtied diapers.
The police found the body of
Ms. Pranee
Puangcha-um in the front yard of her house in Muang District,
which is used as a garbage disposal area. Her wheelchair was found next to her charred
body.
A son of Ms. Pranee, Mr. Banpot Puangcha-um, 30, told our correspondent
that Mr. Pranee has been relying on wheelchair for 10 years after she had gone through neurosurgery
to cure an ischemic stroke. She was also forced to rely on wearing diapers ever since the surgery,
he said.
Mr. Banpot told police that his mother likes to sneak out on her wheelchair to burn
the fouled diapers at the small fire pit in the yard, as she was afraid of being a burden to her
children who might be disgusted by the task of disposing her diapers.
As she was burning the
diapers today, Mr. Banpot said, she must have fallen into the fire pit either by accident or a
sudden epilepsy. She apparently could not save herself from the flame because of her disability.
According to Mr. Banpot, no one else was home at the time of the incident.
Police say the
autopsy showed that Ms. Pranee had blood system failures and suffered severe burn.
All family
members accepted the case as an accident, and will proceed with Ms. Pranee′s funeral at the local
temple later this week.