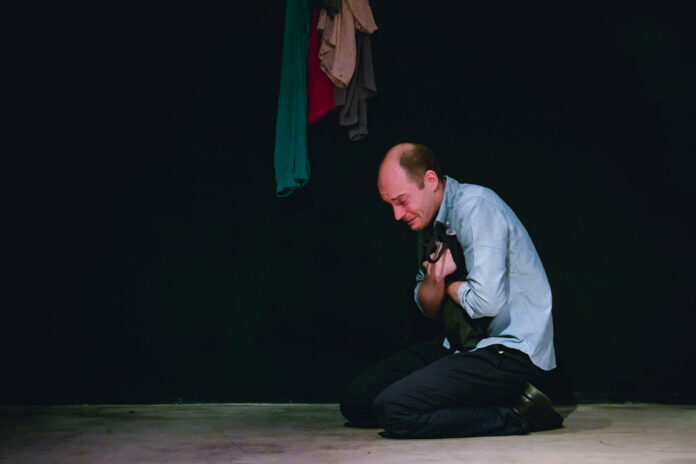 BANGKOK — The world has birth surrogates, those moms who bear children on behalf of others. At the other end, when life ends in grief and loss, imagine if those left behind had "death surrogates" to offer a chance for final farewells — to thank, apologize to or say goodbye.
In "Stick Figures," Molly is a daughter to one family and wife to another. Filling the roles of those absent, she dresses in their clothes, listens to their favorite music and speaks like them until her bereaved clients are ready to process the reality of the situation and grief.
Given cultural differences between the American source material and Thailand, the play, now a week into its Bangkok run, is being staged in two languages by two distinct casts — five actors for the English version and five performing in Thai. The script for the Thai-language version was modified to better fit Thailand.
It also avoided the need for surtitles, according to Director Pattarasuda Anuman Rajadhon, who said they would be a distraction.
These changes are both practical and cultural, such as changed names, substituting burning for burial and some more emotionally restrained family relations. Those who've seen both versions recommend the English for being truer to the source material.
"I actually was inspired by birth surrogacy," Brooklyn-based playwright Josh Ginsburg wrote. "There was a special on the news about a family hiring a birth surrogate, and I began to think of the opposite. It is very common to hire someone to help bring life into the world, but what would happen if we hire someone to help [another] leave?"
Josh denied the play's characters are based on anyone in particular, but elements of each were drawn from people in his life, including himself.
"I took each character and based them on different ways in which we grieve: becoming combative, ignoring it entirely, desperately trying to hold it together, et cetera."
Pattarasuda said she heard about "Stick Figures" nearly two years ago and read it in a day.
"It's a great play," Pattarasuda said. "The original play is witty, illustrative and concise … and the rounded characters really portray how everyone has different ways to cope with death."
Filled with moments to make audiences gasp, laugh, sob or cry, "Stick Figures" is being staged in both languages on alternate days through the end of June at Thong Lor Art Space.
Tickets are 550 baht at the door and can also be purchased online for 450 baht and 400 baht for students.
Thong Lor Art Space is located on Soi Sukhumvit 55. The studio-gallery-shophouse can be reached on foot from BTS Thong Lo exit No. 3.
Photos: Tatisara Changmanee and Thitiporn Kaikaew / Courtesy