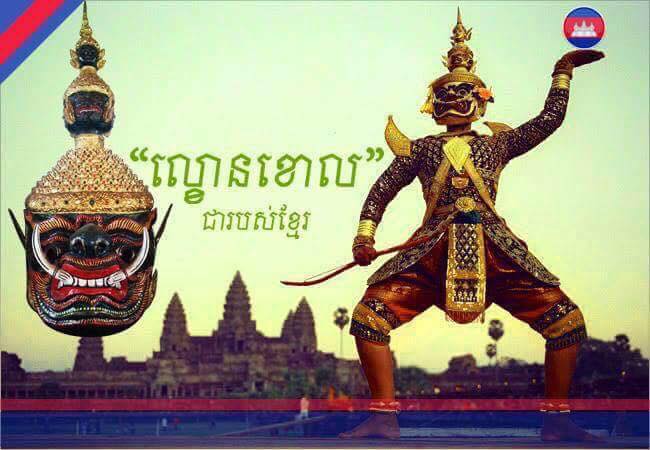 BANGKOK — In a drama of epic proportions, Thailand and Cambodia are feuding once again after simultaneously claiming ownership of the traditional elaborate masked dance known as Khon in Thailand and Khol in Cambodia.
It started June 3 when the Cambodian Ministry of Culture and Fine Arts asked UNESCO, the cultural arm of the United Nations, to recognize its Khol as an "intangible cultural heritage," something that Thailand has talked about doing for years. A red-hot flame war soon broke out between the two nations on social media.
"This dance is belong to Cambodia, not Thailand," declared one image shared on Facebook 10,000 times since Saturday.
Meanwhile, a thread on the popular Pantip forum is seething with calls to defend Thailand's culture.
"I ask Thais not to stay idle about this," wrote user Fenrir. "Don't just say, 'Let's do nothing and let Khmers do whatever they want. It's ours anyway!' If we do nothing, it will be too late when the world understands that [Khon] belongs to Khmer."
But experts say both sides are right: Khon or Khol or whatever it's called, belongs to both cultures, as they are both regional twists on the Indian epic Ramayana.
Shared Treasure
"Arghhhhhhh! I have both said and written about this so much that it bores me," Sujit Wongthes, historian and prolific writer on Southeast Asian cultures, wrote Monday. "I said: Khon is a shared culture of Southeast Asia. Ok? I'm too tired for this drama."
In his 2013 work, frankly titled "Where Did Khon Come From?" Sujit elaborated and dissected the art now considered a national treasure by both nations: The story is of southern Indian origin, costumes Indo-Persian, name Java-Malay and moves based on local animist traditions.
"[Evidence] says that Khon is a culture shared by Suvarnabhumi," Sujit wrote in the conclusion, referring to an ancient name for Southeast Asia. "The origins and roots are shared. One cannot separate clearly whose treasure it is; it's from this or that."
Pichet Klunchun, a choreographer and dancer whose contemporary interpretation of Khon has made him the nation's best known practitioners of the art, said Tuesday he agreed.
But Pichet also said the Thai Ministry of Culture's campaign to win UNESCO recognition as being Thai is pointless, because Khon dancers in Thailand face bigger problems, such as making a decent living, and an artform now mostly limited to funerals, restaurants and entertainment for tourists.
"[UNESCO] registration doesn't mean anything if Khon students still have to do their Thai dance in restaurants next to rivers and get 200-300 baht for their performance," Pichet wrote. "We don't own Khon simply by registering it, but by making Khon truly a part of Thais' daily life. This idea is better than registering it."
Thailand Unconcerned by Cambodia's Bid
The latest squabble over Khon is a time-honored regional tradition in which neighboring countries claim their ancient art is the "real one," despite the intermixing of beliefs and cultures which are as vaguely marked as the natural borders.
In 2009, when Indonesia successfully won UNESCO recognition for batik as its intangible heritage, some Malaysians were outraged because they saw the textile as their national treasure.
Bad blood between Cambodia and Thailand has occasionally turned violent. The most notable was a 2003 riot that saw the Thai Embassy in Phnom Penh burned down because of a false rumor a Thai actress said she believes Angkor Wat belonged to Thailand.
But, so far, the authorities in Cambodia and Thailand are pleading for calm in the midst of ongoing patriotic rage on social media.
Thai Culture Minister Weera Rojpotchanarat told reporters Monday that Thais should not be alarmed by the Cambodian application because the same "intangible heritage" can be held by more than one nation.
"UNESCO doesn't forbid registration of similar cultural heritage," Weera said. "Anyone can go for it first, because UNESCO wants each country to register their wonderful and unique cultures."
He cited tango as an example. Argentina and Uruguay share the dance as an "intangible heritage" in the UNESCO list.
Weera's Cambodian counterpart, Culture Ministry spokesman Thai Norak Satya, also extended an olive branch, saying that the agency would not oppose a Thai bid for Khon recognition.
Related stories:
Thailand Considers Cloning Ancient Contested Temple
Thais Advised To Be Wary of 'Fake Cambodian Buddha' 
Thai-Cambodian Journalists Vow Reconciliatory Reporting