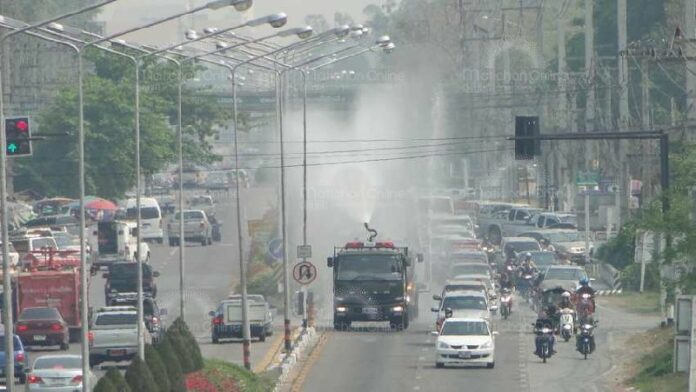 BANGKOK — Chiang Mai is Thailand's most-polluted city in terms of dangerously small pollutants which kill tens of thousands in Thailand annually, Greenpeace announced Wednesday.
The northern city, famed for its mountain temples and annual slash-and-burn haze, had the highest levels last year of the fine particulate pollution that's invisible to the naked eye and can be harmful to human health.
"Chiang Mai, specifically in city district, won because of outdoor burning and transportation within the city," Chariya Sempong, climate and energy officer at Greenpeace Southeast Asia, said Thursday. "Most people think the most polluted city is Bangkok, but in Chiang Mai people spray water into the haze so that it drops to the ground and feels less polluted. In fact, the PM 2.5 lingers in the air."
The study published May 11 looked at particles identified as "PM 2.5," meaning they are 2.5 micrometers in diameter or smaller and invisible without an electron microscope.
"All the stations measured PM 2.5 levels that exceed world standards," said Tara Buakamsri, director of Greenpeace Southeast Asia in Thailand said at a Wednesday event promoting the findings. "We ranked the cities so that we could raise awareness of the problem. Isn't it high time to do something?"
According to the World Health Organization, such pollutants can travel into the respiratory system. Stroke, lung and heart disease can be caused or exacerbated by high levels. Greenpeace reported that in 2015, such pollution killed more than 37,500 people in Thailand.
"They're smaller than red blood cells, so they can invade any organs the blood reaches, especially the lungs, heart and brain," Chariya said.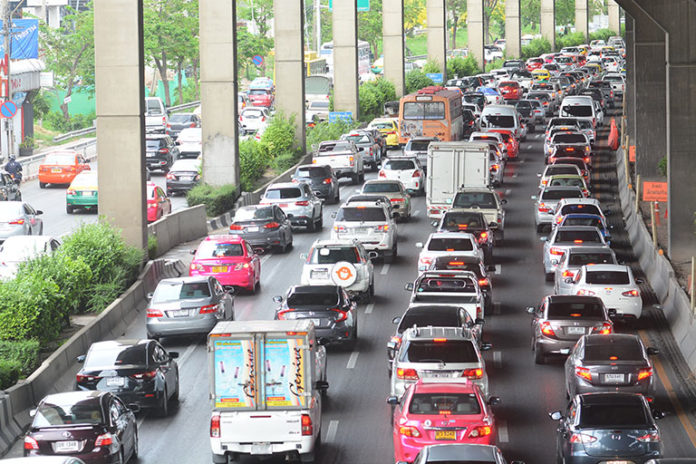 For its report, Greenpeace gathered data from stations in 14 provinces nationwide. While the World Health Organization recommends no more than 10 micrograms of fine particles per cubic meter of air, Greenpeace found levels reach into the high 20s and 30s at all 19 stations.
The most-polluted areas were ranked by which had the highest concentrations over time.
Chiang Mai topped the list with the most number of polluted days, followed by Khon Kaen, Lampang and Bangkok's Din Daeng district. The least polluted area in Bangkok? In the Phaya Thai district, near BTS Ari.
In Thailand, over half of all micro pollution is caused by outdoor burning. Industrial factories emit the most fine particles (17 percent), followed fossil fuel combustion (13 percent), electrical production (9 percent) and residential and commercial use (7 percent).
All locations tested in Thailand exceeded safe levels. Here's how they ranked in the Greenpeace report:
Chiang Mai
Khon Kaen
Lampang
Bangkok (Din Daeng area)
Samut Sakhon
Nan
Ratchaburi
Bangkok (Wang Thonglang)
Bangkok (Thonburi)
Saraburi
Rayong
Bangkok (Bang Na)
Samut Prakan
Chonburi
Bangkok (Phaya Thai)
Prachinburi
Chiang Mai (Chang Phueak district)
Songkhla
Tak