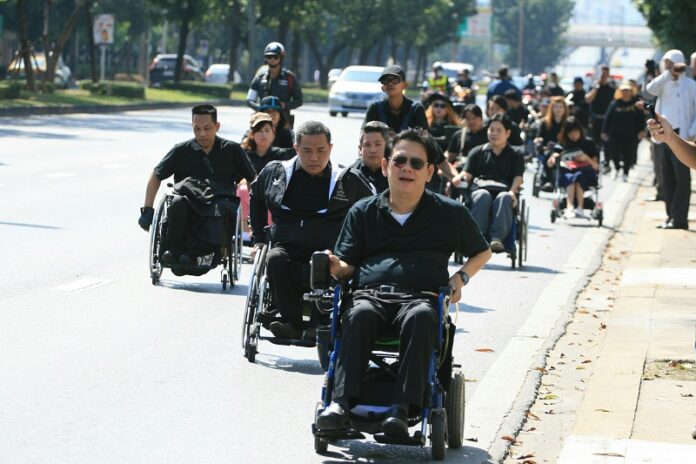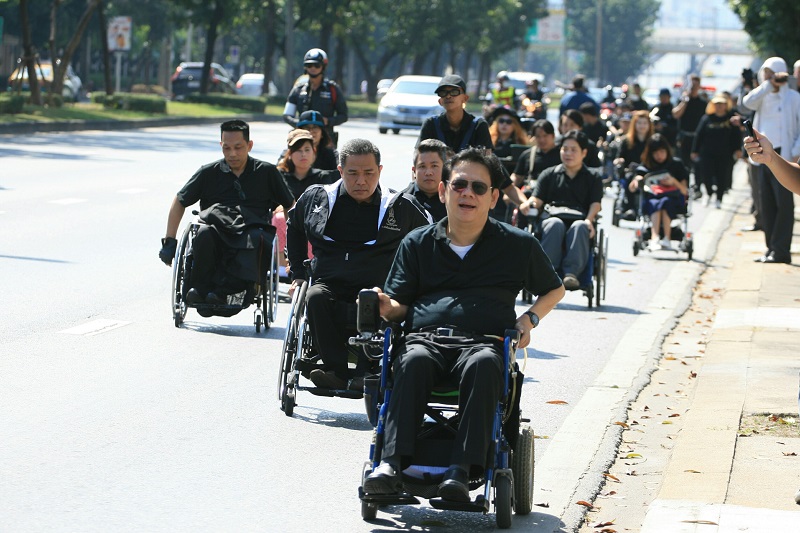 BANGKOK — The Civil Court said Thursday it has the authority to consider a class-action suit filed against City Hall for failing to make the BTS Skytrain system accessible to people with disabilities.
Rejecting a motion filed by the Bangkok Metropolitan Administration that the case did not fall within its purview, the Civil Court said it is the proper legal venue because the suit seeks financial compensation for violating the disabled welfare law and not for action by officials, which would have placed it in the Administrative Court.
"It calls for compensation, not for action," said Sonthipong Mongkonsawat, the attorney representing the disabled rights group which brought the suit. "We don't have the channel to seek compensation under the procedure of Administrative Court."
In January, Transportation for All filed the class-action suit on the second anniversary of the landmark 2015 court decision decided in their favor. The suit demands compensation because City Hall failed to satisfy an Administrative Court giving it one year to install elevators at all of the original 23 BTS Skytrain stations.
It seeks 1,000 baht for each plaintiff to join the class for each day that passed since the court-ordered deadline for the work to be completed passed on Jan. 21, 2016. It seeks four times that amount, or 4,000 baht, for every day since they filed the suit on Jan. 21, plus 7.5 percent annual interest.
In March, a city lawyer filed a motion challenging the Civil Court as the proper arena for the suit. It said the dispute belonged back in the Administrative Court because it was between officials and private parties.
The Civil Court's decision today will go to the Administrative Court who can register any objections before a final decision is rendered by the Adjudication Committee for Power and Duty of Court, which has authority over the courts.
Both City Hall and the activist group were due to go to the court again on Aug. 7 which Sonthipong believed the judgement should be made on which court is authorized to consider the suit.
As of Wednesday, only three of the original 23 BTS stations have a sable elevators, according to disabled rights group Accessibility is Freedom.
City Hall has promised that all stations would be fully equipped by the end of the year, citing problems with land ownership and underground infrastructure.
Related stories:
City Hall Challenge Delays Decision on BTS Accessibility Suit
Elevators Unveiled at Four BTS Stations – But Do They Work?
Disabled Plaintiffs Looking for More to Join BTS Lawsuit
How Long to Install BTS Elevators? City Hall Says 3 Years.
Wheelchair Rally to File Class-Action Lawsuit Over BTS Accessibility at Court
Disabled Activists to File Class-Action Lawsuit Over BTS Access
City Hall Fails to Make BTS Accessible 2 Years After Court Ruling
Broken Promises: BTS Still Off Limits to Disabled
Disabled Rights Group Weighs New Suit Over BTS Stations
BTS Stations Remain Inaccessible to Disabled, a Year After Landmark Ruling