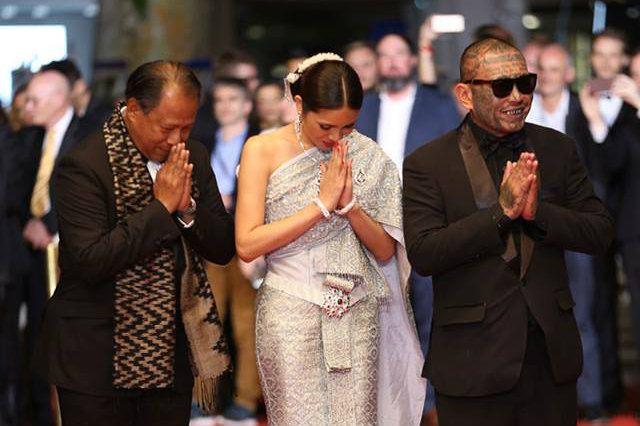 BANGKOK — It wasn't the black formal suit and dark shades that made Panya Yimumphai, or "Keng Lai Prang," stand out on the red carpet at Cannes, but his head-to-toe gangster tattoos that caused drama to erupt back home.
After media reports emerged of his Cannes appearance as a featured actor from French film "A Prayer Before Dawn," negative comments surged online criticizing the "inappropriateness" of him representing Thailand and earning international recognition.
"Admin, can you publish something more substantive than this crap? I'm sick of this tattooed face, like this comment if you agree with me," wrote Tanatep Takopuang, whose Facebook comment reached the top of a story posted by Khaosod newspaper on Friday.
"Actually, we can't blame the foreigners, as they're not too concerned about those with tattoos,  but it's his lame tattoos and lame behavior that make us Thais hate him," wrote Pongsakorn Poome.
Panya is an ex-con who served eight years for drug possession. After his release, he became an extra and gained fame as online personality "Keng Lai Prang," his former gang name, for posting humorous video clips. Most notably, he appeared in several comedies, including "Luang Pee Jazz 4G," last year's top-grossing motion picture.
The 35 year old made his international debut in "A Prayer Before Dawn," in which he plays an inmate at a Thai prison who the film's British protagonist meets behind bars. It was selected for Cannes' Midnight Screenings section, where it received a standing ovation.
Walking the red carpet, director Jean-Stephane Sauvaire, actor Joe Cole and three Thai actors – Vithaya Pansringarm, Pornchanok Mabklang and Panya – stopped and offered a moment of silence out of respect for His Majesty the Late King. The announcer claimed it was the first standing minute of silence to occur in the festival's 70 years.
Many expressed their unhappiness with seeing him featured prominently, while other comments were split.
"I don't like him, but I have to admit that his life's come so far. Someone has been good their whole life but has never gotten such a good chance. That person has to be talented too, as an opportunity isn't enough. Actions speaks louder than words," Facebook user Ray Da commented Sunday on a later Khaosod post.
"Westerners don't dig on Keng's personal life, they're only concerned about his acting ability," wrote Anurak Yeahyeah, trying to explain the situation. "Reading comments makes me realize that Thais love to look down on others."
Cannes has been considered one of most important annual festivals for cinema since 1946. Apichatpong Weerasethakul is the first and only Thai filmmaker to win its top award, the Palme d'Or, for 2010's "Uncle Boonmee Who Can Recall His Past Lives."
Panya wasn't the only Thai attendee to provoke comments.
Most of the Thai media limelight went to actress Araya A. Hargate, with stories gushing over her maternity glow. It was the fifth time she made a commercial appearance at Cannes to promote L'Oréal Thailand, and some criticized the media and public for paying overwhelming attention to the superstar instead of the movies or Thai performers there.
The actress grabbed headlines In 2013, when Vithaya Pansringarm and Rhatha "Yayaying" Phongam were there for the premiere of Nicolas Winding Refn's thriller "Only God Forgives."
In 2015, Apichatpong's eighth feature "Cemetery of Splendour" received second-billing in the media, as did last year's debut of a "Santi-Vina," a restored film thought lost from the early days of Thai cinema, in the festival's classics section.