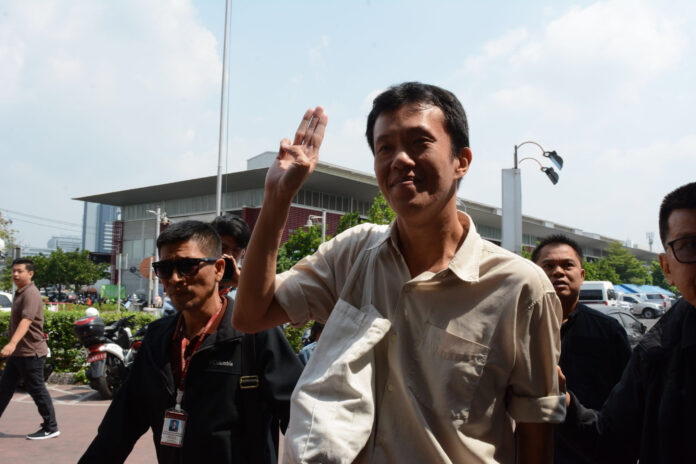 BANGKOK — Police on Saturday arrested a pro-democracy activist leader just hours before a planned protest.
Ekachai Hongkangwan, one of the four campaigners wanted by authorities on charges related to a Jan. 27 previous protest was arrested his home in Lat Phrao area of Bangkok.
Ekachai and three others – Rangsiman Rome, Arnon Nampha and Sirawith Seritiwat – defied summons to appear before police on Thursday. They pledged to join the upcoming protest this evening at Democracy Monument.
Read: Arrest Us Tomorrow, Wanted MBK39 Leaders Taunt Police
The activist was brought to Pathumwan Police Station, where he told reporters he would deny all charges because he had done nothing wrong before flashing a three-finger salute to them.
Ekachai and three other leaders were charged with sedition and violating a law that banned staging protests within 150-meter radius of a royal residence.
A total of up to 39 people were charged for joining the rally, including nine alleged organizers. All reported to police by Thursday as instructed except for Ekachai, Rangsiman, Sirawith and Arnon.
Today's protest is planned for 5pm at Bangkok's Democracy Monument.