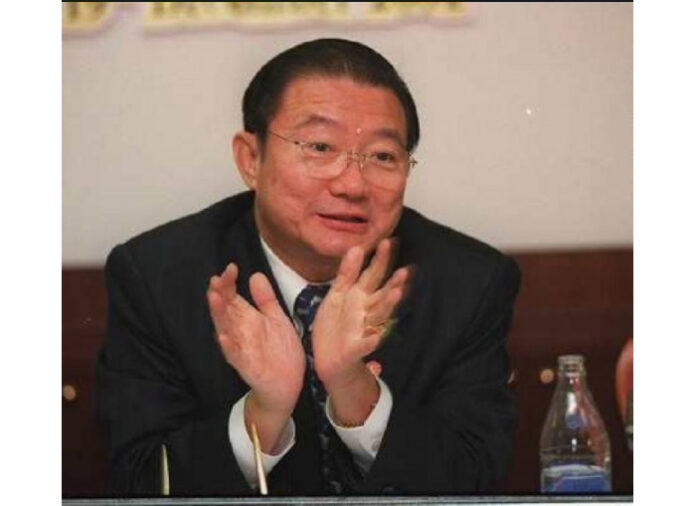 BANGKOK — His wealth swollen to USD$17.9 billion, alcohol and real estate mogul Charoen Sirivadhanabhakdi is now the 65th wealthiest person in the world, according to Forbes' latest ranking released Wednesday.
The ThaiBev and TCC Group founder was the top Thai to appear in the list, followed by Charoen Pokphand Group's Dhanin Chearavanont, who came in at 95 on the list which saw its highest number of billionaires ever – 2,208.
The fortunes of both men and their families leapfrog each other from year to year: The Chearavanonts were named Thailand's wealthiest last year with a combined wealth of $21.5 billion. Forbes' lists Dhanin's individual wealth this year as $14.9 billion.
Charoen's beverage juggernaut has made acquisitions in other ASEAN nations and his TCC Group is breaking ground on the $3.5 billion "One Bangkok" project next to Lumpini Park, saw his fortune grow by $2.5 billion over last year.
The latest ranking counted 30 Thai billionaires, with 10 new faces over last year. Bangkok Airways and hospital tycoon Prasert Prasarttong-Osoth, 84, was ranked at No. 791 and is worth $3 billion. The list does not include Thailand's royal family.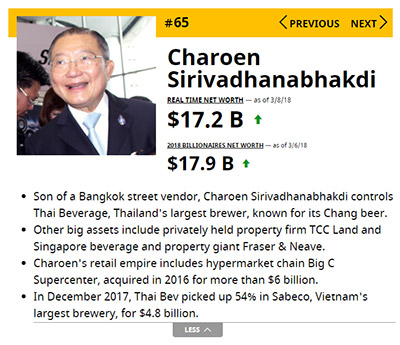 Prasert's Bangkok Dusit Medical Services, which operates the largest chain of private hospitals, is constructing a luxury healthcare complex that includes a five-star hotel at the site of the former Swissotel Nai Lert Park.
Ousted and fugitive former premier Thaksin Shinawatra, 68, was ranked No. 1,339 in the world and 16th richest Thai with $1.8 billion, an improvement over last year by $100 million.
The wealthiest person on the planet is Jeff Bezos of Amazon.com, who is classified as the first centi-billionaire with $112 billion. His e-commerce shares rose 59 percent over the past 12 months. He's followed by Bill Gates ($90 billion) and Warren Buffet ($84 billion).
US President Donald Trump's fortunes fell 400 million from last year's list. He's ranked at No. 776 and is worth $3.1 billion.
Image: Forbes