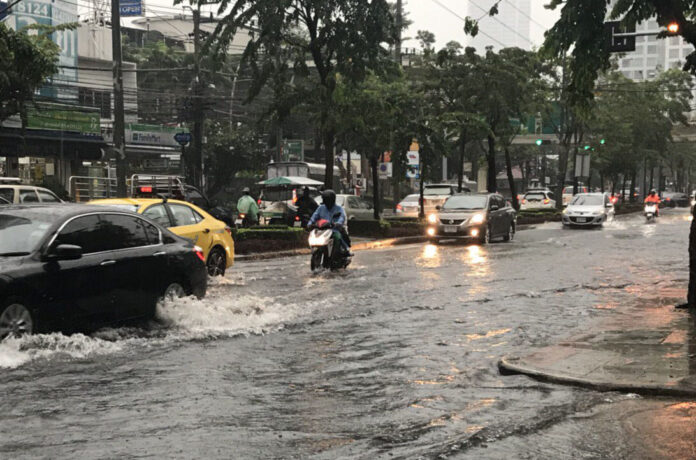 BANGKOK — Residents plowed through shin-high waters Friday as rains flooded parts of the capital.
Much of Bangkok will see rain through today, while scattered showers and cloudy skies will prevail across the weekend as temperatures dip to lows of 23C and highs of 33C, the meteorological department said.
Residents in Bang Rak, Yan Nawa, Bangkok Noi, Phasi Charoen, Sathorn and Khlong San districts experienced the most severe Friday floods as the hashtag #rain trended on social media and users posted about their weather experiences.

"It won't flood in Bangkok this weekend, but there's just rain today," Seree Supratid, the director of Rangsit University's Climate Change & Disaster Center said by phone Friday.
The capital's searing heat is expected to return Monday, with temperatures leaping back to highs of 36C.
The northern, central and Isaan region provinces will continue to see summer storms until Wednesday while scattered rains are set to predominate in the south.
RT@Lamyai11 : 10.20 ปากซอยเจริญกรุง 107 สี่แยกสะพานกรุงเทพ pic.twitter.com/OQzCZvq5jr

— JS100 (@js100radio) March 9, 2018
10.35 น. สะพานจากช่วงถ.บรมราชชนนี ข้ามเข้า ถ.ราชพฤกษ์ มีน้ำท่วมขังสูง รถต้องชะลอความเร็ว ไปได้ทีละคัน @js100radio pic.twitter.com/0vXOi2JeoT

— เหม๊นนนนนนนความรัก. (@GreatGATE) March 9, 2018
เซนหลุยส์น้ำท่วมขัง ขับขี่อย่าใช้ความเร็ว น้ำเข้าบ้านหมดแล้ว @js100radio pic.twitter.com/dWgtkb7mss

— ชะนีหมดเงินเปย์ (@aooaloha) March 9, 2018
@js100radio ถนนเพชรเกษม ช่วงซีคอนบางแค ท่วมหนักทั้งสองฝั่งค่ะ (ในรูปคือฝั่งขาเข้า) pic.twitter.com/Eak0Ssnhmq

— 丽萍🍀 (@Zsen_Jinn) March 9, 2018
เจริญนคร @js100radio pic.twitter.com/kUJRprlYTB

— ♛ naphas (@lahntih) March 9, 2018
@js100radio ถนนจันทน์สะพาน2-4 น้ำท่วมขัง รถเล็กควรระวัง pic.twitter.com/fGvhtPLGah

— ผ่านพ้น..จึงค้นพบ (@MhoOyOng) March 9, 2018