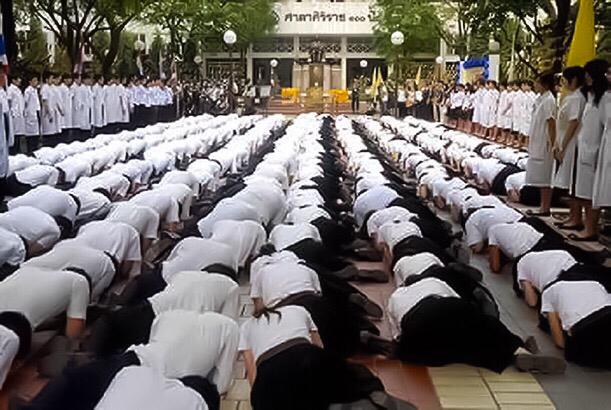 BANGKOK — He was an aspiring doctor in his early 20s on track to graduate from one of the nation's most renowned medical schools. People said he was excelling both socially and academically. Then, late last month, he took his own life.
From there it followed a pattern familiar to medical student suicides. As often as they make headlines, drawing attention to the dark side of a socially revered profession, the details and explanations usually don't come to light.
After last month's death, the medical school at Siriraj Hospital was accused of trying to hush up what happened after a student came into harsh criticism for even mentioning his classmate's death on social media.
That set off a wave of anger at the school's defenders, with accusations they were deflecting attention from the open secret that bright minds are cracking under the toxic pressure of medical school.
"A student warned others about depression in the medical profession and got witch-hunted by associates for tainting its image," wrote the admin of the popular Drama Addict page, who used to be a doctor. "You're not alone. I wrote about it very positively and someone PM'd me… saying it's an inside affair and that I shouldn't stick my nose into it."
Siriraj denies attempting to keep what happened a secret, saying it did not know what led its young student to take his life.
"The student had a great academic performance and was a joyful, outgoing person. There weren't any warning signs," medical school Dean Prasit Watanapa announced March 29, a day after the Drama Addict post.
With debate raging over medical school culture, the national Medical Council publicly acknowledged that student suicide has been a chronic problem for over 40 years, citing heavy competition between peers and high expectations from parents and professors.
"Young students now are very fragile," Somsak Lohleka, the council's adviser, said March 28. "Institutions have never neglected or covered up this problem, but we don't want it publicized because we're worried about a copycat effect."
Pressure Cooker
With its prestigious image, medicine is one of the most popular fields of education in the country. In 2017, the Consortium of Thai Medical Schools received more than 43,000 applications to fill its 2,666 posts.
The ugly business is buried deep. Facts about suicides among Thai physicians are still largely obscured, with the most recent study surveyed the causes of death of 262 doctors from 1992 to 2001. In his 2006 report, Somkiet Wattanasirichaikul found that 6.9 percent, or 18, had committed suicide.
Then there are those who never reached their goals, though the details are elusive. In 2017, a Thammasat University medical student drowned himself. A Siriraj resident jumped off his dormitory in 2012. In 2005, a Chulalongkorn student also plunged from a building. All cases cited stress from school and work as a contributing factor.
Medical students have a name for their unique brand of stress. They call it kin hua – literally "to eat a head." It's used to define severe verbal harassment and humiliation beyond the regular hazing of Thai school culture. It's blamed for making students miserable enough to consider killing themselves.
"Kin hua has persisted for a long time," said Amarase Pamarapa, an alumnus of Chulalongkorn's faculty of medicine. "When you're still inexperienced, you'd hope for a senior to help guide your way, but they talk down to you and make you look bad in front of others instead."
Online, people shared story after story in the wake of the latest suicide, describing forms of shaming – ranging from class banishment, to being told to kill themselves or forced to prostrate before their patients.
"It's a very common practice," Amarase said. "A lot of people believe it is a good way to make their students or juniors learn quickly."
Another doctor from the northeast, who asked not to be named for fear of professional backlash, explained how she was demeaned as a student.
"Very few [professors] were patient when we didn't know something. Some of my friends were very stressed and had to take medication for depression," she said. "Once I was on call the whole night and had very little time to prepare for my assignment. A professor told me off [in the middle of a patient ward] and said 'As a doctor, you can't use such an excuse.'"
But one comment in particular struck a blow to her morale and sank her into depression.
"I joined a ward round with some junior students. A professor asked me a question, and I couldn't answer. I was badly scolded. A really sad thing was when the professor said 'No one wants an incompetent doctor. If I were a patient I would not pick you.' I cried in front of everyone," she said.
"After that, when I attended any big conference, the same professor would humiliate me," she continued. "Gradually, I could no longer manage my emotions. I was very stressed. I love food, but I couldn't eat back then. … I tried exercising, talking to my friends. It didn't help."
She eventually had to take a long leave to deal with her symptoms.
When it comes to the education system, Chatchawan Sompeewong, former director of Prapokklao Hospital's Education Center, said too many subjects have been crammed into curriculums, making it very difficult for students to manage.
"When people have new ideas, including policies from the health ministry, they'll keep throwing subjects in one after the other," he said. "Sometimes high level officials can be too gullible and want to do everything in-trend, but not all are practical. The students are the one that have to take it all, and that can be very confusing."
He also acknowledged that "some specialists" who've gone into teaching establish unreachable standards for young undergraduates – pushing them to learn excessively under too much tension.
But most students can cope with it, Chatchawan added. Although the academics and routine verbal attacks can create a highly stressful environment, he said very few students are troubled.
It also "depends on their personalities and how they were raised," he said.
Several international studies have found alarming trends in medical student mental health. A 2016 US study found medical students in 47 countries are two to five times as likely to suffer from depression than other people, while a 2018 report from the European Psychiatric Association found 46 percent of students exhibit signs of burnout before they even begin their residencies, mainly due to emotional exhaustion.
Amarase, now in his residency, has found his associates suffering from depression "every now and then." He admitted to perpetuating kin hua himself.
"I've seen it so regularly that it was normal to me, so when I was a mentor, I did it to my juniors too," he said. "It is not a necessary thing to do at all."
He stopped after realizing how it could affect those whose heads are on the menu.
"I learned how bad it can make people feel. There're ways to teach without traumatizing anyone. We must not make them feel terrible about themselves or look bad to others," Amarase said. "Ideally, we have to be able to control our impulses. If you lose it and start berating people, you can't really call yourself a professional."