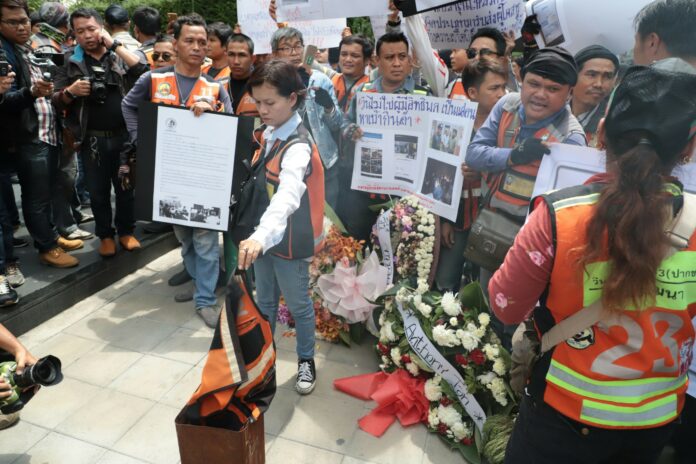 BANGKOK — Motorcycle taxis Thursday converged on the Bangkok headquarters of the largest ride-hailing service to demand it cease operating in violation of the law.
Hundreds of win riders in their signature orange vests rode along New Phetchaburi Road and arrived en masse at Grab offices at about 1pm in hope of pressuring the company to stop fielding unlicensed and unregistered taxis.
"We've been patient for a very long time, you media people should help us," one of the demonstrators shouted to reporters, saying its unfair they have followed strict regulations imposed by the military government but ignored by Grab riders. "We're here today because we want GrabBike to shut down. No more GrabBike!"
Read: Grab Must Stand Down to End Taxi Wars: Military
The protesters laid wreaths in front of the building in a mock funeral, burning a win vest while displaying signs.
"Stop violating the regulations and laws of Thailand," read one sign. "Win are not mafia figures. We're just people living hand to mouth," said another.
They also delivered a letter to company representatives insisting the Singapore-based firm obey the law and heed orders from a special military unit to end regular street clashes resulting from competition for customers.
Two weeks ago, the Internal Security Operations Command, or ISOC, summoned Grab representatives to ask they terminate ride services from unlicensed vehicles in response to complaints about such street brawls.
Grab services include regular, licensed taxi cars as well as private cars and motorcycles. The government says the latter are illegal because they lack proper licenses and vehicle registrations.
ISOC said the company agreed to comply.
ISOC's deputy director in Bangkok today said that representatives from relevant agencies and the army unit overseeing motorcycle taxi services met last week to find solutions. Grab's taxi car service was not discussed.
"We drew two resolutions," Maj. Gen. Manas Chandee said. "First, ISOC will talk to the company about ending service from unlicensed motorcycles. Second, the 11th Army Military Circle agrees to encourage licensed motorcycle taxis to register with any ride hailing applications."
Under existing regulations, win cannot operate outside of their registered service areas to pick up fares. Manas said ISOC instructed transportation officials to draft new rules to prevent further conflict.
Manas insisted that the issue is the transportation department's responsibility, but ISOC had to intervene this time because the violence between win and Grab riders made it a security matter.
ISOC is a special military unit that reports directly to the prime minister.
Ahead of today's demonstration, Grab announced its riders would avoid areas "at risk of clashes." It said the safety of its contracted riders and passengers is its first priority and will take measures if found any riders provoke violence.
"We are now in the middle of discussions with relevant authorities about finding the best solutions for every party," the statement read.
Any riders found to "be involved in or cause any incitement considered a criminal offense" would be dropped, it continued.
Friction between traditional transport service providers and the company has built up over the years since Grab launched services in the kingdom five years ago. A protest similar to that of today was held this past December, with hundreds of motorcycle taxis rallying in front of Grab's headquarters.
The junta declared in 2016 that Grab and Uber must halt operations because they were operating illegally in the country. Those and further demands went largely ignored as the companies continued to field taxis.
In March, dozens of win lodged complaints at land transport offices in the Chatuchak district for losing customers "unfairly" to Grab and Uber.
That same month, Uber pulled out of Southeast Asia, selling all of its operations to Grab.