The two-page spread shows gorecore dead bodies. Flip. Semi-nude models cower on the next page. Flip. Another page turn returns to violent carnage.
Inside two joined shophouses, Stephen Bessac is flipping through the pages of one of his magazines. Bessac is a collector. Vintage porn. Pagan iconography. Profane art. They line the walls and fill display cabinets in a venue that is part dark parlor for unbound expression and also a place to store his vast catalog of apocalypse culture.
"I've been collecting these things all my life. Every country I visit, I always try to find weird magazines, posters, old videos … something weird and local like black magic artifacts," Bessac said.
Maison Close is a bar and it may be an art gallery or music venue. Recently, a few dozen people tiptoed in to see a Japanese shibari master apply her craft of tight knots to a bondage model, complete with dripping wax and crack of whip on flesh.
Right now it's weekend it saw a small art exhibition open by a young Thai woman photographer with a probing lens in a sexploitation style a la Terry Richardson.
For years Bessac has operated tattoo parlors on Khaosan Road, but he was burned out on that vibe. Along with fellow countryman Romain Guiot, he opened the venue on a small soi just off Charoen Krung late last year next to Guiot's restaurant.
The French partners tossed some French words around before settling on Maison Close, or "brothel" in their mother tongue.
Together they renovated and redecorated, starting from covering the white walls with red hues and scattering Bessac's artifacts everywhere – from Thai ghost movie posters to shelves of refreshingly raunchy Thai porn mags from the '90s. Hindu Thai movies on VHS are piled in heaps next to cathode-ray tubes, while a giant wooden phallic amulet supplicates before jars of ya dong at the bar.
As with every available surface, the toilet is not spared. It's decorated with collages of prints exposed with vibrant pink lighting.
But what stands out most among Bessac's items of obsession are decades-old Thai magazines "191" and "Achayakam" ("Crime") displayed inside glass cabinets. Both, released weekly between 1950s through 1990s, are filled with uncensored graphic violence and women posing half-nude in scenes evoking bondage power play. They're something of a forerunner to the provocative brew leaping from the homepage of Khaosod Online.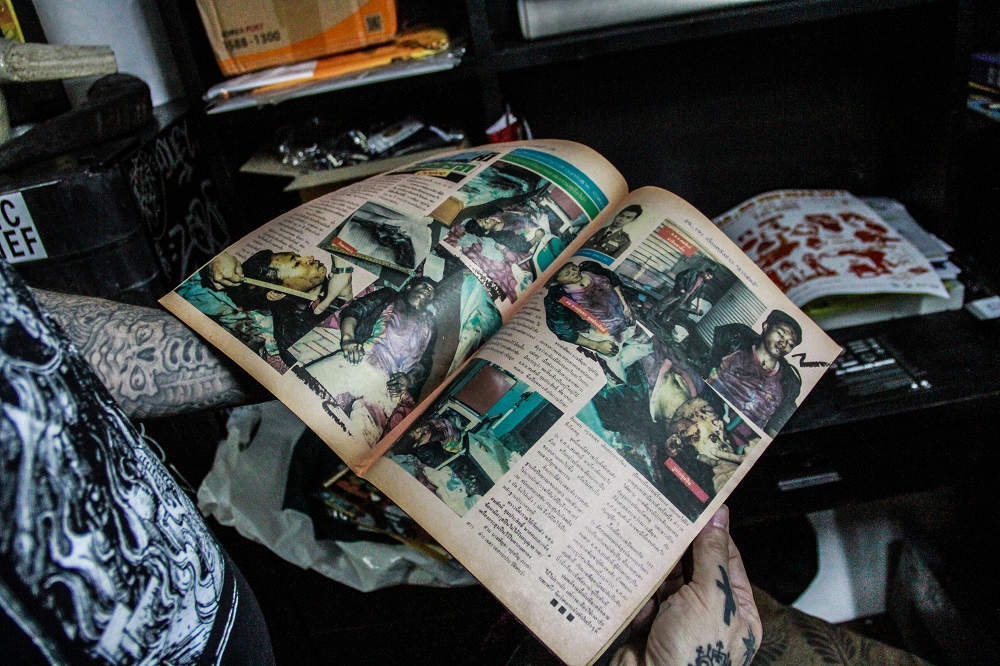 The oldest cover Steve has retrieved traces back to "Achayakam" volume No. 9 published in 1956.
Although Steve cannot read Thai, the prints quickly became prized artifacts in his trove of extremity.
"I first came to Thailand in 1989 and found them on a newstand. I fell in love with them. Then when I moved here, I started to collect more," Bessac said, adding that the main resources to get the rare magazines are local merchants in the khlong tom flea market and Pantip Ngamwongwan shopping mall in Bangkok metropolitan.
Asked if Bessac looked to any reference points, such as a favorite shop or gallery, in bringing Maison Close to be, the 47-year-old Parisian-turned-Bangkokian said no.
"I have a vision in mind, but it's mostly guided by my taste," said Bessac, an admitted fan of a wide range of culture spanning hip-hop, black metal and horror movies to black magic and erotic art. "If I had more budget, I could do so much more."
Most big cities have a kink subculture that serves the curious and compulsive alike. Not the adolescent banality of booby bars, but supportive communities of like-minded souls foraging their own depths in unconventional ways.
Maison Close could be the first such place, perhaps not in the capital, but certainly for Charoen Krung Road.
Calling the venue his child, Bessac foresees it hosting more events based on his interests and passion. His future projects involve hell-themed Buddhist temples, cult fanzines, macabre and black metal mixed with traditional Thai music.
It's fair enough to say this: Maison Close is Bessac, Bessac is Maison Close.
"I want to do more and more crazy stuff," Bessac said. "Anything, as long as it's dark and interesting."
Maison Close is located on Soi Charoen Krung 45 in Bang Rak district. Its current event This Is Not Cute, a small exhibition on power, women and sexuality by Pokchat Worasub. It runs through June 16.
Additional reporting Mongkorn Timkul, Todd Ruiz