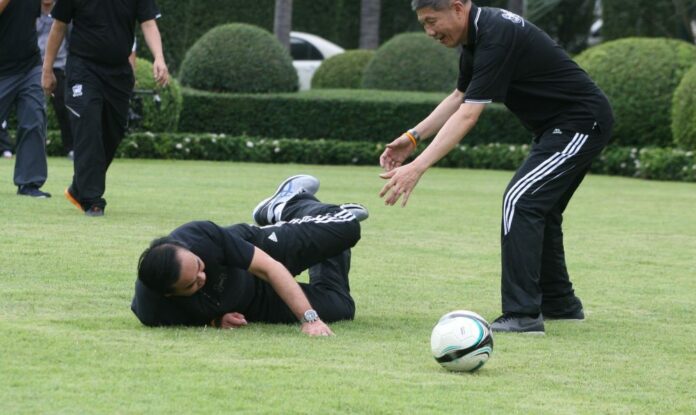 Correction: The original version of this story incorrectly reported that the court would hand down a verdict on June 22. In fact, the June 22 ruling will not decide junta chairman Prayuth Chan-ocha's guilt under Section 113 but rather whether to uphold a lower court's ruling dismissing lawyer Arnon Nampha's lawsuit. Were the court to overturn that ruling, the case would return to the Court of First Instance for trial. We regret the error.
BANGKOK — Arnon Nampha is set to hear a court decision on insurrection charges in June. But the pro-democracy activist, who's racked up an impressive litany charges, won't be there as the defendant.
Although he himself has been accused of inciting sedition, this time he's the plaintiff in a lawsuit filed against the regime accusing junta chairman Prayuth Chan-ocha of illegally overthrowing the elected government four years ago. A lower court dismissed it outright; now he hopes the Supreme Court will overturn that decision and allow a trial to be convened.
"Usually these cases end in the lower courts, but we fought all the way to the Supreme Court," Arnon, who also works as a lawyer by trade, said Friday. "As far as I know, this would be the first time for such a verdict."
Arnon and his activist group filed the suit in criminal court against Prayuth and four other generals in May 2015, the first anniversary of the putsch. He wants the junta leaders prosecuted under Section 113 of the Penal Code, which bans seizing power or changing the constitution by illegal means.
If found guilty, Prayuth and his co-defendants face execution.
The Court of First Instance dismissed the charge against Prayuth a week after Arnon filed it without any deliberation. The Appeals Court later affirmed that dismissal and added that the junta leader would have likely have been acquitted anyway, as he had retroactively granted himself and his clique amnesty for the coup.
Other legal challenges against the junta have fallen flat in the past.
In October, a civil court also rejected a lawsuit from activists demanding 16 million baht in damages from the junta for its alleged use of excessive force in a 2015 crackdown on protesters.
But Arnon said a defeat in the courtroom won't end their effort.
"No matter what, our fight will continue," he said.