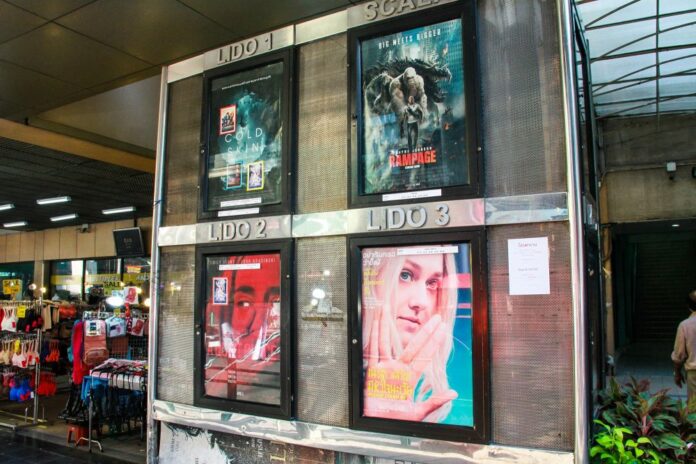 Update May 30: Short film "45 Minutes to Hollywood" and Buster Keaton-starring comedy "Sherlock Jr." screening at 8:30pm Thursday have been booked out.
BANGKOK — Two Japanese movies – a romantic-fantasy and a manga-inspired jazz-theme drama – showing on the last day of a soon-to-vanish standalone cinema have been booked out by fans.
There are no more seats for the May 31 nighttime screenings of Japanese films "Kids on the Slope" and "Tonight at Romance Theatre" – the venue's final day. Theater owner Apex Lido posted online that the 6:45pm "Tonight at Romance Theatre" and 8:45pm "Kids on the Slope" are thoroughly booked.
Because after that, it's curtains for the 49-year-old, centrally located movie house.
But don't despair: High demand led the theatre to add 27 seats for both showtimes. Tickets will be sold first-come, first-served at the box office starting at 10am Saturday.
Read: Bangkok Reminisces, Bids Fond Farewell to Lido Cinema
Apart from the Japanese films, the movies that will close out the theatre (for which seats remain available) are Star Wars spin-off "Solo: A Star Wars Story," French post-World War I drama "See You Up There," gay romance "God's Own Country," noir thriller "Terminal" and superhero sequel "Deadpool 2."
The theatre's long run will also finalized by the Silent Film Festival organized by the Thai Film Archive. Silent films showing Thursday are Erich von Stroheim's "Foolish Wives,"  two-reel silent short film "45 Minutes to Hollywood" and Buster Keaton-starring comedy "Sherlock Jr."
Since property owner Chulalongkorn University's New Year's Eve announcement that the cinema would ends its five-decade run following its contract expiration, movie fans have been trickling in to bid Lido farewell. A whiteboard was installed for people to leave their goodbyes.
"Thank you. Watching movies becomes my hobby because of you. You make who I am today," a fan noted.
Lido opened June 27, 1968, with 1,000 seats and French action-adventure film "Guns for San Sebastian" on its single large screen.
It's been part of the Apex theater chain which originally consisted of Sala Chalerm Thai, Siam, Lido and Scala cinemas. It remains to be seen whether Lido will be demolished too or remade into another department store.
Chulalongkorn insists Scala, a large classic and architecturally significant movie palace, will remain open at least through the end of next year.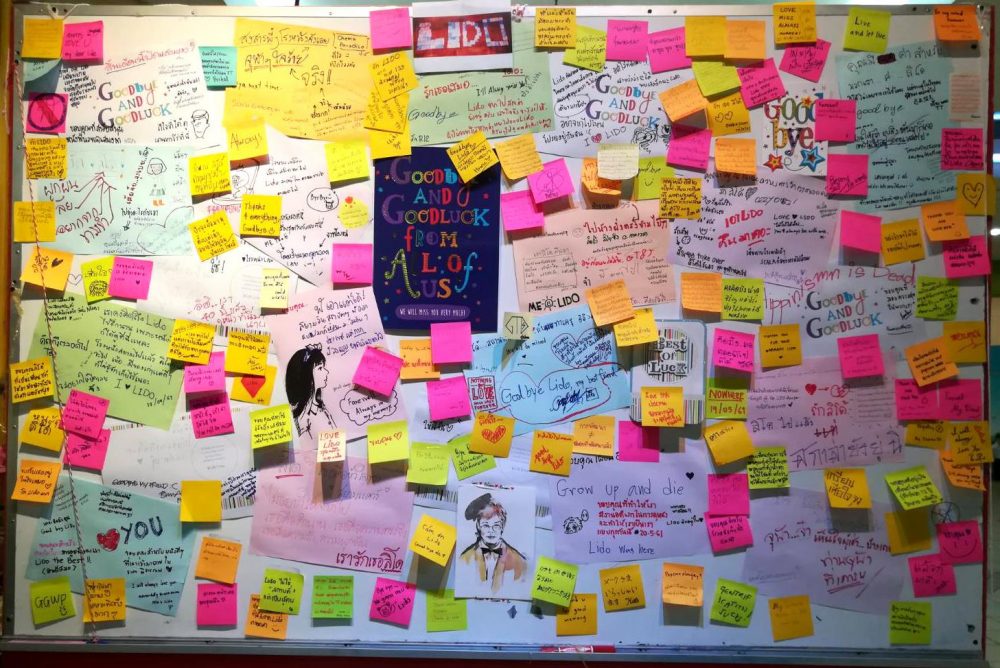 Related stories:
Silent Film Festival to Close Lido Theater's Long Run
Bangkok Reminisces, Bids Fond Farewell to Lido Cinema
Curtain Call: Lido's 50 Year Run to End in May (Photos)
Lido Lost, But So Long Scala? Apex Silent on Theater Fate

Find Hidden Treasures From Bangkok's Golden Age of Cinema (Photos)