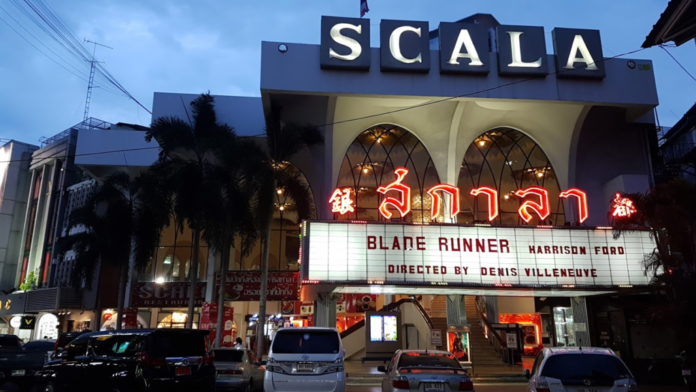 BANGKOK — Two endangered theaters in the heart of the city have rumored dates with the wrecking ball this year, and their owner is silent on a denial by the university landowner it is to blame.
Responding to complaints it is the villain in the demise of historic cinema palace Scala and independent art film house Lido, the Property Management of Chulalongkorn University issued an ambiguous statement on their fates, suggesting Scala may be spared – and any closure would be owner Apex's decision.
"We still want the tenants to rent the building until suitable time," Chulalongkorn University's property management wrote Sunday. "But if the tenants insist their intention is to close the businesses of Scala and Lido because they can no longer bear the losses, we will negotiate to have Scala stay, and only reclaim Lido."
Rumors have a department store replacing the three-screen Lido, which the university has yet to confirm or deny.
But theater owner Apex has remained silent on the matter.
A Scala Cinema representative said management would not reply to inquiries.
"As for closure [by mid-2018], we haven't seen any official document," Kung, a theater event manager, said Wednesday.
The theaters were on the verge of destruction several times in recent years, but a fierce backlash from the public seemed to forestall the inevitable.
Lido's contract expired at the end of 2016, but a compromise kept it running until the end of 2017. After the International Film Festival and Silent Film Festival take place in April and May, Lido will close forever, according to Chulalongkorn University's Property Management.
The university said the building is unsafe and will be renovated and refurbished.
While there is less sentimentality attached to Lido, the theater complex has been popular as a rare home for alternative cinema.
But the renewed threat to Scala brought the most anger and sadness to many moviegoers, including an expert in Southeast Asia's nearly extinct cinema houses.
"Chulalongkorn University is in a unique position at the moment. They are in control of the fate of Scala Theater, a building that Bangkokians and many others around the world believe is more than simply a commercial enterprise," said Philip Jablon, author of The Southeast Asia Movie Theater Project.
"[Scala] contains deep social value, cultural identity, architectural singularity and historical memory/ meaning for many. Such things cannot be rebuilt or replicated," Jablon said in a message. "It take time accumulate such statuses. To demolish the Scala is to erase all of that forever."
Repeated calls to Chulalongkorn University's property management reps were have not been returned since Tuesday. A representative at an office in Siam Square said they would return a call as soon as possible.
Scala Theatre, owned by the Tansacha family, has welcomed millions of visitors since 1969. The movie palace located in the heart of commercial area Siam Square is widely regarded for its vintage vibe and Art Deco architecture.
Word of its demolition has circulated since last week. #SaveScala went wild and became a top-trending hashtag on Twitter while an online petition demanding Chulalongkorn University preserve the theatres as architectural and historical heritage has garnered over 16,000 signatures.
Related stories:
Find Hidden Treasures From Bangkok's Golden Age of Cinema (Photos)
Revisit Thailand's Golden Age of Cinema Houses (Photos)