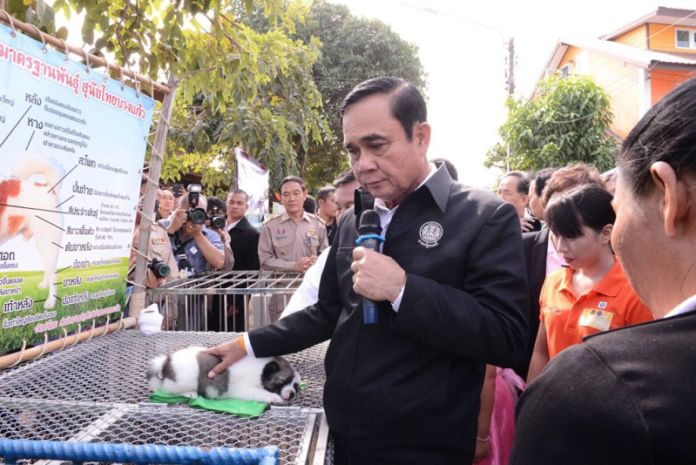 BANGKOK — In a twist to a scandal accusing Prime Minister Gen. Prayuth Chan-ocha of overpaying and breaching anti-corruption laws in the purchase of puppies, the junta leader said Wednesday that the surplus was meant for their vaccination and delivery – not to give the seller moral support, as he was quoted saying initially.
Prayuth referenced the additional 7,000 baht he paid for the purchase of three Bang Kaew puppies last December in Sukhothai, a move activist Srisuwan Janya said breached Article 103 of the Anti-Corruption Act, which forbids state officials from giving or receiving gifts worth more than 3,000 baht.
The junta leader paid a total of 25,000 baht for the three dogs, which originally held a market price of 6,000 baht each.
"The thing about the Bang Kaew puppies is about dogs, don't blow it up. I haven't given it to anyone, on that day I only asked if anyone wants one. As for the payment, the additional money will be used for vaccinations and delivery," Prayuth said adding that he hadn't received any puppy. "I know the law. [I] know that [one] cannot give anything worth more than 3,000 baht."
Srisuwan, who vowed to petition the National Anti-Corruption Commission today, said Prayuth could have potentially further broken the law by saying he would give two of the three puppies to fellow cabinet members.
Prayuth said both Interior Minister Gen. Anupong Paochinda and Deputy Prime Minister Chatchai Sarikulya wanted "to check with their dogs back home first to see if they could get along" with the Bang Kaew puppies.