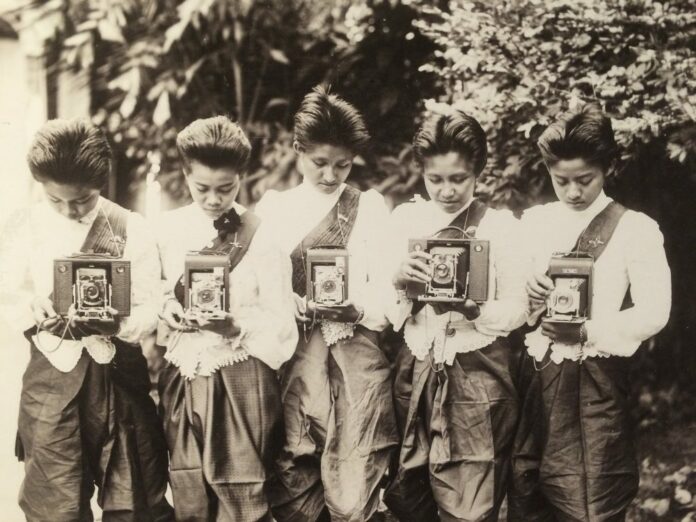 BANGKOK — In one image, King Rama V, dressed in a Western overcoat and top hat, is welcomed by German statesman Otto von Bismarck in Hamburg. Another shows the king seated next to Tsar Nicholas II of the Russian empire, a friendship forged across the two corners of Eurasia.
Other images capture the comfort of everyday life in the royal court at the time Thailand was modernizing at a breakneck pace. The first telegram service. A car ride down the newly paved Charoen Krung Road. The first vacuum cleaner; its tank as large as a van. A young noblewoman flashing a smile as she takes a portrait of her father.
It was the height – and twilight – of absolute monarchy, a period that lasted from the late 19th century until a democratic revolt in 1932. Its pomp and pageantry has been brought back to life once again in a photo exhibition running through July at the National Gallery.
Their story is told through 150 reprints of glass plate negatives taken by palace and foreign artists. The originals are stored at the National Archive, along with 35,000 other photographs preserved from that bygone era.
The collection was designated as an invaluable "world memory" by the UNESCO back in October, an occasion this photo exhibition celebrates.
The exhibition, co-organized by the National Archive and the Ministry of Culture, is separated into eight sections: a history of photography in Siam; national symbols and landmarks; major royal ceremonies; traditional arts and culture; the modernization of Siam; new roads and architecture; portraits of prominent figures, and relations between Siam and the world.
These windows to the past are aided by fine reprinting quality and informative captions – in Thai and English – but don't expect to get the full picture. Much of the collection focuses on the male-dominated royalty, like photographs of the kings and their queens, consorts, children and retinues. It's also a Bangkok-centric view to the past; the rural and upcountry world was only documented by photographers who accompanied royal visits to the outer provinces.
After all, this was to be expected. Under the absolute monarchy, photography was an exceedingly rare and expensive hobby beyond reach of the common people.
But it does not mean the exhibits offer no vivid glimpses into the lives of ordinary Siamese. Row boats are locked in a "traffic jam" on a canal just next to Sampeng Market in Chinatown. A barge glides past the historic Santa Cruz Church. Merchants park their wagon next to a river in Uttaradit to load wares. Massive cargo ships dock next to the East Asiatic Company (one of its warehouse facilities is now revived as a tourist destination called Asiatique).
Even when the subjects are the royal elite, candid and rare photos are sure to please history enthusiasts.
A portrait of a clean-shaved, smiling young man in army uniform drew gasps of surprises from several visitors when they discovered, through caption, that it was teenage Rama V. The king, who was usually portrayed as a formidable sadej por ("royal father") in his later years, is seen again in another photo, kneeling down with his camera, poised to photograph a passing quadricycle.
King Rama VI relaxes on a field chair and smokes his pipe as he observes his Wild Tiger Corps drilling war maneuvers. His successor, King Rama VII, watches a baby elephant play with its mother. The now-iconic equestrian statue of King Rama V is unveiled in grand ceremony. A royal procession of elephants passed through the streets, headed for the Giant Swing.
But behind these displays of grandeur, away from the cameras, a crisis was brewing. The economy was failing. Dissent against the opulence and incompetence of the royal government was spreading, at first quietly, then loudly through newspapers, eventually becoming a cry for reform and democracy. Their voices went unheard.
By 1932, Europe was far from the same continent King Rama V visited in the exhibition's pictures. Monarchies no longer held the same prominence they did; some dynasties disappeared altogether. His country, too, became a different nation. A revolt forced his son, Rama VII, to give up his power and abide by a constitution, ending absolute monarchy.
"Celebrating the National Glass Plate Negatives" exhibition runs at the National Gallery through July 28. It opens 8am to 7pm from Wednesday to Sunday. Thais pay 30 baht for entry. Foreigners, however, must pay nearly seven times of that price: 200 baht.