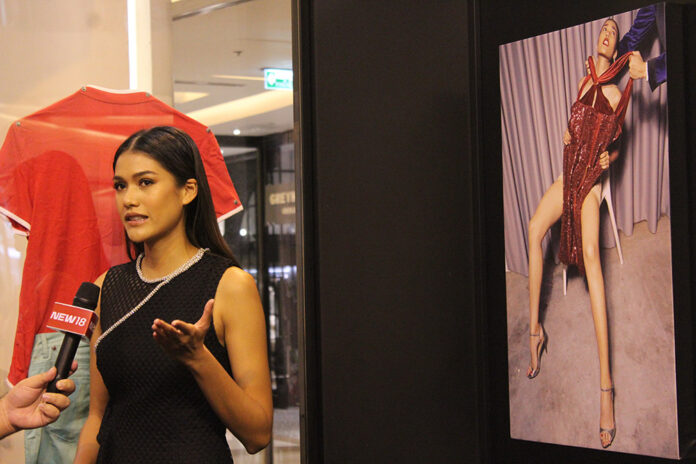 BANGKOK — "You were raped because of the way you dressed; if not by this offender, you would have been abused by another," a police officer reportedly told a 12-year-old victim.
"Rape is something that only happens to 'low-class' people, the uneducated, or migrants," a female police officer was quoted saying.
In one of Bangkok's largest shopping malls, Thais gathered Monday to challenge society's fashion sense. Modest clothes hung from exhibit walls with images and quotes from sexual assault survivors in an exhibit named after a recent social media phenomenon.
Featuring clothing women wore at the time of their assaults, the #DontTellMeHowToDress exhibition, which opened Monday, seeks to change conceptions that blame sexual assault survivors for what happened to them.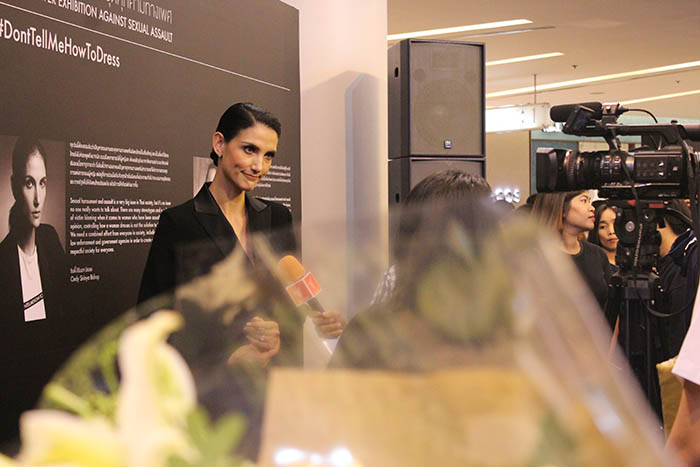 Celebrity actress and model Cindy Sirinya Bishop started the hashtag after April's Songkran festival saw Thai authorities telling women to cover up if they wanted to avoid sexual harassment. Since then, she was inspired by a university exhibition in the United States featuring clothes worn by women the night they were assaulted.
"Sexual harassment and assault is a very big issue in our society, but it's an issue no one really talks about," Cindy said at this afternoon's launch event.
The regional director for UN Women, Anna-Karin Jatfors, spoke about the findings of a November study of how sexual violence is handled by the justice system in Thailand and Vietnam.
"No country is immune from this type of violence," she said. "Women from all around the world are coming forward."
The study found that few women in Thailand report cases of sexual assault because of social and cultural values and practices. In cases where women did seek help, they were often turned away and sought remedy outside the justice system. The report also found that there were few victim-friendly facilities where examinations could be conducted.
Read: 9-in-10 Thai Rape Victims Knew Their Attackers: UN Report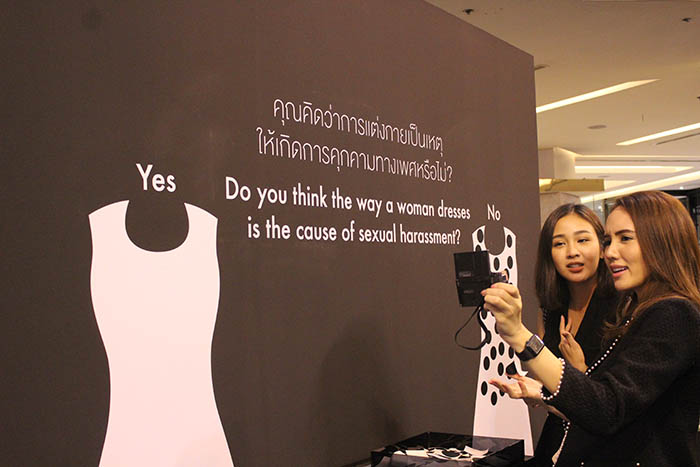 The study found 91 percent of victims knew their attacker and the majority of rapes took place in private places such as homes or hotel rooms.
"What this really shows is that violence can happen to anyone," Jatfors said.
The exhibit also features a gallery of photographs from fashion photographer-activist Nat Prakobsantisuk, who collaborated with each model to convey a concept of dress, respect, touch, and tension between societal pressure to be beautiful and modest.
"The models are not just the medium, they represent the concepts for what they are," Nat said.
Nat described being overwhelmed by the willingness to participate shown by the models, such as Davika "Mai" Hoorne, who waited for four hours.
"That day (at the photoshoot) they came with heart," Nat said.
The American #MeToo movement launched into a global phenomenon to provide survivors a platform and community of support. That stands in contrast to the fear to report and speak out about sexual assault that persists in Thailand, Jatfors said. The #Don'tTellMeHowToDress campaign hopes to provide that platform and community for Thai survivors of assault.
Read: Why Few Thai Women Are Saying #MeToo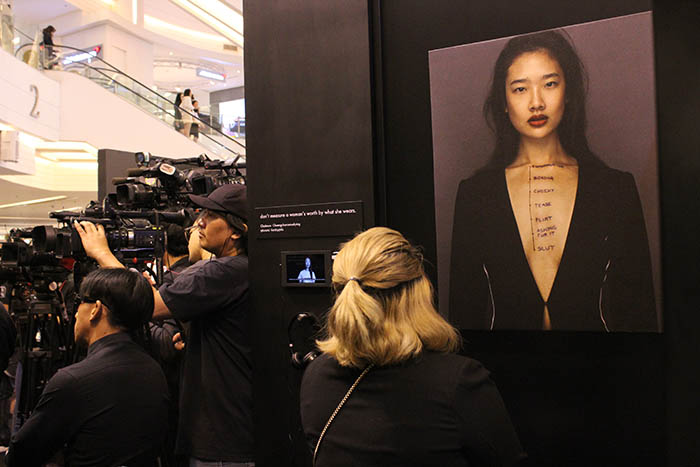 There are long-standing barriers to reporting assaults, especially for police, who serve as the first point of contact for victims. The study found a lack of facilities for examinations, female officers, and resources for long-term care.
"For the law to be meaningful, it has to translate to lived reality," Jatfors said. Thai law has some legitimate protections for victims of sexual assault, but the enforcement system is lacking, the report found.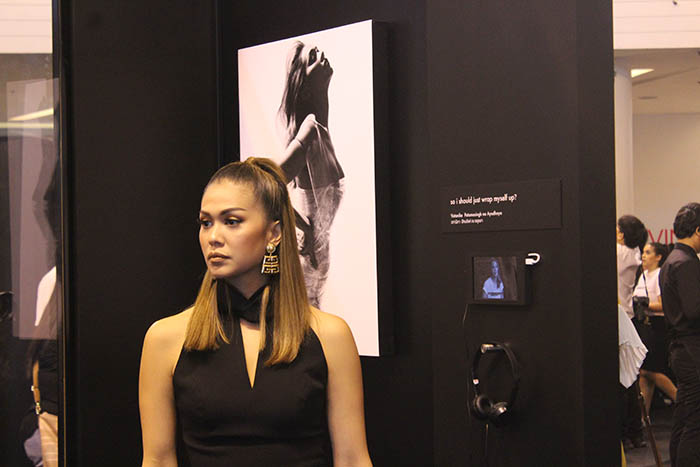 "I can easily sum up my experiences in the prosecution stage in three words: I don't understand," one quote from a female survivor reads. "I don't understand the law, I don't understand why it takes so long, and I don't understand the language used in correspondence from the prosecutor's office. Of course I felt like quitting and leaving everything behind."
Jatfors mentioned one UN recommendation that efforts be coordinated between the government, police and hospitals to support survivors and offer meaningful assistance.
"Ultimately, violence against women is about power," Jatfors said. "The men who have power need to examine that."
Don't Tell Me How To Dress runs until July 1 at the Siam Paragon shopping mall before moving to the Bangkok Art and Culture Centre for a run starting July 4.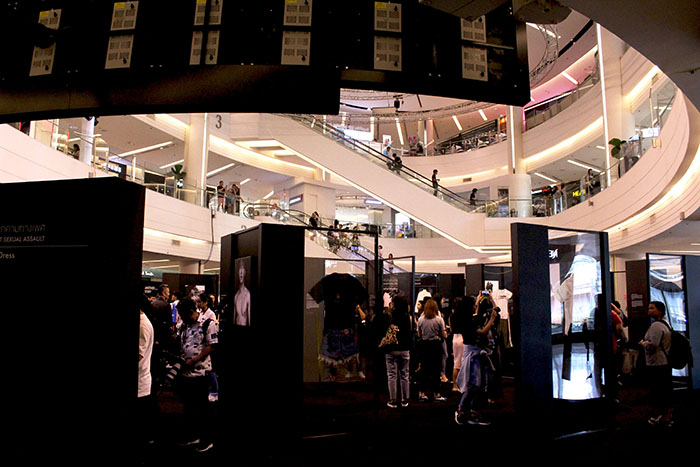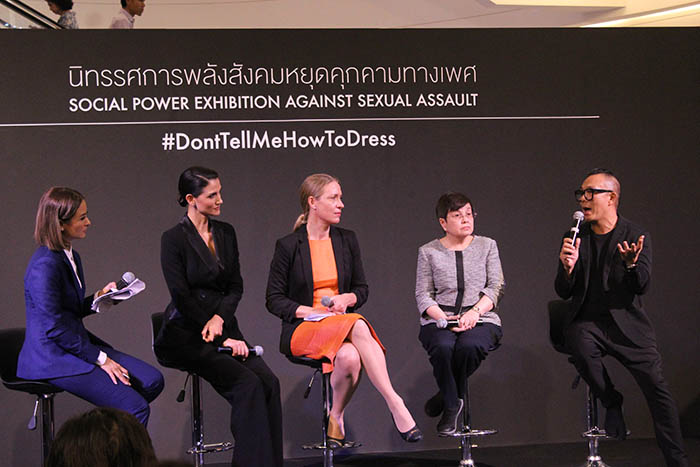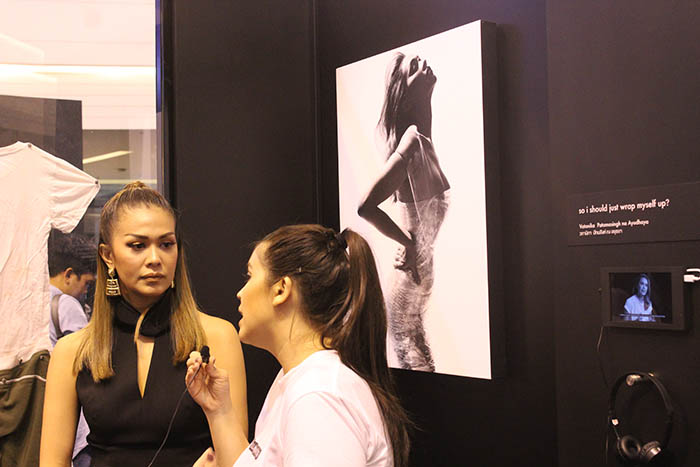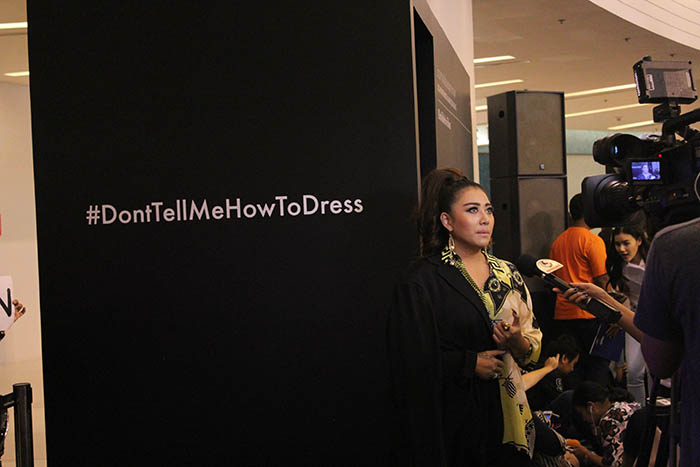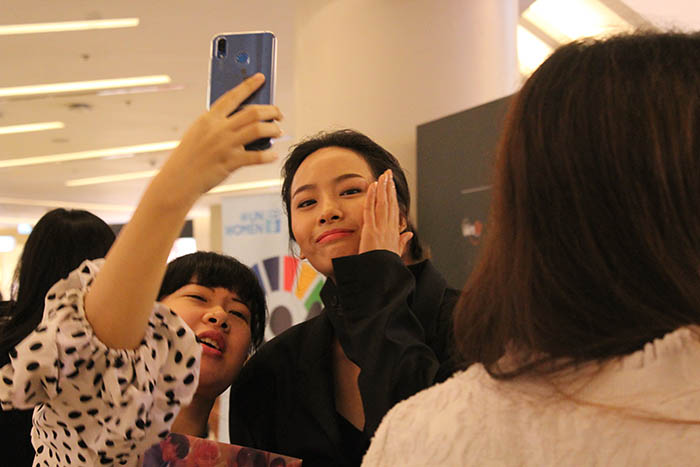 Related stories:
Why Few Thai Women Are Saying #MeToo
Govt Wants Less Sex, More 'Thainess' for Motor Show Pretties