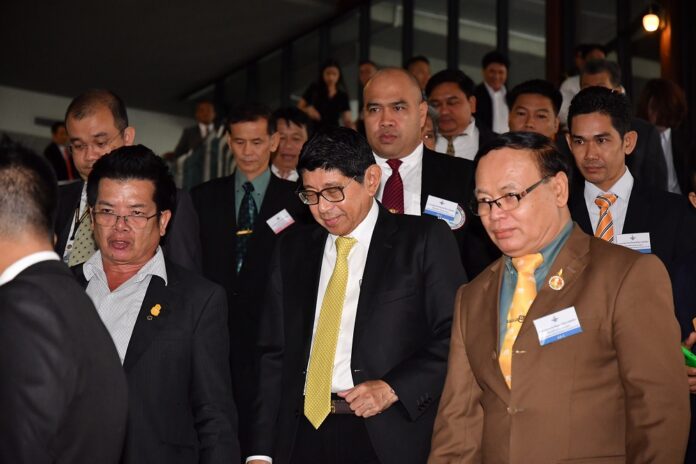 BANGKOK — The next election may have to be postponed until May 2019, Deputy Prime Minister Wissanu Krue-ngam said Monday.
In the government's latest hint at yet another delay, Wissanu said 11 months are likely needed before general elections and the primary vote process – a new electoral feature introduced by the junta – can take place.
His comment came after junta reps met with 199 politicians from different parties at the Army Sports Club – the same site where regime chairman Prayuth Chan-ocha staged the coup four years ago – to discuss the next election. The junta previously promised a poll would be held this coming February.
Read: No Election Until Coronation, Prayuth Says
Reporters were barred from observing the meeting, and sources said it was chaotic as many politicians wanted to speak and ask similar questions.
Deputy Democrat Party leader Jurin Laksanawisit said he was satisfied with the meeting. He added that junta reps told them they would consider lifting their ban on political activities as early as September or October.
Two parties, Pheu Thai and Future Forward, refused to send representatives to the meetings as they had earlier vowed.
In a statement, the Future Forward Party said they did not take part because a discussion journalists were barred from and no recordings were allowed lacked transparency.
The party also said that the Election Commission has yet to formally recognize the group so it may not have been qualified to attend.
Election Vow Highlights:
Election Will Take Place in October 2015 at Earliest
Post-Coup Election May Be Delayed To 2016
'There Will Definitely be an Election' in 2017, Prayuth Promises
Junta Promises Election in 2017, For Real This Time
No Elections For Thailand This Year, NLA Says
No Really, There Will Be Elections This Year, Prawit Says
Asserting 'Thailand First,' Prayuth Says Elections Up to Him