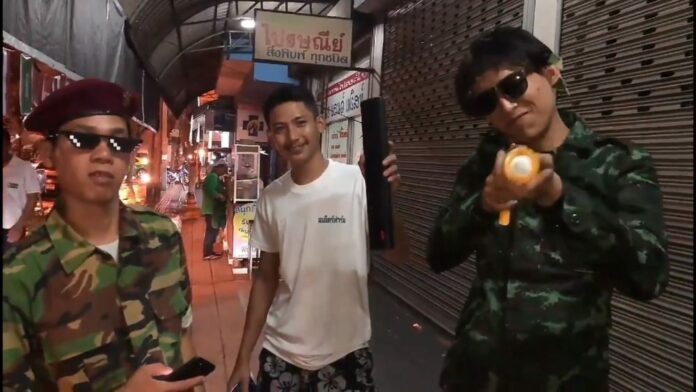 BANGKOK — Six people have been charged for staging a prank in which they drove around a neighborhood in camouflage pretending to shoot bystanders with fake guns.
A group of six teens and adults, ages 16 to 27, were charged with creating a nuisance and inciting fear after they drove on a road in the eastern district of Nong Chok, aiming fake weapons such as an industrial caulking gun at pedestrians while playing sounds of machine gun fire.
Of course they filmed the stunt and posted to the group's Grean the Gang comedy page on Friday with the caption, "I'd run too if I were you. #HardTimesinNongChok."
Since Friday it has been shared more than 4,000 times.
According to Col. Supachai Piammanas, deputy commander of metropolitan police bureau 3, the six confessed to the crime, saying they did it in the first place for "entertainment" influenced by social media and foreign movies.
For the video clip, six of them had different roles: some of them acted as soldiers with guns, some of them act as running bystanders.
Along with the arrest, police also confiscated a caulking gun, loudspeaker, army uniforms and white pickup truck. The six were sent to the Minburi Provincial Court today.