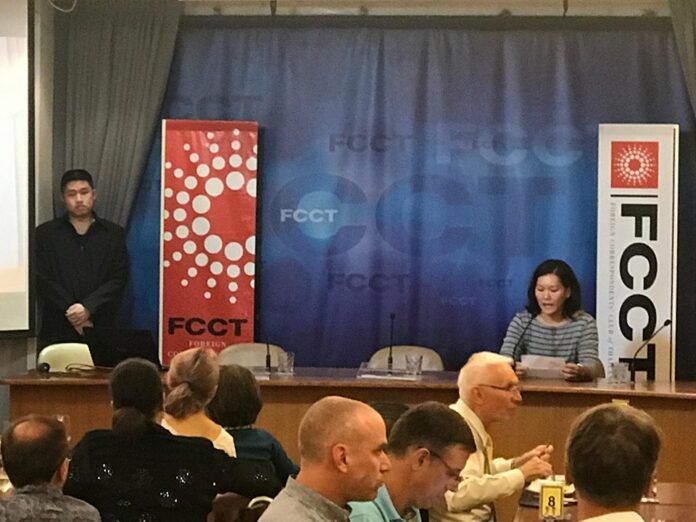 BANGKOK — A discussion of whether key figures in Myanmar's military should be prosecuted for genocide of the Rohingya was canceled at the last minute Monday evening under pressure from Thai authorities.
Coming two weeks after the UN's top human rights body concluded tatmadaw generals should be prosecuted for genocide, the police came to the Foreign Correspondents' Club of Thailand and told them to not hold the event.
Dominic Faulder, club president, said it was a "sad development," adding that the club has held 20 or so events discussing the political situation in Myanmar without incident.
Read: Mosque Ceremony for Rohingya Victims Forced Canceled by Authorities
The panel discussion was to feature Kingsley Abbott, a legal adviser with the International Commission of Jurists; former Thai ambassador Kobsak Chutikul, who resigned from a Myanmar advisory panel on the Rohingya crisis; and Tun Khin, the president of a UK-based Rohingya advocacy group.
Police used boilerplate language in a delivered letter to warn the event could affect bilateral relations and possibly be exploited by an unspecified "third party."
Abbott said there would have been a lot to talk about at the event, provocatively titled "Will Myanmar's Generals Ever Face Justice for International Crimes?"
He cited Friday's ruling by the International Criminal Court that it has the authority to look into crimes against humanity over the forced exodus of much of Myanmar's Rohingya population because part of the alleged crime occurred in Bangladesh, which, unlike Myanmar, is a member of the Hague-based court.
"The situation in Myanmar is of global concern, and tonight's cancellation by Thailand is enormously disappointing given that they should be taking a position of leadership," he said, noting that any potential prosecution shouldn't be limited to what occurred outside of Myanmar.
"The ball's in the prosecutors' court to launch an investigation," he said.
Two weeks ago, Thai authorities forced a mosque to cancel a memorial on the one-year anniversary since violence erupted in Rakhine state last year.