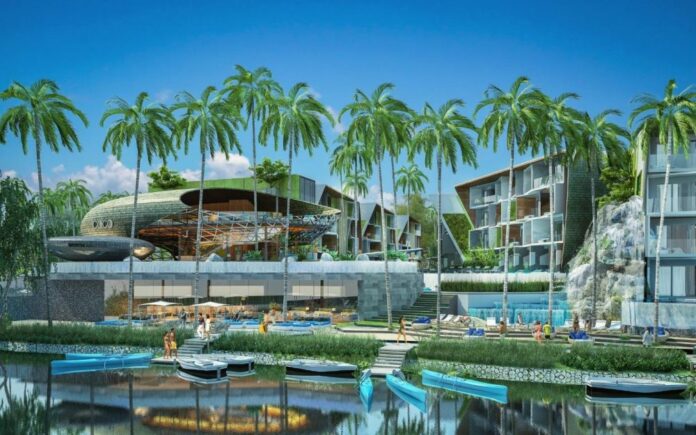 CISSA Group unveils 'Wyndham Naiharn Beach Phuket', a luxury resort on Phuket's Nai Harn Beach, bringing in world-class hospitality giant Wyndham Group for joint management and guaranteeing a worthwhile return on investment.
CISSA Group, a Thailand-based leading investment property developer, today announced that it is holding an open house to unveil its new property project called Wyndham Naiharn Beach Phuket that's located on Naiharn Beach, Phuket. Set in an 11-rai tract of land and valued at Bt2.8 billion, the project is a partnership between CISSA Group and Wyndham, a world-class operator of renowned hotel and resort chains. Wyndham has been brought in to manage the property to ensure professional guest service.  The resort looks set to satisfy property investors' needs as it guarantees a yield of 6 percent on their investment in the first 2 years of operations together with a discount of Bt350,000 and plenty of special prizes for customers making reservations at the open house that is being held on August 19 at the Radisson Blu Plaza Bangkok on Sukhumvit Soi 27.
Mr. Autthanop Pandkamnerd, President of CISSA Group Co., Ltd., says, "There has been a proliferation of property development projects in Phuket lately. These projects seek to satisfy both residential and investment needs thanks to Phuket's sustained tourism growth. As an experienced and expert property developer, CISSA Group has seen Phuket's potential and growing demand for more properties. As a result, CISSA Group has decided to launch the Wyndham Nai Harn Beach Phuket,that is comprised of a hotel and residences for investment targeting both Thais and foreigners. With its close proximity to Naiharn Beach (only 800 meters away), the property project enjoys the best and worthwhile location. With prices starting at Bt6.5 million, the property guarantees a yield of 6 percent in the first 2 years. Investors can rest assured that they can get a return on their investment as expected and are entitled to a complimentary 30-day stay per year."
The Wyndham Naiharm Beach Phuket – set in an 11-rai plot on Naiharn Beach, Phuket and valued at Bt2.8 billion – comprises 12 buildings totaling 353 units with a big lobby building. The property's architectural design has been inspired by a mass of exotic coconut palms on Naiharn Beach bordering an inviting tropical ocean. This idyllic beach vibe is simulated in the decadent swimming pools and lush tropical landscaping complete with the signature coconut palms from where the property's name is derived.
The property's construction contractor is Citic Construction International (Thailand) Co., Ltd., a Chinese construction giant with an extensive portfolio of mega-projects of property development.
"Besides designing projects that meet the ultimate lifestyle and residential needs of tourists, CISSA Group has formed a partnership with a famous global five-star hospitality group like Wyndham, a US-based hospitality management brand with a global portfolio of approximately 8,000 hotels across the world. Thais know the Wyndham brand from its Ramada hotel brand. This Phuket project marks Wyndham's aggressive expansion push into the Thai market by way of its parent brand in Thailand. Wyndham will operate and manage the property to provide the ultimate relaxation for tourists. It will inspire confidence among investors too," says Autthanop.
Mrs. Tara Thanakasinveth, Director of Marketing of CISSA Group Co., Ltd., says, "Aside from making a profit from freehold as high as 6 percent in the first 2 years, investors will approximately get a dividend yield of 10 percent from the 3rd to 15th year based on long-term forecasts by the professional hotel management. For outright sales, investors have potential for making a profit as a result of high sales margin right from the first year, given that properties appreciate in value by 3 percent every year especially in Phuket where prices of tracts close to tourist attractions appreciate continually every year. This project is offering a good opportunity to investors to choose a credible expert property developer like CISSA Group. The Wyndham Naiharn Beach Phuket is holding an open house on August 19. At the event, customers will get the highest benefits with lots of prizes up for grabs and discounts of up to Bt100,000 for customers making a reservation during the open house. Customers have a choice of a cash discount on the day of ownership transfer, or an investment in a Long Term Equity Fund (LTF) or gift vouchers from leading department stores."
There's a special promotion for customers with plenty of giveaways and subsidies including furniture, complete interior decoration equipment, electric appliances, a residential juristic person fund, communication maintenance expenses, transfer of ownership fees and electricity and tap water meter installation fees.
The Wyndham Naiharn Beach Phuket is located in the southwestern tip of Phuket, 400 meters from Nong Harn Lake and 800 meters from Naiharn Beach, with a spectacular sunset over Naiharn Beach that has a crescent shape, with powdery white sand, the Andaman's crystal-clear azure waters. Naiharn was voted one of the most popular beaches in a TripAdvisor survey on March 2015.
Wyndham Naiharn Beach Phuket's architectural design has been inspired by the ancient limestone Karsts of the mystical Phanga Bay. The property features 12 beautiful asymmetric towers that rise from the inviting flowing swimming pools emulating the crystal-clear waters of the Andaman Sea. The entrance is crowned with a stunning free-form shell-like structure evocative of the home of an exotica sea creature. All the great vibes associated with beach life become have been incorporated into the elements of the home design that is like a coral reef in the deep ocean.
In terms of interior design, the architects have created deep calm relaxing spaces with high ceilings, open-plan living spaces with generous picture frame-inspired windows and a vibrant  palette of colors designed to replicate the restorative powers of the sea and beach that can make the residents feel as they could actually bring a slice of this tropical beach paradise home with them.
Wyndham Naiharn Beach Phuket has the superb comfort and convenience of first-class accommodation with a range of resort amenities available exclusively for the resident's use.
Facilities include the luxury swimming pools surrounding the property, kids swimming pools, private pool access, family facilities, a lobby and lounge area, fitness center, kid's club, restaurants, a bar and retail shops. The property provides 24-hour security with security CCTV cameras operating around the clock, parking area, and 24-hour concierge service.
Interested persons are welcome to sign up for the Open House of the Wyndham Naiharn Beach Phuket, which takes place on August 19, 09.00-17.00 at the Grand Ballroom, on the fourth floor of the Radisson Blu Plaza Bangkok. For more information, call 091-229 4070, 0-2026-5300  or visit www.cissagroup.com .
ABOUT CISSA GROUP
CISSA Group CO Ltd is a group of companies that is a leader in investment property development that prides itself on adding a new dimension to freehold property investment. CISSA Group provides prospective buyers with opportunities to own properties for investment. The company's properties are operated by professional hospitality management companies to provide investors with a worthwhile return on investment and to ensure their financial security in the future. The company specializes in investment property development.
CISSA Group is a company that engages in property business development with expertise and extensive experience in developing various properties in tourist destinations in provinces across Thailand such as EVA Town Nakhon, The EVA, EVA Town, Vanilla and EVA Beach. The company operates a portfolio of recognized property brands in the COCO group such as COCO SEA (which has now been officially rebranded as Wyndham Naiharn Beach Phuket), COCO Chalong, COCO Kamala, and COCO Rawai. The company was formerly known as Con-F, which has been renamed CISSA Group Co., Ltd..
ABOUT WYNDHAM HOTEL GROUP
Wyndham Hotel Group is one of the three principal divisions of Wyndham Worldwide Corporation. Wyndham Worldwide is listed on the New York Stock Exchange (NYSE: WYN).
Wyndham Hotel Group is the world's largest and most diverse hotel company, encompassing approximately 8,000 hotels and over 650,200 rooms in 71 countries around the globe.
From the award-winning upscale offerings of its namesake Wyndham Hotels and Resorts brand, to the distinctly comfortable and familiar properties of its iconic Days Inn, Ramada brand, the company prides itself on providing guests and franchisees with exceptional customer service, great value and the most lodging choices around the world.
The company's loyalty program, Wyndham Rewards, is the largest in the lodging industry, based on number of participating hotels, with approximately seven million active members.
The following brands have been identified as focus brands for growth in the Asia Pacific region:
Wyndham Grand Hotels and Resorts
Wyndham Hotels and Resorts
TRYP by Wyndham
Ramada and Ramada Encore
Days Hotels and Days Inn