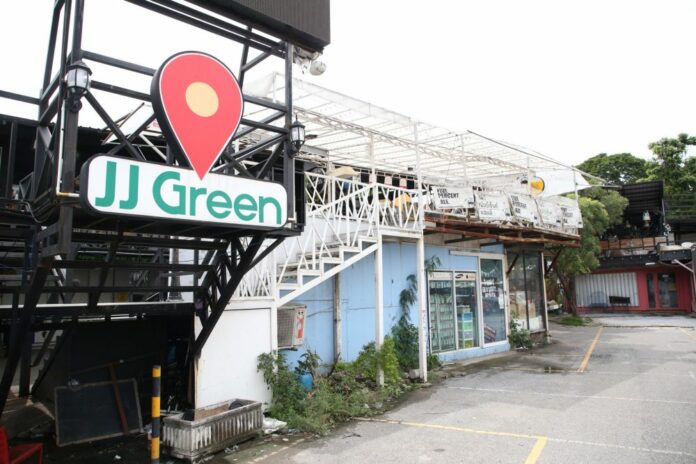 Update Sept. 14: JJ Green Market's vendors must move out by Sunday, Sept. 16, according to Bangkok Metropolitan Administrative.
BANGKOK — Despite a Bangkok Metropolitan Administration order calling on all vendors to vacate JJ Green Market property by Wednesday, the market representative said its last day will be postponed by a month.
On Wednesday a legal representative of JJ Green Market said the capital city's famous night market will remain open to the public until Oct. 12.
Read: JJ Green Market to Close Forever in 2 Weeks
"[Bangkok Metropolitan Administration] cannot just order us to leave on a certain date because we already made a deal with the contractor that we will return the property to them on Oct. 12," said a lawyer who represents V Multimedia company, the market's operator. He declined to give his name.
"Every vendor agrees to move out but it must be done humanely," the lawyer said. "Along with the demolition, the vendors should be able to sell things to earn some money too."
According to the representative by phone, the market at the moment opens at night on Thursday, Friday, Saturday and Sunday. Although it's the rainy season, he said it's still worthwhile for visitors to go to the market due to the clearance sales.
"A T-shirt that's usually 200 baht is now only 50 baht. Even the furniture is being sold at a very low price because owners doesn't want to carry it out of the property," the man said.
The 21-rai (3.1 hectares) space will be returned to the Queen Sirikit Park Foundation for the construction of a much larger park which will combine Wachirabenchathat Park (Suan Rodfai), Queen Sirikit Park and Chatuchak Park. The three parks combined will stretch over 727 rai (116 hectares.)
Hundreds of vendors sell genuine vintage items and secondhand clothes at the iconic flea market. The venue also offers street food stalls, restaurants and bars with live music.
Related