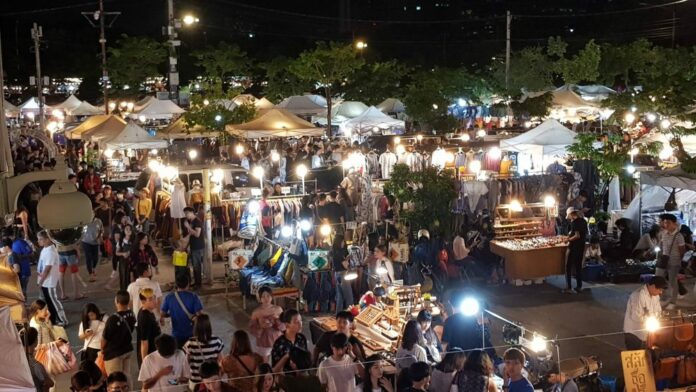 Update Sept. 14: JJ Green Market's vendors must move out by Sunday, Sept. 16, according to Bangkok Metropolitan Administrative.
Update Sept. 12: JJ Green Market will stay open until October 12, according to the market representative.
BANGKOK — After Sept. 13, not a single vendor will be found at a famous night market in the capital.
Four years after the Chatuchak Green night market, or JJ Green, opened to become a popular evening hangout, Bangkok Gov. Aswin Kwanmuang said Friday that all vendors will need to quit the property by Sept. 12 at the end of the market's lease contract.
The deadline had been extended nearly two weeks; it was initially set to close today. The land is owned by the state railway.
The 21-rai (3.1 hectares) space will be returned to the Queen Sirikit Park Foundation for construction of a much larger park which will combine Wachirabenchathat Park (Suan Rodfai), Queen Sirikit Park and Chatuchak Park. The three parks combined will stretch over 727 rais (116 hectares.)
JJ Green, which opens at night Friday through Sunday, is an iconic flea market where hundreds of vendors sell genuine vintage items and secondhand clothes. The venue also offers street food stalls, restaurants and bars with live music.